Franchise Website Design
Your franchise deserves a great website.
We build franchise websites that bring your brand to life and deliver superior results.
Franchise companies have unique website needs
Franchise organizations are different than other businesses and require a unique approach to website design, development, and search engine optimization (SEO). We specialize in helping franchise companies create custom websites that look fantastic, work across all devices, and outrank their competitors in search.

A franchise website is different from other "corporate" websites because it needs to support the objectives of both the franchisor and all the franchisees. Having worked with hundreds of franchise companies around the world, we have in-depth experience creating scalable websites that provide a consistent branding and user experience across the entire network, while also providing franchisees with the tools and technology to be successful in their markets.

What we do
Our talented design and development teams will create a website that fits your franchise system perfectly.
Custom website design
Your brand is your most valuable asset. When a prospective or existing customer visits your website, it should feel the same as when they walk in the front door of one of your stores. Our talented design team will work with you to create a custom website that perfectly reflects your brand identity and values. 
We will work with you to identify what matters most to your online customers and what success looks like for your business. Every aspect of your website will be thoughtfully designed to ensure it helps you grow your business while also providing your customers with a fantastic multi-platform experience.
Franchisee growth
It is common for franchise locations to have unique offerings or information specific to them. Where many website design firms see this as a problem, we see this as an opportunity for franchisees to grow their business through a better user experience, differentiation from competitors, and stronger local search performance. 
We have extensive experience working with franchise organizations to create opportunities for local differentiation, while simultaneously maintaining brand integrity. We will work with you to use leading-edge design, technology and business strategy to design a custom website that allows your franchisees to out-perform their local competitors to win new customers and grow their businesses.
Custom website development
Based on the approved design, our development team will build you a custom website tailored to your specific needs. Our team is skilled in developing franchise websites for B2C and B2B brands using a wide variety of content management systems and technologies including WordPress, Drupal, Shopify, Ghost, and others. We incorporate SEO best practices and a top-tier development approach to create websites that not only look amazing, but work amazing as well.
Local search optimization
The battleground for new customers is local, meaning that a strong local search strategy is crucial to the growth of most franchise systems. The majority of consumer searches include a local component, meaning that the main entry point for new customers is typically a local store page. We start our design process by identifying the optimal customer experience at the store level to ensure that the first interaction with your brand is an excellent one.  
Through our experience working with a wide variety of franchise organizations, we have developed a proven approach that incorporates search engine optimization best practices, design, content and technology to create a competitive advantage.  
Maximum scalability
Franchise companies are excellent at creating repeatable processes that can be scaled across many locations to maximize efficiency and provide a consistent customer experience. We take the same approach when we design and build your website – our objective is to make it as easy as possible for you to add locations and content as your company grows. 
The best part is that as you add more locations, the strength of your company's search authority will also grow. We engineer SEO best practices into your website so as you add more locations, they are optimized for search "out of the box".
Your team will have complete access to the back end of the website to change images/video, write new blogs, change text, add locations and anything else you need to do to manage your business. You can be as self-sufficient as you want to be, knowing that we are always available if you need assistance.
Mobile-first design
Most people browse the web on their phones more than on desktop, meaning that companies need to take a mobile-first approach to web design. In addition, Google ranks mobile-friendly sites higher in their algorithm, making a strong mobile experience a critical factor from an SEO perspective.
Every website we build is optimized to work seamlessly on smartphones, tablets and desktop. We follow the latest design and coding best practices to ensure your site looks great regardless of the device your customer uses, and we meet the most stringent search engine ranking criteria.
Ecommerce
Our team is skilled at designing and developing an ecommerce solution customized to your franchise business model. We have experience implementing ecommerce approaches such as:
National ecommerce store with revenues booked by head office

National ecommerce store with revenues booked by local franchisees based on territory

Local ecommerce store with common product set and pricing across all locations

Local ecommerce store with unique products and/or pricing by location
We are experienced in a wide range of high-quality ecommerce platforms including Shopify, Woocommerce, BigCommerce, Magento, and others. If necessary, we can also build a custom ecommerce solution specific to your needs. 
Integrations
When building a new franchise website, it is often necessary to share information between different systems such as a CRM, POS, or marketing automation platform. In these cases, integration between systems is necessary to allow data in one system to be used elsewhere without needing to re-enter the information or maintain multiple databases.
We have completed hundreds of integrations with a wide variety of systems, including, Salesforce, Dynamics, HubSpot, MailChimp, Constant Contact and numerous others. Our integrations team will work with you to design the overall integration approach and ensure data integrity between systems.
Post-deployment support
Once your website is complete, we will provide you with the tools and training to manage your website and content to the extent you prefer. Our team will be available on an ongoing basis to assist you with technical, content, SEO, and other items as needed.
In addition to the day-to-day support, our technical team will also monitor and manage your website on an ongoing basis to troubleshoot any issues that you may experience, maintain performance, apply necessary code updates, and manage website security.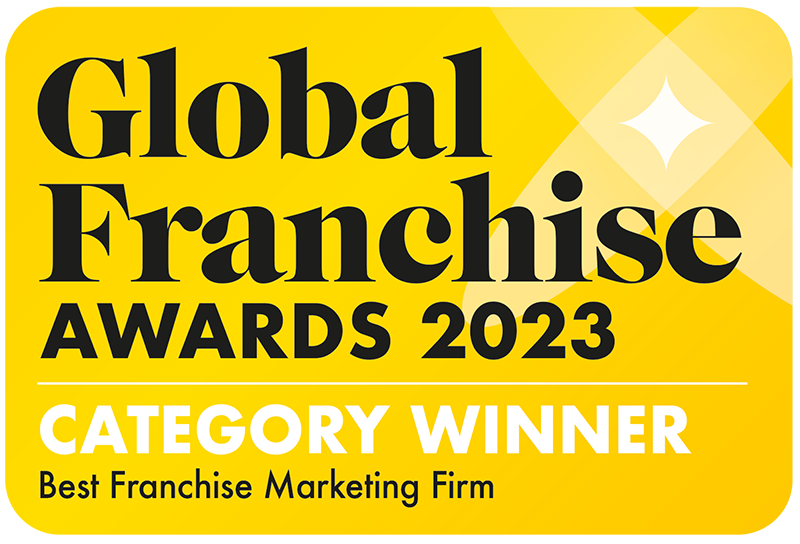 Reshift Media Voted Best Franchise Marketing Firm
Reshift Media was named the world's best franchise marketing firm by the Global Franchise Awards at the 2023 International Franchise Association convention. The Global Franchise Awards recognizes excellence in franchising and is judged by an international panel of franchise association executives and industry experts.
We are proud to partner with amazing brands