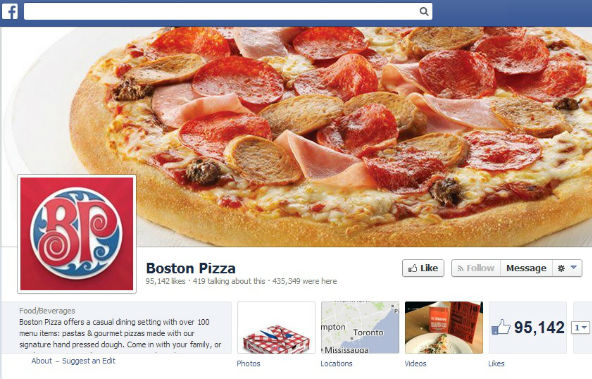 (TORONTO) March 5, 2014 – Boston Pizza, Canada's largest casual-dining restaurant, has implemented Reshift Media's Social Brand Amplifier to power their network of Facebook pages to help increase their local reach and relevance.
With more than 350 locations from coast to coast, Boston Pizza had established Facebook pages for each of their individual restaurants using the social network's Locations framework (previously called Parent-Child), but were looking for a way to easily manage their rapidly growing network. After reaching out to Facebook for assistance, they were directed to the Social Brand Amplifier.
"As a national restaurant organization, having a local Facebook presence is absolutely critical to our business, but we were hard-pressed to find a software solution that met all of our needs for managing our network of Facebook pages," says Alex Green, Boston Pizza International Inc.'s Vice President of Marketing. "We contacted Facebook for help, and they referred us to the Social Brand Amplifier software, which has exceeded our expectations. We have been very happy with the performance of the system and with the flexibility of the Reshift Media team in customizing the application to suit our specific needs."
Reshift Media's Social Brand Amplifier enables companies to cascade content (including posts, apps and timeline images) across all of their Facebook pages, or to select pages grouped by geographies/demographics. It also enables brands to consolidate their Facebook alerts and reports, while still enabling individual restaurant owners to engage with their community by posting local content and promotions.
"While it's increasingly important for nationwide brands to have a local presence on Facebook, dealing with dozens or hundreds of individual Facebook pages can get unwieldy," says Jen McDonnell, VP of Social Media and Content for Reshift Media. "The Social Brand Amplifier allows companies to cascade posts, creative and promotions from a national level to maintain brand consistency, while still allowing for strong local involvement."
About Boston Pizza
Boston Pizza International Inc. is Canada's No. 1 casual dining brand with more than 350 restaurants in Canada. In 2014, Boston Pizza celebrates 50 great years since opening our first location in Edmonton, Alberta in 1964. Annually, Boston Pizza serves more than 40 million guests. The company has been recognized as a Platinum Member of Canada's 50 Best Managed Companies. Boston Pizza believes that strong role models inspire kids to be great, and in 2014, the Boston Pizza Foundation created Future Prospects to help support organizations that mentor kids to reach their full potential. For more information, visit www.bostonpizza.com.
About Reshift Media
Reshift Media Inc. is a digital marketing organization that works with businesses and their advertising agencies to develop, implement and manage social, search and mobile strategies.  Reshift is proud to be a national sponsor of the Canadian Franchise Organization. Reshift Media's proprietary Social Brand Amplifier software is used worldwide by companies with multiple locations to create, populate, manage and measure localized pages within Facebook. The software is ideal for large national or regional brands with 20 or more locations, including franchisors, auto manufacturers and retailers of all types. For more information, please visit www.reshiftmedia.com or contact Jen McDonnell at [email protected].
TAGS