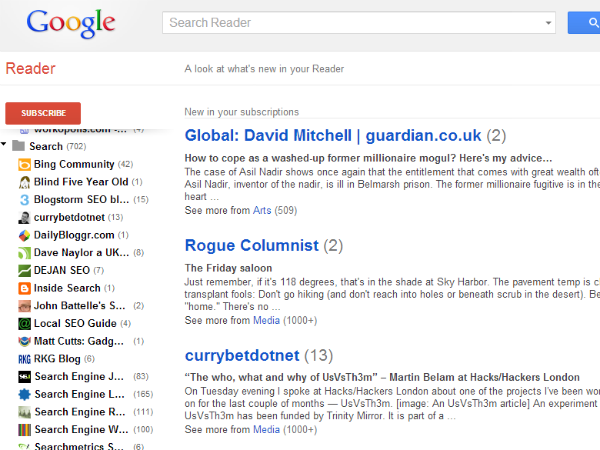 With Google Reader being retired on July 1, a bunch of tools are competing to fill the gap. For seven years, Google's newsreader service was popular among people who use RSS feeds to keep up with news and blogs (its top feed that boasted 24 million subscribers in March).
So what are some good alternatives to Google Reader? Here are our suggestions:
Feedly (cloud.feedly.com)
This free service is in the best position to claim Google Reader's spot since it has tripled its subscriber base following Google's announcement. It has a one-click Google Reader import, making it an easy transition. Feedly has been making lots of improvements to its software lately, including launching new apps that allow users to access the service on any browser or device, offline or online. You can now choose to view your feeds in card, list or full article format.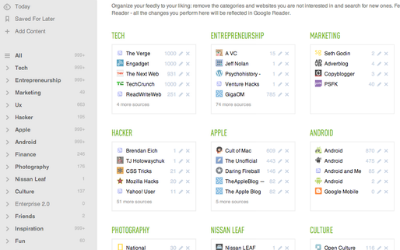 InoReader (https://inoreader.com/)
Google Reader inspired this web-based tool, which prides itself on being a simple yet fast RSS reader.  It allows you to import your feeds from other tools, including Google Reader. You can choose to only display titles for faster browsing.
The Old Reader (http://theoldreader.com/)
The Old Reader was created as a social-focused alternative for Google Reader, and it too allows users to import previous feeds. You can also connect your Facebook and Google+ to the feed. Unfortunately, there's no mobile app.
AOL Reader (http://reader.aol.com/)
AOL is also hoping to take advantage of Google Reader's retirement by launching its own RSS reader (currently in beta). Available to anyone with an AOL account, the new tool boosts speed and simplicity. Unfortunately, it doesn't allow you to import your feeds from existing readers and you currently can't view all of your feeds at once sorted by date.
Yoleo (https://yoleoreader.com/)
Yoleo, made by a Toronto-based company, is a simple, minimalist reader that is fast and allows you to add a large number of feeds without affecting its speed. You can easily import your Google Reader feeds.
Flipboard (http://flipboard.com/)
Flipboard is a popular magazine-style mobile app for Android and iOS. It aggregates links from your social networks and displays the content in a visual, mobile–friendly interface. With Google Reader's impending death, Flipboard has included the capability to import subscriptions from Google.
Digg Reader (http://digg.com/reader)
Digg has also introduced a new reader (currently in beta) that allows users to import their Google Reader feeds and folders. You can share posts to Facebook and Twitter, save posts and "digg" them.
Hootsuite (http://ow.ly/ms34S)
The social media management tool launched its own RSS reader, which is integrated into their management tool. The Chrome extension is called the Syndicator app and it feeds RSS content into users' Hootsuite dashboards. You can also stream content from any RSS feed directly onto your Facebook, Twitter, and other social media accounts.
Facebook
Facebook is reportedly creating a newsreader service designed for mobile devices, according to Techcrunch and the Wall Street Journal. Instead of being an RSS feed reader, Facebook's version will reportedly focus on the social media's most shared articles.
TAGS