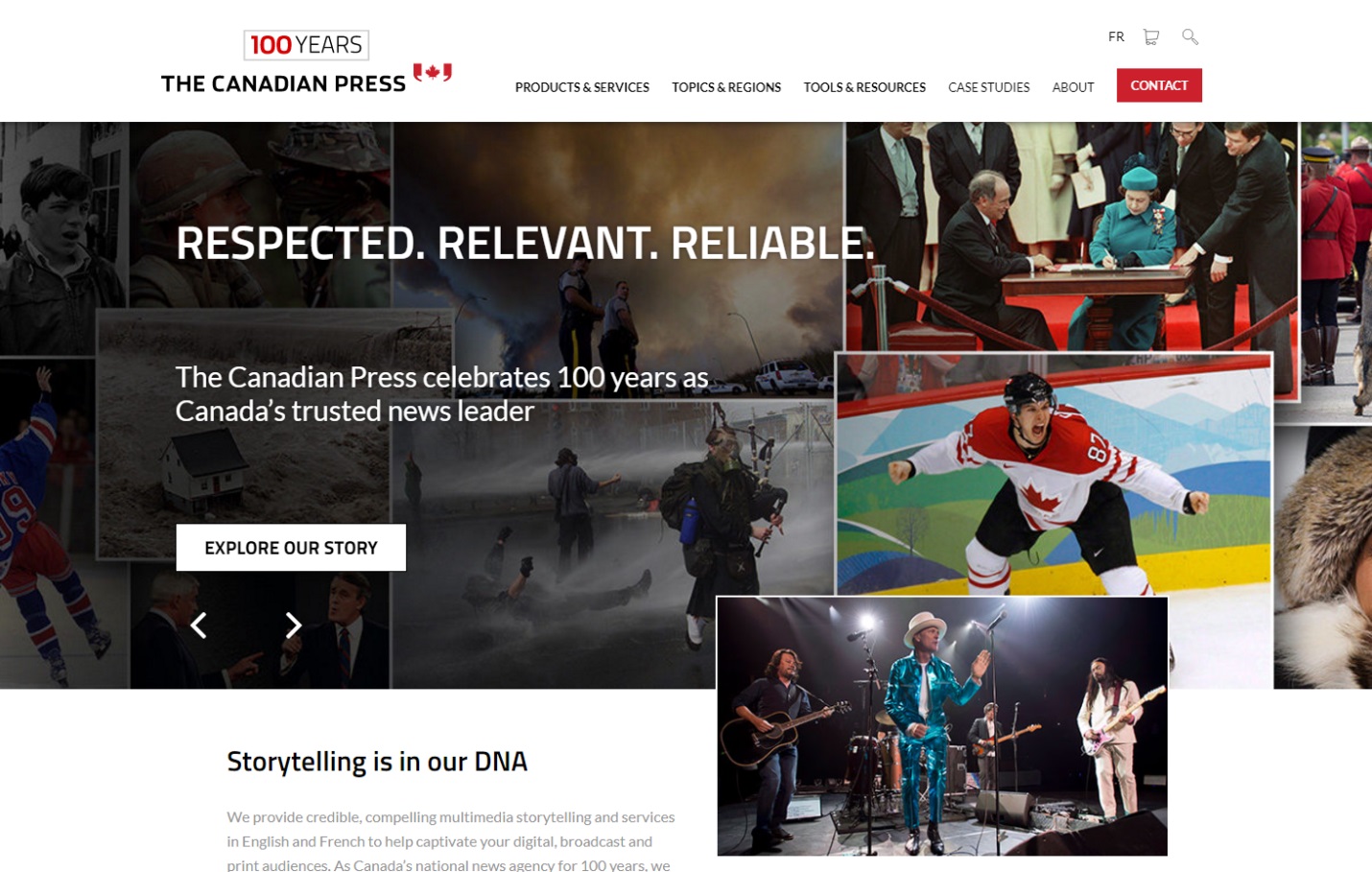 The Canadian Press has teamed up with digital marketing agency Reshift Media to commemorate its centennial with a new one-of-a-kind website at www.thecanadianpress.com.
The Canadian Press is Canada's trusted news source and leader in providing real-time, bilingual multimedia stories across print, broadcast and digital platforms. For a century, The Canadian Press' nearly 200 journalists have kept Canadians informed, providing depth, breadth and perspective with their award-winning storytelling and unwavering commitment to first-rate journalism.
As Canada's national news agency, The Canadian Press required a new, best-in-class web property that reflected the uniqueness of the organization while being easily discoverable through both search engines and social media.
Reshift Media worked closely with The Canadian Press team to create a custom-built site that includes leading-edge design and technology, including:
A modern, yet approachable, design that highlights the breadth of The Canadian Press' capabilities and reflects the company's brand values
A variety of interactive layouts to highlight The Canadian Press's quality journalism, stellar photos and engaging videos
Fully responsive HTML5 development to ensure optimal usability on all screen sizes
Best-in-class search engine optimization to enable maximum content visibility
Social integration throughout the site to allow for both content portability out to social networks and ingestion of social content into the site
"Drag and drop" user interface which enables The Canadian Press team to make rapid changes to the website without the need for technical development
"The bold, intuitive design developed in collaboration with the Reshift team represents a dramatic leap forward from our previous incarnation," said Malcolm Kirk, president of The Canadian Press. "We consulted staff and customers throughout the process and their feedback on the new site has been very positive. We're excited it showcases the outstanding journalism produced at The Canadian Press every day and makes it easier for customers to do business with us."
"We are incredibly excited to work with the CP team on this amazing project," said Steve Buors, CEO of Reshift Media. "Several of our team members have a strong media background, so we know how important The Canadian Press is to this country. We knew that it was important to create an opportunity for the CP team to tell their story in the most engaging and flexible way possible, and we couldn't be happier with the end result."
About The Canadian Press
As Canada's national news agency for 100 years, The Canadian Press tells people the story of their country, in all forms, from all corners and in English and French. Through words, photos, graphics, audio and video, our passionate and talented team of journalists reports news stories that impact Canadians with fairness, compassion, accuracy and taste. Our business operations and technology teams are also key to CP's success, ensuring content delivery is fast and reliable, and fulfilling our reputation for proactive, personalized customer service. For more information please visit www.thecanadianpress.com or contact Thuy Anh Nguyen at [email protected].
About Reshift Media
Reshift Media Inc. is a digital marketing agency that works with companies worldwide to design and develop web/mobile sites, conceive and execute innovative social media approaches and implement leading-edge search engine strategies. For more information, please visit www.reshiftmedia.com or contact Jen McDonnell at [email protected].
TAGS