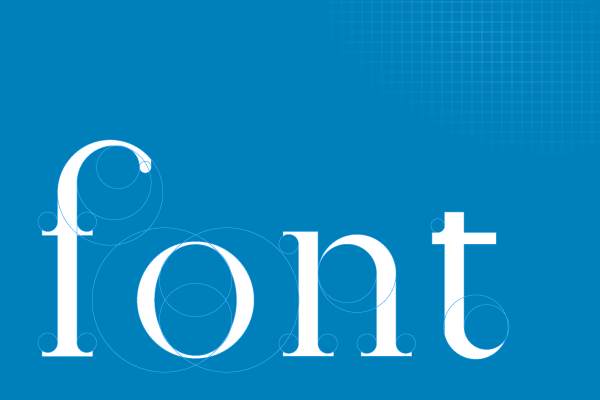 Have you ever struggled to read font on a website or email? With the seemingly endless number of fonts out there, selecting one that is both readable and visually appealing can be challenging. Each font differs in design, spacing and licensing, and further gives a voice and tone to your brand. Since there are so many different fonts out there, we've put together this short guide explaining the basic styles and how to distinguish one from another.
Serifs vs Sans Serifs
One of the first things you need to consider when selecting a typeface for text is serif or sans? Serifs are one of the oldest modern typefaces and refer to the little decorative strokes that extend from the letters. Although serifs are seen as decorative, they actually serve a higher purpose. Serif typefaces in print are known for increasing readability and reading speed because they help the eye travel across the line easier. You will typically see the serif style font in books, magazines, and anything related to print because they can be read most efficiently in this format. The sans serif style refers to the typeface that lacks the projecting features coming from the edges. The sans style generally looks cleaner and can usually be scanned easier on screens and digital web pages.
Web vs. Print
When selecting a font, another thing you need to consider is the platform: web or print? Unfortunately, not every font should be used interchangeably between print and web. Web fonts are designed specifically to load and render well on the web. Fonts intended for the web are optimized and often modified to enhance readability on a screen in a variety of digital environments. For the web, it is often found that sans serifs are preferred due to their simple shapes making it easier to read digitally. On screens, serifs become difficult to see due to them having a lower resolution. When selecting fonts for your online material, stick with sans serifs. However, it is important to note that there are some serif fonts made specifically readable for the web. Meanwhile, print fonts are meant to be viewed on paper because they make individual letters more distinctive, which allows us to read and recognize them quicker.
The list of different font types is endless, but some other popular font types include display, slab serif, hand-drawn, script, retro, dingbat, monospaced, novelty, comic, stencil, blackletter, calligraphic, typewriter, pixel, and grunge. For a more handwritten look, hand drawn, script, and calligraphic are recommended. Typewriter and retro are great fonts for a more old-fashioned feel. Stencil, blackletter, novelty, display, script, and cursive fonts are best for headlines and are not recommended for body copy and heavy content paragraphs. These fonts are the most legible when they are a bigger size and do not read well in smaller sizes or long sentences. Fonts are meant to set a brand tone and emphasize a message, so choose wisely.
System Fonts:
System fonts are the default fonts that are already installed on your computer. Although system fonts are good for personal use, they face issues when it comes to optimization for print and the web. In order to view a system font, you must have it installed on your computer. This is not ideal as people have different types of devices with different default fonts. However, system fonts are favorable because they do not require any licensing, making them available to use freely.
Licensing:
Many people don't realize that fonts are like any photography, videography or graphics and require licensing on how they're used. Like any material, fonts are protected by trademarks, design patents, or copyrights making it necessary to receive the proper licensing before using.
Desktop and Web Licensing:
A desktop or print font license is a standard font license that works for most of the fonts installed on your computer or any software you download. This license allows you to use the font for print-related work. A Webfont differs from a print font because it is optimized for the web so browsers can render it properly. It is often known as a dynamic font because the creator and the user must have access to the font in order to use it correctly. It is important to note that most desktop fonts come with a licensing agreement that allows for print use only and web fonts come specifically licensed for digital use. Don't commit a copyright crime by making sure you have the appropriate fonts and licenses for their intended usage.
Open Source Licensing:
Open source fonts are popular with digital designers because they are free to attain, free to use, and free to share. Most open-source fonts come with an open-source licensing which allows for the fonts to be distributed and modified. However, any font rendered as "free" is usually for personal use only. Commercial use usually requires buying further licensing.
Free Web Font Resources:
Free fonts are a great way to add some fun to your printed or online works, at zero cost! With so many font sources, it can be difficult to navigate through all the options. Below are a few sites that allow you to preview the font before downloading. Most of the fonts will be downloaded as ZIP files and need to be installed on your computer before using.
Font Squirrel is a great resource for free fonts for commercial uses. The site is filled with a variety of downloadable fonts at good quality. Unlike most sites, Font Squirrel allows commercial use without any further licensing.
Google Fonts is another great site that provides an endless amount of open source fonts that are available for users. The site has over 819 different font families with a variety of viewing and filtering features.
Font Space is another resourceful site with over 32,000 fonts to choose from that are neatly organized by categories. Over 2,000 designers contribute fonts worldwide guaranteeing many unique and creative typefaces to choose from. Font Space stands out because you can download multiple fonts at a time without creating an account or logging in.
Da Font is a font site that is organized into distinct categories and themes. Thousands of fonts are uploaded and created by users, which are then carefully reviewed before being added to the site. You can filter the categories by name, popularity, date added, or even licensing options.
Typekit is a font subscription service that offers access to a vast library of fonts for use in desktop applications and on websites. A Typekit Portfolio plan is included with Creative Cloud subscriptions, and all paid fonts will sync directly to Adobe softwares like photoshop and illustrator. With Typekit, you don't need to worry about licensing.  
Typography is a powerful tool in media, design, and marketing, and it helps get your message across. As multimedia designers, choosing a font for viewing on different platforms is an important decision for your brand. Make sure your brand is consistent with all fonts online and offline. Studies have shown that not only does proper application of fonts directly influence the mood of your readers, but it can also help drive conversions.
TAGS