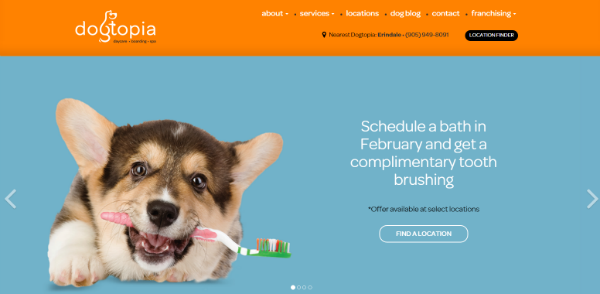 (Toronto) February 25, 2016 – Dogtopia, a leader in dog daycare, boarding, and spa services across North America, has teamed up with digital marketing agency Reshift Media to launch a completely redesigned and redeveloped website at www.dogtopia.com.
Dogtopia has been providing exceptional care for furry family members since 2002 through its network of owned and franchised locations. The company currently has 42 locations across the U.S. and Canada, with more planned openings in development this year.
The improved website was designed around strong local microsites for each of the franchisee's locations. All elements of the site have been structured to make it as easy as possible for a person visiting the site to learn about and contact their nearest Dogtopia location.
"We saw right away the potential to create a very unique website for Dogtopia which capitalized on the strength of its franchise network," said Steve Buors, CEO of Reshift Media. "By concentrating on the company's incredibly deep local emotional connections into their communities we created a very user-centric and at the same time search-optimized experience. We could not be happier with the results."
Reshift Media worked closely with the team at Dogtopia to create a website that balanced both franchise and corporate needs, including:
Geo-location functionality that detects the location of each visitor to the site, ensuring they can easily find their way to their nearest Dogtopia location
A fully responsive HTML5 approach that ensures optimal usability on all screen sizes and platforms
Best-in-class search engine optimization that enables maximum content visibility
Complete social media integration that incorporates each franchises' individual Facebook and Instagram accounts, as well as the support office accounts
A fully-functioning localized webcam section that allows customers to easily check in on their dogs during the day
"From the beginning, Reshift Media clearly understood what we were looking for," said Neil Gill, CEO/President of Dogtopia. "Reshift clearly understands the franchise environment, they asked all the right questions to ensure they knew what we wanted and added their digital and franchise expertise to help create a digital strategy and website that has exceeded our expectations. "
About Reshift Media
Reshift Media Inc. is a digital marketing agency that works with companies worldwide to redesign and redevelop web/mobile sites, conceive and execute innovative social media approaches and implement leading-edge search engine strategies. For more information, please visit www.reshiftmedia.com or contact Jen McDonnell at [email protected].
About Dogtopia
Dogtopia is a leading dog daycare, boarding, training and day spa provider with 42 locations across North America and growing. The company is headquartered in Phoenix, Arizona with a strong culture of franchise support and a focus on dog safety, health and education, whilst ensuring your fury family member has the best day of its life. For more information please visit www.dogtopia.com or contact Alex Samios at [email protected].
TAGS