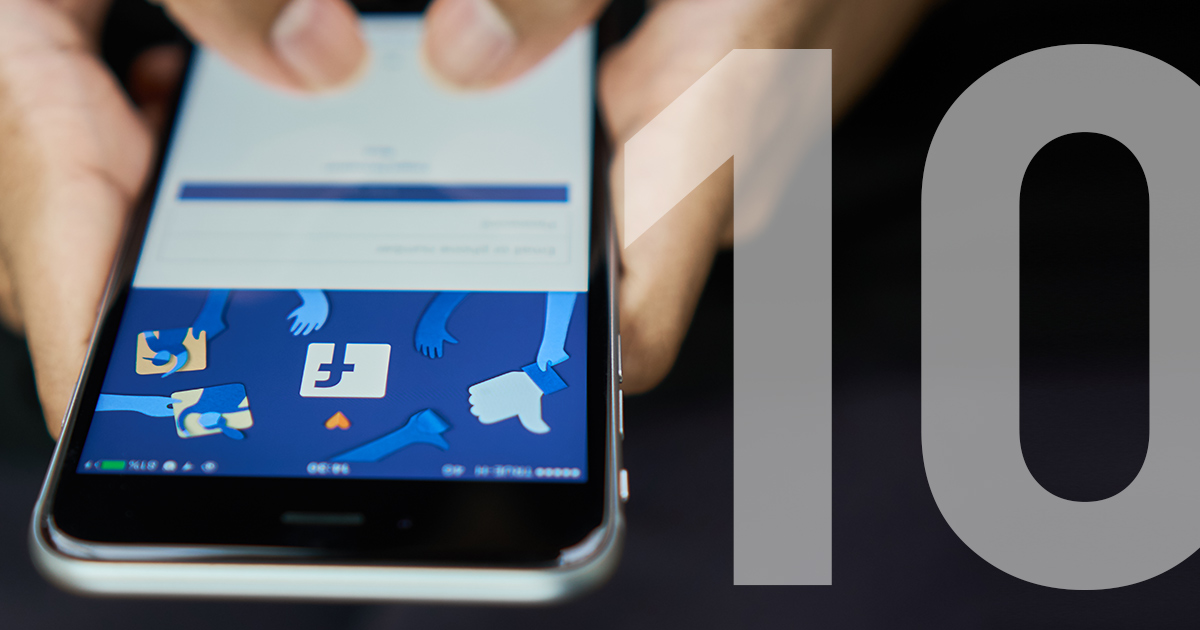 This blog post is part of a 4-part series:
You are reading: Top 10 Ways to make Facebook's Algorithm Change Work for You
Also, you can download our FREE guide to Facebook's algorithm change
Facebook's News Feed has for some time emphasized posts that generate interactions such as likes, comments and shares between friends, but it has also surfaced other public content that its algorithm expects people will find interesting based on broader trends across the network. With the new update this will still be true, but the emphasis on posts that come from within peoples' social networks will be weighted even more heavily than previously.
As a result, Facebook has been very clear that they expect the News Feed update to have a negative effect on the reach of "public" content created by brands and media outlets. However, this does not mean that organic reach is "dead." In fact, the company has been careful to point out that brand posts are not being removed from the News Feed, but that the new emphasis on person-to-person interactions will reduce the amount of content consumed directly from pages.
Companies that typically do not receive many comments and shares on their posts can expect to see a substantial decrease in organic reach – potentially to zero. Those who have content that drives conversation can expect a lesser decline.

"As we make these updates, Pages may see their reach, video watch time and referral traffic decrease. The impact will vary from Page to Page, driven by factors including the type of content they produce and how people interact with it. Pages making posts that people generally don't react to or comment on could see the biggest decreases in distribution. Pages whose posts prompt conversations between friends will see less of an effect."
– Adam Mosseri, Head of News Feed, Facebook
What this means is that companies who mainly blast out self-serving marketing messages with little value will, in fact, see a major decrease in organic distribution. To be successful, brands need to do a better job of engaging and interacting with people and encouraging them to interact with each other.
It is also important to realize that the value of a "fan" has been substantially decreased. Even if a person follows a brand's page, the odds of them actually seeing posts from that company have never been lower. As such, we do not recommend investing any ad dollars in growing your fanbase. We are surprised to find many brands continue to run "Facebook Like" campaigns, which are designed to encourage people to follow the brand's page. These dollars are better spent on attracting prospective customers to the company's website or showcasing the company's products.
Although we do not recommend spending money to earn new fans, that does not mean that it is a bad idea to continue to grow your social audience through organic means. In fact, we see several opportunities for brands to continue to reach and engage current and prospective customers, which we will outline shortly.
What Companies Should Not Do as a Result of the News Feed Update

Don't panic! Although there is a lot of speculation about how significant the impact will be for brands and media companies, we have yet to see what exactly the outcome will be. Yes, we expect that this update will have a significant effect on how brands use Facebook to engage with customers and drive business results, but as we will outline it also opens up some new opportunities. Facebook continues to be the largest social network on the planet and has incredible data and tools to help any company – big or small – grow their business.
Some companies may be tempted to implement strategies to "game the system" by creating low-quality content which encourages commenting, tagging or sharing with little value created. These strategies are called "engagement baiting" and have been under scrutiny by Facebook for some time. The company has developed a machine learning model designed to detect different types of engagement bait and remove them from the News Feed. Pages that are found to repeatedly use engagement bait to artificially gain reach in News Feed will be demoted.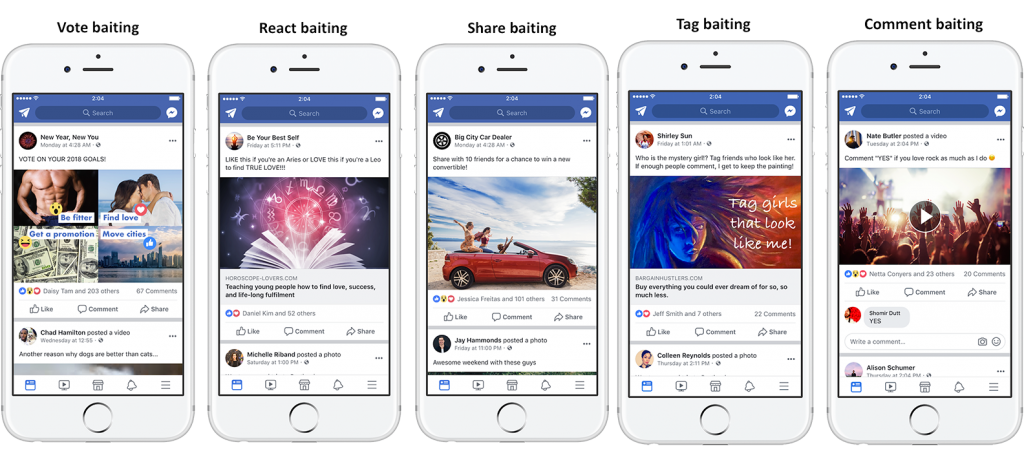 What Businesses Should Do About the News Feed Change
We believe that the January 2018 update to Facebook's News Feed algorithm is good news for brands who are engaging with their customers and producing quality content. Based on what Facebook is saying, we can expect "click bait" posts to decrease in volume, which frees up space for higher-quality content that generates interactions to be surfaced.
This means that fewer brand posts will be seen overall, but the ones that are seen will be the ones that generate more meaningful interactions between people. Although more difficult to create, the upside is that these types of posts are of higher value to both the person and the brand.
As outlined previously, Facebook has been decreasing organic reach for some time, so we at Reshift have implemented several strategies to increase brands' distribution opportunities. In light of the update to the algorithm, we have developed a list of the top 10 opportunities for brands to consider in order to minimize the impact of the update, and possibly even grow their exposure.
1) Integrate your paid and organic Facebook strategies
Many companies view their Facebook advertising and organic strategies as completely separate. Going forward, we recommend integrating organic and paid planning to use ad dollars as a means to "prime the pump" for organic reach.
In our view, whether a post is paid for or not is irrelevant. In both cases the objective should be to create informative, interesting content that results in activity on behalf of the recipient. In the case of Facebook advertising you just happen to be paying to distribute the content to a specific target audience – it should still be quality content.
2) Reach the right people with the right posts at the right time
Traditional "mass media" facilitated a one-to-many means of communication, while the rise of social media opened up the opportunity for a one-to-few or even a one-to-one means of communicating information or ideas. However, over time many companies shifted back into "mass media" mode where they create a single "generic" post which is syndicated to a large homogeneous audience.
With the changes to the News Feed, posts that do not create comments and shares will not gain distribution. General posts that are aimed at a homogeneous audience typically do not inspire interaction, so brands need to get more serious about how they think about creating content on Facebook. In some ways, the News Feed update is a good wake-up call to get back into the mindset of thinking about social media as a one-to-few means of communicating.
To achieve a one-to-few approach, we recommend analyzing your Facebook insights to  understand the makeup of your audience. Insights has a tremendous amount of information about your fanbase and people who typically respond to your posts and at what time of day. If you have a local business page, you can even see when people are physically near your business location and what their age/gender is.
With this information in-hand, you can then logically segment your audience into smaller focused groups along a number of factors, including:

Geography (neighbourhoods, cities, regions)
Demographics (age, gender)
Interests (sports, travel, television)
Language
Once you know your audience groups, you can tailor your content to each audience individually in order to make it as relevant as possible. The more relevant it is, the more likely your fans will interact with the content which will aid in its distribution. You can even take the same basic message and re-write it for your various audiences, if appropriate. You can then use Facebook's targeting capabilities to share each piece of content with the correct target group.
In addition, you should time your posts to coincide with when your audience is most active on Facebook. Facebook metrics don't tell you when each demographic is active, but you can identify in general when your fans overall are online. This will give you the best possible chance of reaching the right people at the right time.
The key to this approach is to challenge each piece of content to ensure it:
Is relevant to the audience

Is the copy written using language and a tone that will resonate with them?
Is the photo attractive to them?

Encourages interaction

Are you asking a relevant question to your audience?
Is the piece of information you are sharing something they will care about?
Are they likely to want to comment on it or share it with a friend?
3) Produce content that generates interactions
This recommendation may seem somewhat self-evident, but our list clearly would not be complete without it. Now, more than ever, companies need to challenge themselves to really think about the needs of their audience segments in order to create and share content that people will react to and converse about. The days of creating a funny meme that received a bunch of likes to "go viral" are clearly behind us.
Again, we see this as good news. Few people actually enjoyed seeing their Facebook feed crammed full of low-quality click-bait, so by demoting these in the News Feed Facebook is making it easier for legitimate companies producing interesting information to be seen.
The issue is that what constitutes "interesting" varies from brand to brand and from customer to customer. The key point to keep in mind is that the content needs to generate an interaction such as a comment or share to be deemed of high value, so focusing on strategies to generate conversation is key. Be careful not to fall into the trap of accidentally producing engagement bait though, as this will have the opposite effect on your visibility.

DON'T: Ask yes/no questions or purposely try to illicit low-value engagement: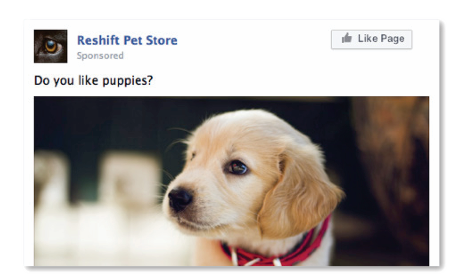 DO: Create relevant content and ask meaningful questions that spur community conversation: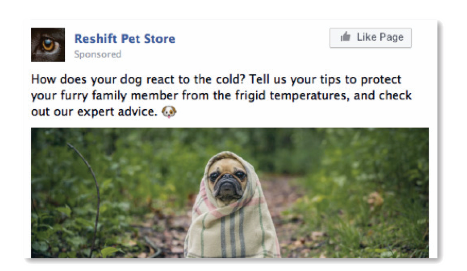 One strategy we have found effective in generating interactions is to create posts that share customer stories. This is particularly effective when your product or service is connected to a life event such as buying a car, building a house or getting a new puppy. Celebrating your customers' stories is a great way to generate conversation with the customer whose story you are telling, which in turn surfaces the content to their friends and family who often interact with the content to congratulate the person or ask them questions.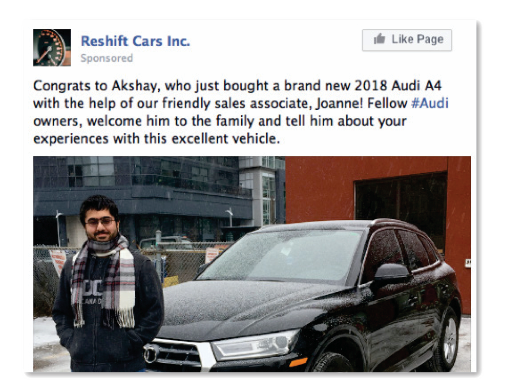 Beyond creating more interactions, this approach has several positive effects:
Helps solidify your relationship with the customer. By sharing their story from your brand page you make them feel special, which everyone enjoys.
Positions your company as caring about customers. Your brand will feel more real and authentic which increases affinity.
Introduces your business to new prospective customers in a very positive light. These customer stories essentially become brand testimonials.
4) Focus on quality over quantity
More than ever, the quality of your content should take priority over the frequency of posting. Many brands we speak to post on Facebook daily (or even more frequently) in order to artificially increase their overall reach. The reach of each post is actually quite small, but because they post so frequently each little post adds up to a better overall monthly reach number.
Under the new algorithm, this strategy may be extremely detrimental to your brand's visibility if the majority of your posts receive little interaction.
To be successful, quality is the name of the game. We recommend brands segment their audience as previously discussed and carefully consider each post from the perspective of the recipient to ensure it is relevant to the audience you are targeting. In our experience, unless you are receiving incredible interactions and huge reach for every post, 3-4 Facebook posts per week is more than enough. Anything beyond this may result in people ignoring your posts, which will lead to a decrease in the number of interactions and therefore reach.
5) Create a Facebook Group

Facebook has called out Groups as an opportunity to generate user interactions, and has even mentioned Groups content as receiving the same level of News Feed distribution as posts from family and friends.
Facebook recently introduced Groups for pages, allowing page admins to create or connect sub-groups to their pages. This creates a place for niche or smaller audiences that may not have had a space to come together before now. Groups provide an opportunity for a closer relationship between brands and their customers. Businesses can communicate directly with their superfans and determine how their customers really feel towards their company/product/service. Group users are able to chat with each other, and to the page admins directly.
6) Go Live on Facebook

If you have not already tried it, Facebook allows any individual or brand to "go live" with video anytime. Although the company has stated that pre-recorded video will likely be shown less, they specifically mentioned live video as generating more interactions and therefore being of higher value in the updated News Feed.
Facebook Live has several interesting benefits for brands:
Livestreaming receives 6 times the engagement of regular video which helps you "break through" Facebook's algorithm to gain additional distribution.
Only 28% of marketers are using Facebook Live, which makes it an underused marketing opportunity.
When you "go live," Facebook notifies your page's fans which represents a great opportunity to reach people. It is unknown if this will change in the update, but as of now the notification is still present.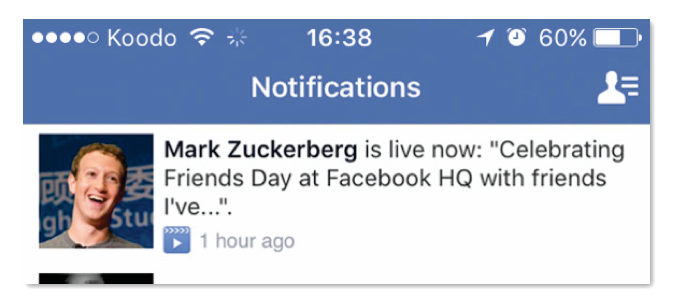 What video you shoot depends on your business and customers. Some of the more popular ideas include:
Host a live Q&A
Behind-the scenes/live tours
Breaking news
Contest or challenge
Demos/how-tos
Events/conferences
Interviews
Product launches
Explain a product
Reoccurring video show
Answer customer questions from your blog or Facebook page
In order to ensure a successful live event, we recommend the following:
Plan out the video ahead of time and ensure it is relevant to your target audience. As it is live, you don't have the luxury of re-takes and editing to get it exactly how you want it, so be sure to have a solid script and plan before turning the camera on.
Promote the event ahead of time to increase the number of people watching. This can be done through promotion on your website, Facebook ads (including an event ad), promotion on other platforms (Twitter, Instagram, LinkedIn), promotion within your store(s) to existing customers via signage or word-of-mouth and/or an email blast to subscribers, among others.
Ask users to submit questions ahead of time so that you have something to talk about in the first few minutes before the live questions start coming in
7) Watch Out For Facebook Stories
Stories haven't really taken off on Facebook like they have on Instagram, but that may change as brands try to find more ways to get in front of people organically. Though Facebook Stories is currently limited to personal profiles, TechCrunch recently confirmed that this feature will be rolling out to all pages in the coming months.
Before it becomes widely popular with brands, be the first to jump on Stories by implementing it as soon as it is enabled on your page. As we've discovered on Instagram, Stories are a great way for companies to reach people by offering interesting content such as behind-the-scenes videos and how-to instructions. Plus, Facebook displays the latest Stories at the very top of the News Feed on both desktop and the mobile app, offering incredible organic exposure.
8) Motivate people to share on your behalf
We at Reshift have often talked about the importance of engaging your customers and fans to share information about your brand on their own personal Facebook page. This means that they create their own post about your company and share it, as opposed to sharing a post from your brand page to their friends and family.
This concept is crucial for all social media marketing professionals because the reach of personal pages has long outperformed business pages. With this latest algorithm change, it is clear that person-to-person interaction will be even more favored over business-to-person. This opens up an opportunity for smart brands to better engage their best fans to increase their distribution and reach new potential customers.
Being successful with this approach involves developing high quality content and a strong customer engagement strategy.
One of the best ways to encourage people to talk about your company on social media is to create a strong blog on your company website with interesting information about your industry, customers, products or other relevant content. You should actively promote your blog to your existing customers through newsletters, in-store experiences and social media. You may even want to consider putting a modest ad budget against promoting your content on several social networks (not just Facebook). Ensuring the post is search optimized is also important to increase its discoverability via Google and Bing.
Your objective with these efforts is to encourage people to come to your blog to read it. Once they are on your article, encourage them to share their thoughts on social media (including Facebook, of course). When the person shares the article via their personal profile, their reach within their social circles will be superior to what you could achieve as a brand page, which will allow you to reach new prospective customers. If they click through, read and share the article, then you achieve even more distribution.
We earlier discussed how sharing customer stories from your brand page is a good way to generate interactions. This concept is also very powerful when the customer shares their own story about your brand via their social networks. This is particularly powerful for brands that create experiences – such as restaurants, hotels, event companies and other similar businesses.
Outside of overtly asking people to talk about you on Facebook (which is often quite difficult), there are several proven strategies to encourage people to share their positive experiences:

Create content on your website that is about them. This could be a celebration of their stories (similar to the car example in idea #3) or something as simple as a "customer of the week". The idea is to create website content that is about them, their community or something they care about. People enjoy being part of the conversation and will almost always share it to their own social networks on your behalf.
Surprise and delight them. Give them an unexpected surprise such as a table visit from the head chef, a surprise credit on their account, or a discount for repeat visitors. This is where your on-the-ground customer engagement strategy is critical – go the extra mile to make their experience a great one and they will naturally talk about it on social media.
Use your store to provide visual cues that your brand "gets" social media. Bring social media into the "real world" by integrating social elements into your physical stores. This could include ideas such as displaying hashtags alongside menu items or prominently posting the company's social handles.
Give people some "fame". The idea is to show that you care about their social posts and want to share them with other people. This could include ideas such as having digital screens in your facility display a running feed of brand mentions so people can see themselves, or hanging up printed posters of this week's best customer photos from Facebook/Instagram.
9) Make your content a "must have" for your followers
Although the News Feed determines what content people see, they can manually override the algorithm to select people and pages that they want to see first in their feed. This can be done two ways:
1) Via their personal "News Feed Preferences." People can click "News Feed Preferences" and then "prioritize who to see first".
2) On the brand page itself. People visiting your brand page can click on "following" and then choose "see first".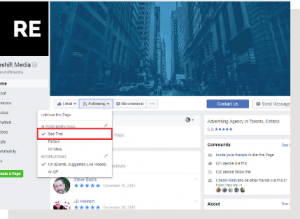 Although the ability to prioritize pages is not a well-known feature and involves some work on behalf of your fans, companies with highly engaged customers can achieve some success in teaching people to take this step to ensure they receive content from the brand.
The key to this approach is to make your content a "must have" for your fans. Again, what exactly appeals to people varies from brand to brand and even between customer segments within a brand. We recommend conducting user profiling and segmentation to ensure you understand what value you bring to your customers in order to create the type of content they absolutely must have.
We encourage brainstorming content within two major "buckets":
a) Informational/tactical: Content that informs people or provides some utility.
Deals/offers/coupons/flyers: Some customer segments love a deal, which can be a strong motivator to take an extra step to ensure they get "the best" deals available. One strategy we often use is to offer some deals only on Facebook and use other avenues such as the company's website or email newsletter to promote that exclusive deals can only be found there.
Menu items/specials/schedules: Many businesses provide their products or services based on a schedule, which may be important information for customers to be aware of. For example, someone who frequently visits a particular restaurant may want to be kept up-to-date about menu changes or daily specials.
News/events: Become the "go to" information source in your field so that followers don't want to miss an update, otherwise they will be "out of the loop".
How-tos: Become a resource in your industry for how to do things.
b) Entertainment: Content that entertains people or brings them some enjoyment.
Comedy/satire
Quizzes/contests
10) Measure and manage the right things
As they say – what gets measured gets done. To that end, we recommend taking a hard look at how you measure your Facebook performance to ensure it is aligned with the new algorithm update. When creating content for your brand page, less emphasis should be placed on "vanity" metrics such as page or post likes and more focus should be placed on post interactions (comments, shares) and reach. Posts achieving strong interactions and reach should be viewed as a success, even if they did not generate as many likes as other posts.
Beyond measuring the reach of posts you create, we also recommend monitoring for brand mentions across all social networks to see how frequently people are creating their own posts about your brand. This will be an important measurement to understand if your content and offline strategies are encouraging people to use their personal profiles to promote your brand.
Although a change of this magnitude will naturally lead to a period of uncertainty and concern by those affected, we believe that the News Feed update creates an opportunity for brands to re-examine the low-engagement "mass media" approach they may be taking today. At this point it is unknown exactly how profound the effect will be on brand reach, but there is little doubt that lower-interaction brands will see a decrease in their Facebook effectiveness. Now is the time from brands to be implementing meaningful changes which will not only improve Facebook results, but also business drivers such as customer engagement, customer satisfaction and new customer acquisition.
We reviewed these 10 strategies and answered viewer questions in a recent Facebook Live:

We at Reshift Media expect that the next few months will be a major period of adjustment as the impact of the new changes take effect. If you implement the recommendations in this guide that apply to your business and are diligent about focusing on interactions as your main objective, your company has a significant opportunity to out-perform your competitors who are slower to adapt.
This blog post is part of a 4-part series. Keep reading:
You are reading: Top 10 Ways to make Facebook's Algorithm Change Work for You
Also, you can download our FREE guide to Facebook's algorithm change
TAGS