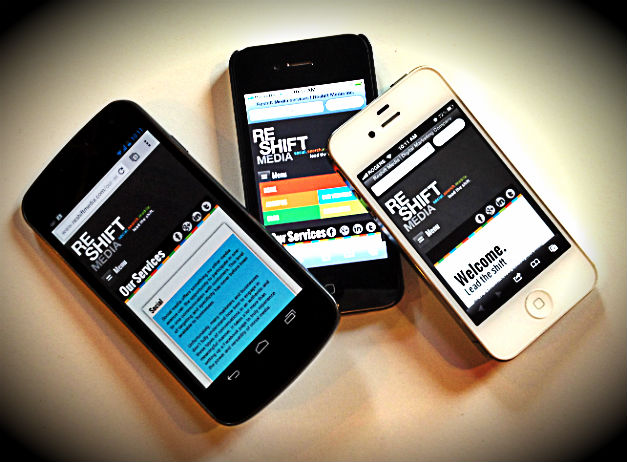 Mobile is where it is at.  If you are involved in the media industry in any way, shape or form you need to be thinking about mobile before anything else. Seriously.
Don't believe me?  Then think about this:  globally, mobile is pacing to overtake desktop internet usage by 2014. More people will be accessing the internet on their mobile device than on a desktop in just two years, if not sooner.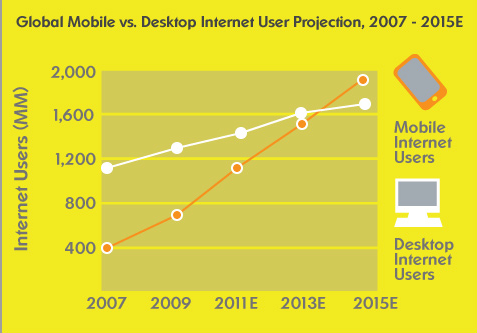 Not convinced?  How about the fact that over 1/3 of Facebook's users access Facebook Mobile and 50% of Twitter's users use Twitter Mobile (Microsoft Tag)?  Or that 70% of all mobile searches result in action within one hour compared to 70% of online searches, which lead to action within one month (Borrell Association)?
Consider the implications of these trends.  Mobile use is accelerating and mobile consumers are highly social; they want to find your business and take immediate action.
Given these trends, you should be thinking about whether your site measures up to people's expectations when they are on their mobile device. It is a tough hurdle to overcome – according to a study conducted by Gomez:
74% of consumers will wait no more than 5 seconds for a web page to load on their mobile device before abandoning the site.
46% of consumers are unlikely to return to a mobile site if it didn't work properly during their last visit.
71% of mobile browsers expect web pages to load almost as quickly or faster as web pages on their desktop computers.
Does your mobile site meet these expectations?  If not, you'd better take some quick action or you will miss out on a rapidly growing, engaged and motivated segment.
So, this is the point where someone invariably asks "should I build apps or HTML5?"  Forgive my bluntness, but this is a ridiculous and meaningless question.
First off, it is the wrong question.  It is not about what programming language you build in, it is about what consumer need you are fulfilling.  Asking whether apps are better or worse than HTML5 is the same as asking whether sandals are better than snow boots.  You don't know which one to wear unless you know the temperature outside.  The same is true here – if you want to achieve the greatest breadth in the shortest amount of time and you do not need to tap into the hardware of the device (things like GPS, the camera, etc.) then go ahead and build in HTML5.  If you want to build a deep vertical experience that utilizes the hardware of the device, then consider an app.  It all depends on what it is you are looking to achieve and who you are trying to reach.
And secondly, this is not an either/or decision – you can absolutely do both.  It makes perfect sense to develop an app for the device most used by your target audience and then develop in HTML5 to quickly cover off other devices. This gives you the best of both worlds without breaking the bank.
So what does all this mean?  It means you better be taking action to ensure you are ready to satisfy the wants and needs of a mobile audience who will be accessing your brand across a slew of devices and who have very high expectations.
-Steve Buors, [email protected]
TAGS