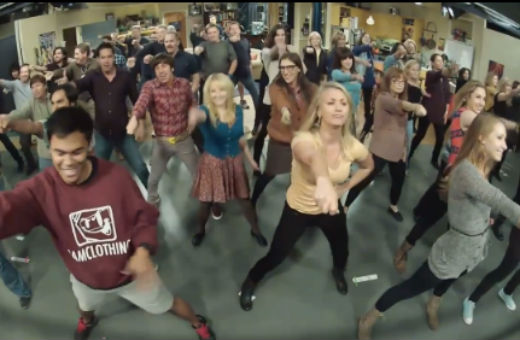 This week's viral videos include a celebrity-led flash mob, a musical tribute to a popular meme, and Stephen Colbert's latest attack on Canada. Here's a roundup of the clips we just couldn't stop watching:
1) The Cast of The Big Bang Theory Do "Call Me Maybe"
"Call Me Maybe" flash mobs are totally played at this point, but there's still something very charming about the cast of The Big Bang Theory getting in on the action. We're not the only ones who think so; this clip, which was released Thursday, has already racked up nearly 2 million views. Here's the full version.




2) Stephen Colbert Calls Windsor "Earth's Rectum"
Stephen Colbert made headlines this week by once again taking aim at Canada, calling Windsor, Ontario "Earth's rectum." Windsor responded by politely inviting him to lead their Santa Claus parade. How very Canadian.




3) The "Ermahgerd! Gersberms!" Meme Becomes a Love Song
One of our favourite memes, Ermahgerd Girl, gets the music video treatment by one of our favourite podcasters! The Nerdist's Chris Hardwick teams up with his songwriting partner Michael Phirman for this hilarious tribute. The clip features cameos from The Muppets' Swedish Chef and Paramore singer Hayley Williams.




4) Red Bull Kluge: The Ultimate Athlete-Powered Machine
Red Bull is on a roll with viral videos this month. Following up their stunt in space with daredevil Felix Baumgartner, they've released a new clip called the Kluge, which they define as "/Klooj/ Noun, Slang – A witty, yet inelegant solution that succeeds in performing a particular task." In this case, that involves getting a bunch of daredevils to perform extreme tasks to complete each piece of a Rube Goldberg machine.




5) Ask a Network Head
Why doesn't MTV play music videos anymore? The answer is simple: it's all your fault. This hilarious video featuring a (fake) MTV executive made the front page of Reddit, got responses from both Tommy Lee and MTV itself, and has reached over 1 million hits.




6) Rhett & Link's "Spot the Differences" Music Video
Speaking of music videos, YouTube musicians Rhett and Link teamed up with Sleep Better to create a cool "spot the differences" interactive clip. Viewers watch two very similar versions of their music video and are encouraged to count the differences and submit their answer to Sleep Betters' Facebook application for a chance to win $4000. Here's behind-the-scenes look at how they created it.




7) Woman Wants Cheap iPad, Gets Mirror Instead
When a deal sounds too good to be true, it probably is. Jalonta Freeman of Arlington, Texas was at a gas station when a man drove up to her and offered her an $800 iPad for a mere $200. It turned out to just be a mirror wrapped up like an iPad.




8) Gays Will Marry Your Girlfriends
College Humor kicked off a campaign to promote marriage equality with a hilarious video based on one simple premise: let gay guys marry each other, or they'll marry your girlfriend. And, according to the very strong arguments made in this video, your girlfriend will love it. (Warning: salty language.)


9) The Slow Mo Guys' "Inception Bathtub"
Two guys reenact the slow-motion backwards fall from Inception…except in a backyard in South England. Awesomeness ensues.




10) Sony NEX-FS700 Super Slo-Mo Tests
Celebrity chef/television personality Anthony Bourdain is working on a new CNN show called Parts Unknown, which will be filmed using the Sony NEX-FS700. Bourdain tweeted out a link to some test footage – which was shot at ISO 500 at 480 frames per second – and the results are mesmerizing.
TAGS