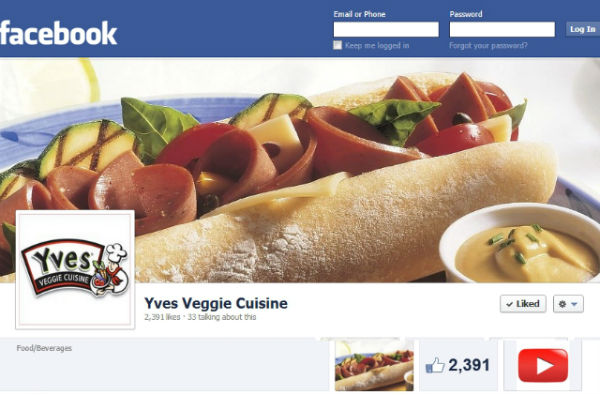 A recent report by Statistics Canada found that 31% of Canadian children aged 5-17 are overweight or obese and that Canadian boys are three times more likely than girls to be obese. Family obesity tied to poor nutrition remains a concern across Canada.
In order to raise awareness of this serious issue, Hain-Celestial Canada, McIlroy & King Communications and Reshift Media Inc. have combined forces to create a social media-based campaign to educate Canadians on the benefits of a low-fat approach to nutrition to promote healthier eating for the whole family.
Health-conscious information such as recipes using Yves Veggie Cuisine® products, nutritional facts and cooking techniques will be shared with Canadians through multiple social networks including Facebook, Google+, YouTube, Twitter and Pinterest. In addition, low-fat recipes will be distributed across many popular recipe websites to promote healthier choices. Other initiatives include the use of Google+ Hangouts and YouTube videos featuring nutritionists sharing valuable health information and cooking options.
For over 20 years, Yves Veggie Cuisine® has been committed to creating delicious products that meet the needs of health-conscious Canadians. With over 30 types of meatless products (including the popular Yves Veggie Ground Round and the award-winning Yves Veggie Chilli, which was named Best New Product in 2011), Yves Veggie Cuisine® provides nutritious vegetarian alternatives to ground beef, hamburgers, hot dogs, deli slices and other favourites foods because they do not contain meat.
Health facts for Yves Veggie Cuisine® products:
"We are very excited to have partnered with two forward-thinking organizations in order to communicate the importance of healthy eating choices", said Luisa Fernanda Nino Martinez, Senior Brand Manager for Hain-Celestial Canada. "We at Yves Veggie Cuisine® have long championed the benefits of low-fat, high quality vegetarian options to promote good health, and now we will be able to magnify our efforts through a one-of-a-kind social media approach."
"It was important that we put together the right team for this important campaign", added Julie McIlroy, Partner at McIlroy & King Communications. "With Yves Veggie Cuisine's fantastic products, McIlroy & King's deep media experience and the impressive social media skills and knowledge of Reshift Media, we will be successful in raising awareness on the benefits of a low-fat approach to nutrition."
TAGS