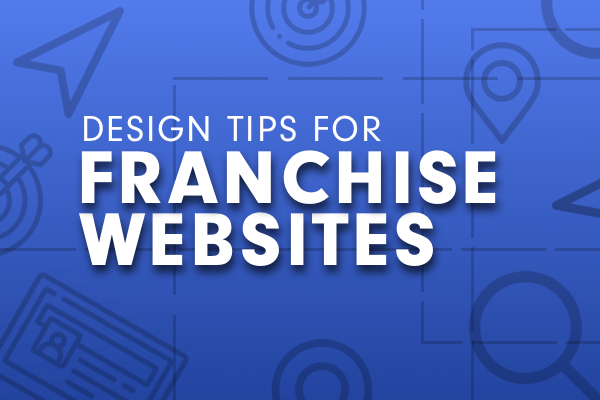 Franchise organizations face unique challenges when creating a website, as it needs to serve both national and local audiences. This includes managing all the local business listings of franchisees and developing authentic content for the national and local pages.
It is important to focus on designing consistent elements when creating a franchise website. Not only is it crucial to create and maintain a digital presence for your national brand, but a franchise website also needs a page or site for each location, helpful and easy-to-use navigation, uniform style and branding, a detailed store finder, SEO-friendly copy, and highly localized content.
When designing an effective website for a franchise organization, keep these factors in mind:
Clear National and Local Navigation
One of the most important elements in web design is the navigation menu, as it provides customers a guide to exploring the site's structure. Navigation is especially important on a franchise site, as users may toggle between the national site and local store sites, and they need to be able to identify when they are switching between the two.
When we created the Dogtopia website, we wanted to make it easy for users to navigate from the national site to the site for the location nearest them. The navigation is designed to direct the user to where they want to be, where they previously were, and where they are going.
The website was designed around strong local microsites for each of the franchisees' locations. All elements of the site have been structured to make it as easy as possible for a person visiting the site to learn about and contact their nearest Dogtopia location, and for the local franchisee to easily update their site with store-specific information.
From a UX perspective, it's important that the national site's menu displays the services clearly in the navigation so the user quickly understands who Dogtopia is and what they do in one glance. The navigation is in a prominent spot, located at the top of the page. This is very user-friendly since it remains pinned to the top when the user is scrolling up or down the page, making it easier for users to locate the navigation at any time (this is referred as a "stick navigation/fixed menu).
As for the local site, the navigation is more focused on that specific store and less about the brand as a whole. The navigation includes pricing, events, teams, and reviews that are specific to that local store. We placed the location info right at the top at the page so that when users land on the page, they immediately can see the name, the address, phone number/email, hours and a call-to-action button to book an appointment. The navigation only includes locally relevant links whereas in the footer, we included several national/franchise links which can lead users to jump from a local site to the national site. Implementing a local social media feed is also important, as it will display the daily and most up-to-date pictures, updates and events from the store.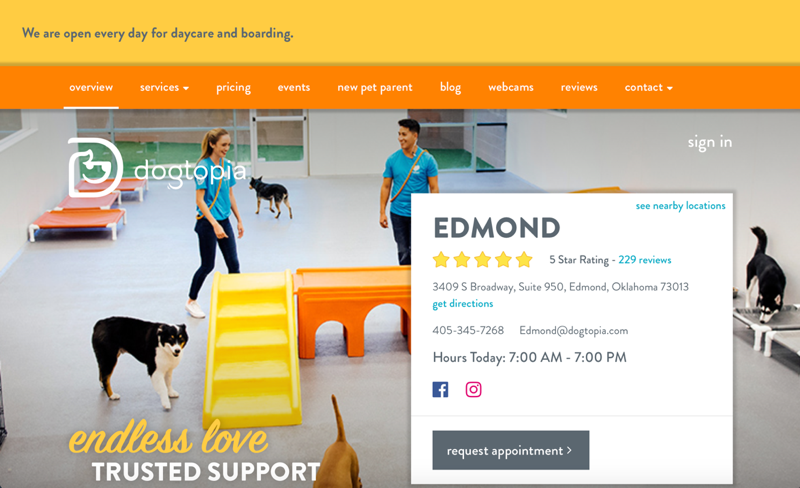 Consistent Design, Style and Branding
Being a recognizable brand is all about consistency, and the logo, promotional material, and colours should be the same across both the national site and local sites. If you're allowing your franchisees to update their local sites on their own, provide them with a style guide and a media library to maintain a consistent look and feel across your entire digital presence.
A Detailed Location Finder
The best way to help users find their nearest store is by implementing a franchise locator on the national site. This will help potential customers easily navigate to the location most relevant to them, as well as allow for corporate-to-local conversion tracking. Adding Google maps to your site will make the navigation a smooth and easy experience for your users, as they are mobile-friendly on all devices.  Some franchise websites also add geo-location functionality that detects the location of each visitor to the site, prompting them to check out their nearest store's local page.
A Compelling Blog Section
A great way to gain more website traffic and expand your reach is to regularly publish blogs on your website. According to HubSpot, businesses that blog generate 55% more website traffic than businesses that don't create blog content. As you increase the number of blogs on your site, search engines will be able to crawl and index more of your content, raising your visibility.
Blogging is a good way for brands to build credibility, as having useful, up-to-date content demonstrates that your business is a trusted source and thought-leader in the industry and cares about providing no-cost resources to customers.  Many franchise websites have a blog on their national site that covers the brand's milestones, press releases, and general information. On the local sites, franchisees can post blogs about what is happening in their particular store and community. Any blog post that highlights a service or product should link back to that specific product/service page on the site, so the user can get more information. Blog posts should also include a call to action at the end, like "contact us" or "book your next appointment."
Duplicating the same blog post across multiple local sites offers very little SEO value, while having extremely localized blog posts about store-specific activities, events and milestones can substantially raise that store's visibility with local customers in search results. Because blogging is a time-consuming and resource-heavy activity, your local sites should be designed in a way that the blog can be easily added or removed per location, depending on the franchisee's interest in publishing local posts.
Ensuring your website is search-engine optimized using SEO-friendly content, metadata, URL structures, and more is incredibly important – though your strategies will differ slightly between your national site and your local sites.
To achieve visibility in local searches, the location pages should copy catered towards the particular store and the products/services it's offering.  These local websites should feature localized keywords in the copy and metadata, such as neighborhood and community names, addresses, traffic directions, nearby landmarks, etc. Think of how users may be searching for your products and services in Google, and ensure your copy reflects that. For example, a user might search "plumber downtown Boston" – if you offer plumbing services in that area, your copy should help you show up in their search results. If a user is likely to search "restaurants near the CN Tower" and that describes one of your locations, be sure that local website mentions it is near the CN Tower in its copy.
Here's a checklist to help ensure your local sites have the necessary info:
Optimized URL: a URL structure that is unique and easy to understand, while also remaining part of your main website and not on a separate subdomain (ex. brandname.com/city).
Location optimized titles and meta-tags: In the title section, insert your brand name, product or services, and your location. In the meta description section, include your city, state, or province and zip code.
NAP: On each micro-site, be sure to include your business' name, unique address, and phone number.
Schema Structured Data: Using Schema tags will allow you to show the address and other location information. To boost your website's search rankings, add Schema markup to your HTML to enhance the rich snippets that are located below your page title.
Map: Embed Google Maps into your location pages
Ensure the contact information on your local website (address, hours, phone number, etc.) is consistent with what is listed on that store's Google My Business page.
Local Content: Your brand can suffer rankings and traffic losses if you duplicate content across multiple store location pages. It is important to differentiate each location by writing quality and relevant content that is specific to each store, including unique store descriptions and hours, a localized About Us page highlighting that store's team members, local promotions, events, and more. If each store has their own social media handles, integrate them into the local sites. Also, ask customers for reviews, not just on your website but also on Facebook, Google, Yelp, TripAdvisor, etc. to increase your visibility.
By implementing these design tips when creating your franchise website, you should generate more visibility among potential customers, develop a strong online reputation, and dominate local search results.
TAGS