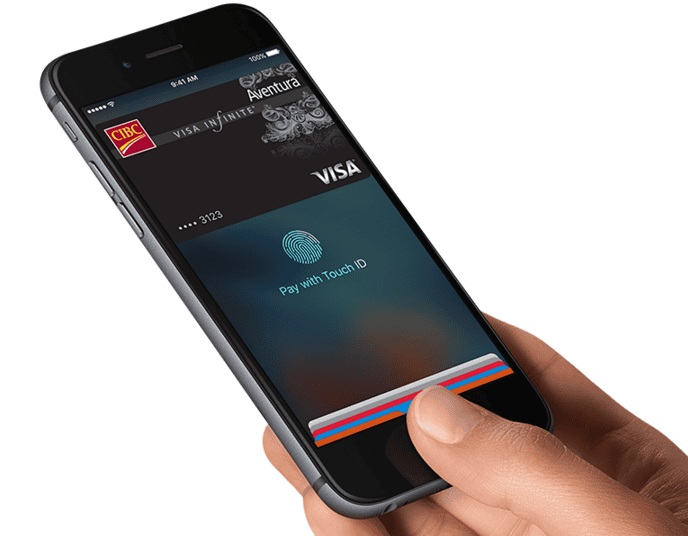 The iPhone and Apple Watch are about to become even bigger parts of the average consumer's life with the announcement of the partnership between Apple Pay and Canada's five major banks.
Apple Pay is a service that allows customers to scan and upload their debit or credit cards into the memory of their Apple devices. They can then use their device to make purchases of $100 or less at participating stores and restaurants.
Starting this week, customers with Royal Bank, CIBC, Canadian Tire Financial, and ATB Financial Master are now able to use the Apple Pay service. TD Bank has announced plans to make Apple Pay available to their customers in the coming weeks, and the Bank of Montreal and Scotiabank say they are following suit in a couple of months, reports CBC.
iPhones with the Fingerprint Touch ID functionality are the only smartphones that are able to use Apple Pay for in-store purchases. These phones include all generations of the iPhone 6 as well as the iPhone SE. Apple Watch users can also use Apple Pay in stores as long as it is paired with an iPhone 5 or later. Some of the later iPod models including the iPad Pro, the iPad Air 2, and the iPad mini 3 offer the option to use Apple Pay for in-app purchases, however since they do not have the Touch ID feature, they can't be used for store purchases.
From a security standpoint, because the iPhone's Touch ID needs to read the correct user's fingerprint in order to complete the transaction, the security measures in place are actually higher than when consumers use their bank cards. As well, users who lose their phone can deactivate their card remotely without actually having to cancel it. The actual card number can't be found on the phone so whoever finds the lost device has no way of retrieving that information.
Canadian establishments who already accept Apple Pay include McDonald's, Tim Hortons, Canadian Tire, Petro Canada and Pizza Hut, with Air Canada, Pizza Pizza, and the Toronto Transit Commission adding the capability soon.
TAGS