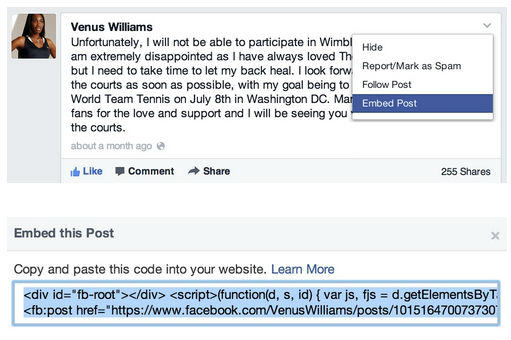 Another week, another Facebook update. The social media giant recently announced that it will soon offer embedded posts, allowing users to spread their Facebook photos, videos, status updates, and hashtags to other parts of the web. Previously, only Facebook widgets could be added to websites and blogs.
They are still testing the functionality so currently the only sites that can embed posts are CNN, Huffington Post, Bleacher Report, People, and Mashable, but there are plans to broaden the functionality in the near future.
How does it work?
You can interact with a post on a third-party site just like you would interact with it on Facebook. You can like and comment on posts, like pages, follow people, and click hashtags to discover more about topic on Facebook.
The embed code only works for public posts. If you want to prevent your posts from possibly appearing on a third party website, make sure the security settings on your posts are not set to "public."
If you want to embed a public (be it your own or someone else's), you can click the drop down menu and select "embed post" to view and copy the embed code. See a live example of an embedded post on this article on CNN.
The move follows Facebook's recent introduction Instagram web embeds. Much like individual tweets, which are frequently embedded on websites and blogs, Facebook posts may soon be popping up anywhere, not just on Facebook.
TAGS