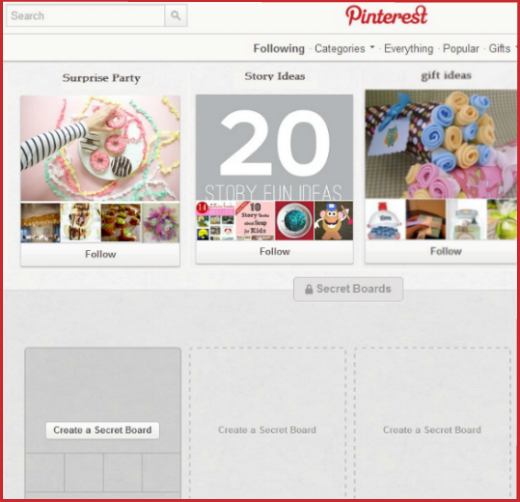 Pinterest, the world's favourite virtual bulletin board that lets you tag any image from the internet, rolled out secret boards at the end of 2012. Are you taking advantage of them yet?
In a blog post, Pinterest software engineer Evrhet Milam said secret boards have long been one of the site's most frequently requested features.
"We hope that secret boards will make Pinterest even more useful," he wrote. "You can use secret boards to keep track of holiday gifts, plan a special event, or work on a project you aren't yet ready to share with the rest of the world."
Secret boards give you a place you can store the pins you don't want the general public to see yet — or ever. When you add a pin to a secret board, it won't show up anywhere else on Pinterest—not in search results, category sections, Popular, Everything, your followers' home feed, your own home feed, or even pins or activity pages on your profile.
Pinterest currently offers each user three secret boards to start (you can find them at the bottom of your profile page). You can pin images from the internet or re-pin other people's pins onto your secret boards without any of your followers seeing it.
Any new pin can be made private, and you can invite others to contribute to your secret board. (In the board's settings, go to the section titled "Who can pin?" and type in the person's name or email address.) Only invited contributors will be able to view and pin onto the secret board. (An invitation to contribute to someone else's secret board will not affect your own three-board limit.) Contributors will also be able to re-pin content from the secret board to public boards, but no information about the secret board or link back to it will be made visible.
At any time, you can convert your secret boards to regular boards by turning the visibility setting to "secret: off." But be aware: you can't change a board back to secret after you've made it public.
Also, you can't convert an existing board to a secret one, since others may have already re-pinned it.
Happy pinning!
TAGS