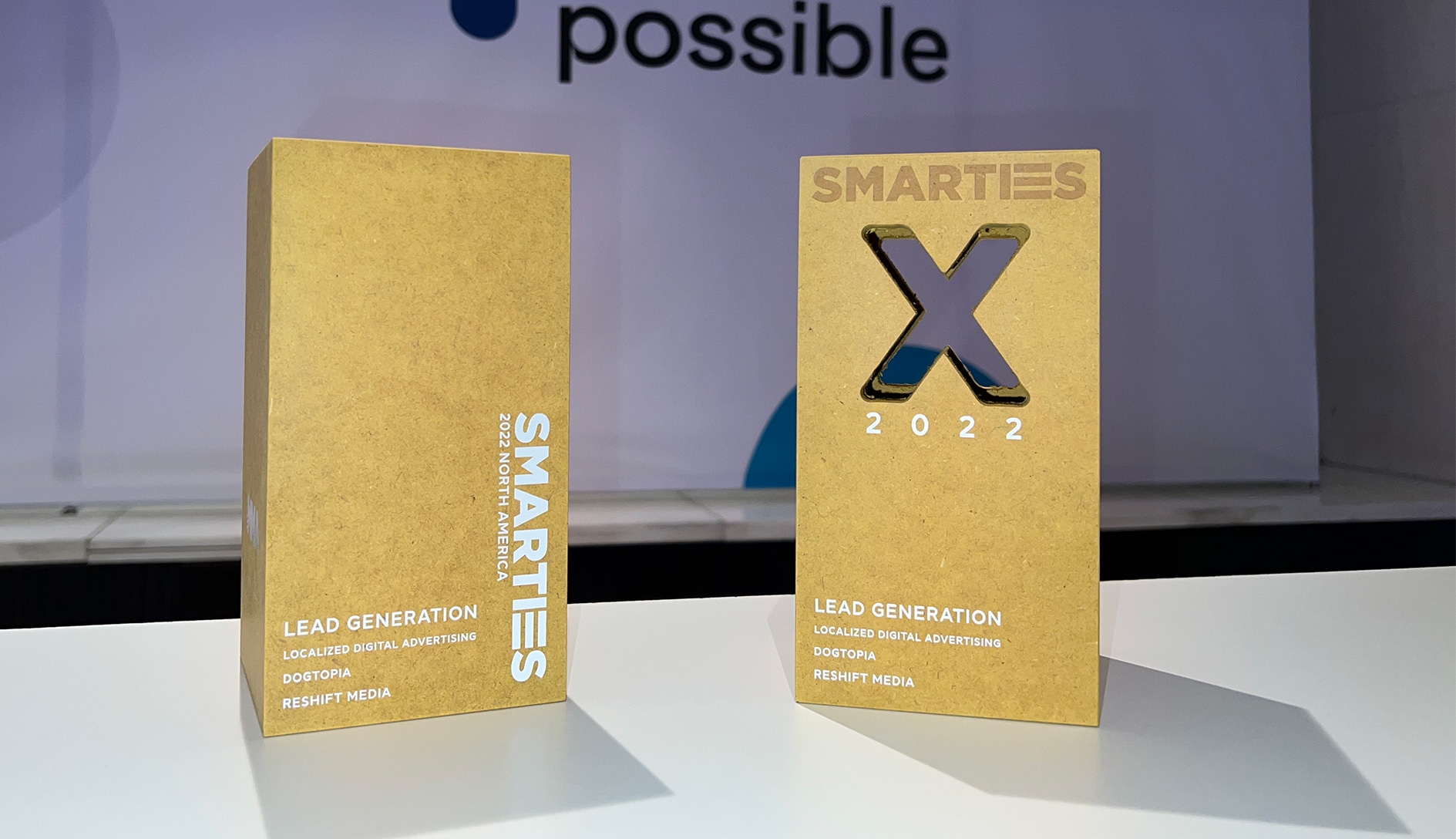 Reshift Media is honoured to announce that we, and our long-time partner Dogtopia, have been awarded North American and worldwide golds at the MMA GLOBAL 2022 SMARTIES Awards under their Marketing Impact, Lead Generation category. Our award-winning submission featured a cross-platform digital advertising campaign that generated exceptional results for Dogtopia's local franchisees. 
Reshift Media's CEO, Steve Buors, accepted the awards at the SMARTIES gala that took place in Miami, Florida on April 18, 2023 as part of the MMA's POSSIBLE conference. "Our mission is to relentlessly innovate to develop solutions for our clients," said Buors. "We are extremely happy to be working with Dogtopia, who shares that same mindset and is willing to try new things. We are truly honoured to receive these amazing awards." 
Reshift Media was chosen for these esteemed awards among hundreds of submissions from more than 20 countries. Regarding the annual SMARTIES awards, Greg Stuart, CEO of MMA Global, said, "What the Effies are for measuring marketing effectiveness and Cannes Lions are for celebrating creativity, the SMARTIES are for recognizing tangible business impact." He continues, "This prestigious award distinguishes the brands, agencies, media companies, and solution/technology providers that have achieved meaningful results. It's the only accolade in the industry that honors marketing's powerful impact on business."
About Our Winning Digital Campaign
Dogtopia, North America's fastest growing pet franchise with more than 230 locations, required a high-impact, multi-platform lead generation campaign to grow their company and help their franchisees boost customer acquisition. To help increase the speed of customer growth, decrease the time it takes for new locations to get up and running, and make digital advertising easier for the company's franchisees, we created, deployed, and managed location-specific digital ad campaigns that included Facebook, Instagram, and Google search advertising. 
 The campaigns included a variety of innovative creative concepts highlighting Dogtopia's various services, such as daycare, boarding, spa, and training. The creative featured videos and photos of happy dogs in Dogtopia playrooms, and the messaging for each ad included an assortment of offers and incentives that focused on safety, socialization, dog health, and an overall love of dogs. The search campaign included a wide variety of high-value keywords and ad copy designed to resonate with people searching for dog daycare, boarding and spa services.  
At the heart of the campaign was our proprietary software platform, the Brand Amplifier. Through the platform, Dogtopia franchisees were able to create, deploy, measure and fund digital campaigns specific to their location quickly and easily. Franchisees could log into their own dashboard to choose from a variety of "ready to go" Facebook, Instagram and Google Search campaigns that were programmatically customized for their location. The software automatically inserts local information such as the city name into the Facebook, Instagram and Google ad copy, as well as the Google Search keywords. By inserting local information, the ads are more locally relevant which substantially increases lead generation performance. 
We want to thank MMA GLOBAL and the SMARTIES Awards for this incredible honour. In addition to our wins, we were also finalists for the two "Best in Show" awards for North America and the world! We take pride in being listed among the outstanding companies nominated in these categories.