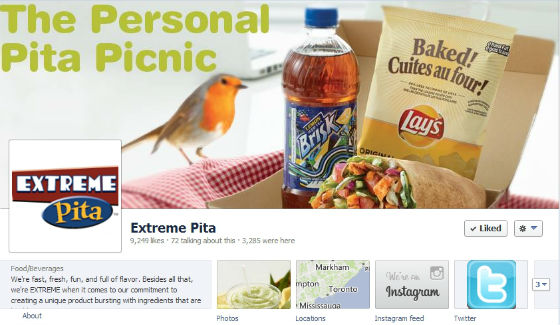 (TORONTO) June 20, 2013 – Extreme Pita has teamed up with Reshift Media to launch Facebook pages for each of its 200+ locations across Canada and the US in order to increase its local reach and relevance within the communities it serves.
To achieve this strategy, Extreme Pita implemented Reshift's Social Brand Amplifier software, which allows brands to update and manage a network of local Facebook pages easily and efficiently using Facebook's Locations framework (formerly known as Parent-Child). The Brand Amplifier enables companies to cascade national content either across all of their Facebook pages, or to select geographies/demographics while also consolidating reporting and notifications. All of this is accomplished while still allowing for unfettered local franchisee participation.
"Extreme Pita has a strong presence across Canada and the US, with strong roots in the community," said Mark Cunningham, Brand Vice President & Vice President Global Business Development. "By pursuing a very local social approach, we are creating a larger social audience overall that has stronger ties to their local restaurants, without sacrificing our ability to communicate with them from a national level."
Extreme Pita's innovative approach allows the national office to reach and engage with people locally, while also empowering local restaurant teams to be very active in engaging their local customers through relevant content, offers and promotions. A localized training program will accompany the rollout of the Facebook pages to train the entire Extreme Pita team on how to effectively engage with people in their communities.
"Having local Facebook pages is important for customer engagement, but is even more critical as people increasingly turn to mobile and Facebook Graph Search for local social recommendations," said Jen McDonnell, VP of Social Media and Content for Reshift Media. "The Social Brand Amplifier really is the best of both worlds; it allows the brand to cascade relevant content including promotions and offers, while still allowing for strong local involvement."
About Extreme Pita
Extreme Pita, part of the Extreme Brandz family of quick service restaurants, is committed to creating the freshest, healthiest pitas for its guests. Co-founded by brothers Alex and Mark Rechichi, the first location was opened in Waterloo, Canada in 1997. Today there are over 225  locations across North America. In addition to ranking in Entrepreneur magazine's list of top restaurant franchises in 2011, Extreme Brandz won the 2011 Company of the Year Pinnacle Award. For more information, visit www.extremepita.com.
About Reshift Media
Reshift Media Inc. is a digital marketing organization that works with businesses and their advertising agencies to develop, implement and manage social, search and mobile strategies. For more information, please visit www.reshiftmedia.com or contact Jen McDonnell at [email protected].
TAGS