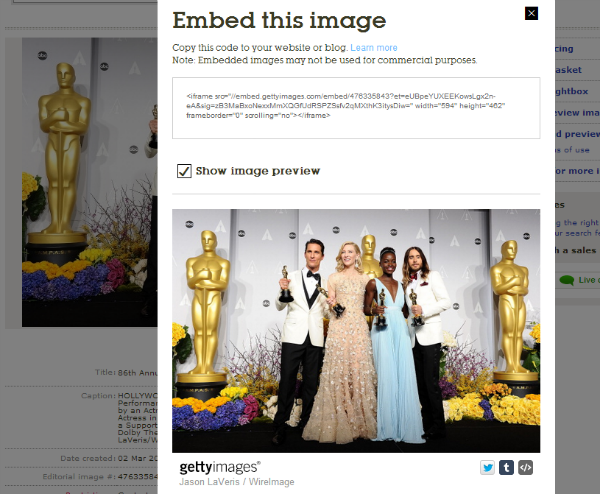 Earlier this week, Getty Images made a surprising and welcome announcement: the world's largest photo agency was opening the floodgates to allow bloggers to embed the bulk of their images for free. Previously, the Seattle-based company charged for its images (and the price was considerably steeper than many of its competitors).
The change was prompted by the widespread and unauthorized use of the agency's images online. Getty is hoping the embed feature will curb this practise and capture value from those who were previously stealing imagery.
"Look, if you want to get a Getty image today, you can find it without a watermark very simply," Craig Peters, a business development exec at Getty Images, told The Verge. "The way you do that is you go to one of our customer sites and you right-click. Or you go to Google Image Search or Bing Image Search and you get it there. And that's what's happening… our content was everywhere already."
The new feature allows people to embed non-watermarked images on their websites, such as WordPress blogs and Tumblr, for non-commercial use. The images will include a link back to the Getty Images website, the photographer's name, the collection's name, and icons for Twitter, Tumblr and embedding.
For bloggers with a limited budget who have depended on free Creative Commons imagery, this is huge news. Here's a look at the pros and cons of using Getty Images' new embed feature.
The Pros:
It opens up an amazing amount of image options, with more than 35 million non-watermarked images available to embed.
It's an incredibly easy process. You can grab the embed code from the Getty Images website by hovering over the photo and clicking on the embed icon "</>" below the image. Also, WordPress announced that users can just add the image URL into their blog posts.
You do not need to create an account on Getty's website in order to search for images and grab the embed code.
Despite some consternation among photographers, Getty Images claims this move should mean more money for them. The embed code is not directed at publishers who are already buying images; it's directed at those who are currently posting unauthorized and unattributed photos. The links generated from the embedded images should greatly increase Getty's traffic, and they're hoping it will in turn increase photographers' visibility. "What we're trying to do is take a behavior that already exists and enable it legally, then try to get some benefits back to the photographer primarily through attribution and linkage," Peters told CNET Australia.
Getty's terms and conditions prevent the images from being used for commercial use, but blogs that create revenues from Google Ads will still be able to use them in an editorial context at no cost. "We would not consider this commercial use," Peters told the British Journal of Photography. "The fact today that a website is generating revenue would not limit the use of the embed. What would limit that use is if they used our imagery to promote a service, a product or their business. They would need to get a license."
The Cons:
Our preliminary search revealed that not all collections are available for embedding. To find images that are embeddable, you can use this search form.
Though the current interface is incredibly clean, that's not to say ads won't be inserted in the future. According to the terms and conditions, Getty Images "reserves the right to place advertisements in the Embedded Viewer or otherwise monetise its use without any compensation to you." If you avoid embedding things like YouTube videos in your blog because you're wary of pre-roll ads, you might want to consider this possibility before using Getty's embed code.
Getty Images (or third parties acting on its behalf) may collect data related to the use of their embed code.
Also in the terms and conditions, Getty states it has the ability to remotely remove content without notice, which could lead to link rot.
The embedded images cannot be used for header and feature images on blog platforms such as WordPress, as these need to be uploaded locally or exist in your Media Library.
The images will not auto-resize, which means you may have to change the dimensions in the embed code in order to make it fit to your blog's particular theme.
Though Getty's new feature may not solve everyone's image requirements, this is still great news for budget-constrained bloggers looking for high-quality imagery, especially as the web becomes more and more visual.
TAGS