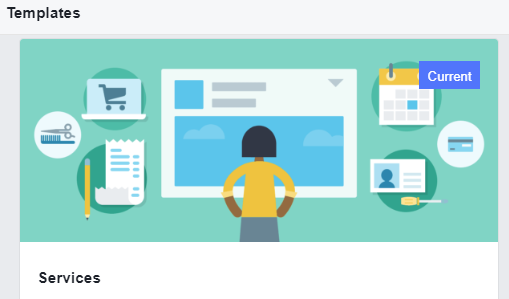 With the decline of organic reach for Facebook business pages, the social media giant is making moves to ensure it remains a vital marketing channel for local and small businesses. Amid a flurry of changes (including phasing out 5-star reviews in favour of recommendations, and introducing new authorization for page admins), Facebook announced that they will be automatically upgrading business pages' templates.
According to Facebook, the rollout of new templates is the result of people and businesses wanting easier and faster ways to connect with each other. Says Facebook: "Relevant information such as hours, price range and recommendations are prioritized so people can easily take action, like placing an order or contacting you directly."
The improved page layouts are meant to drive better engagement with consumers by showcasing important information specific to each page's industry (i.e. – pages that are categorized as "restaurant" will highlight menus and hours, while pages that are categorized "retail" will highlight online shopping options). In the new templates, action buttons will now be featured prominently near the top of the page, encouraging users to book an appointment, order food, buy tickets, send the page a message or write a recommendation – depending on your chosen template.
If you're an admin on Facebook, you will likely get an email soon prompting you to switch your current Facebook page to one of the new templates. Click on the "Learn More" link in the email and then when you get to the page, click the "Apply Template Now" button.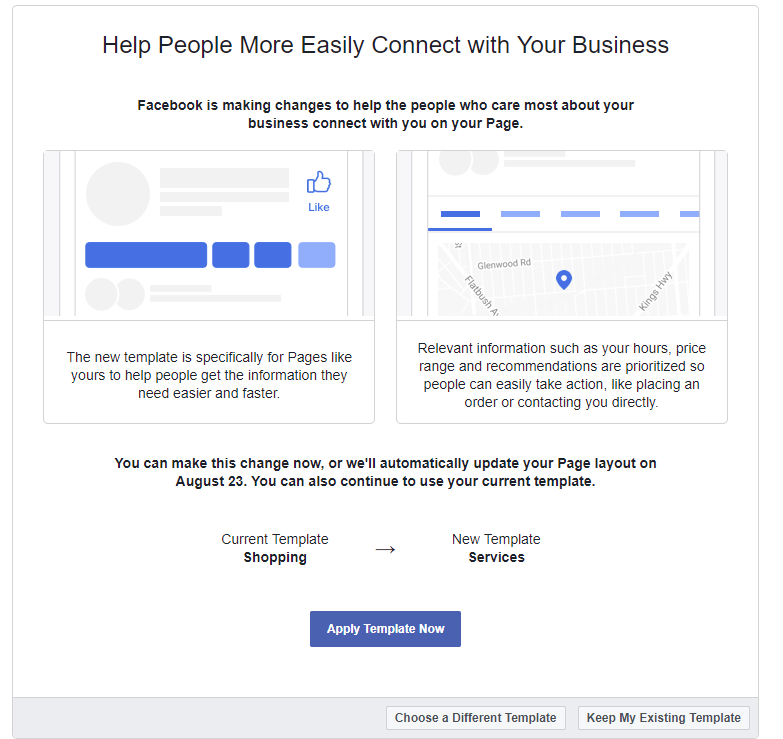 If you don't click on the email, this update will automatically be implemented for all business pages on August 22th, 2018. If you didn't get the email or don't want to wait, here's how you can make the changes yourself:
Click on Settings on your business page

Select Edit Page

Select edit template

Choose your desired template
Note: if you choose a template that has tabs you don't currently have on your page, you'll have to edit your page to populate those tabs. For example, if you choose a template that has a "menu" tab, you'll then have to upload a menu to your Facebook page.
Facebook will inform you what your current template is, and which one they recommend for your page. Remember, if you don't change it yourself, Facebook will automatically select a template they think is best suited for your brand at the end of August.
The templates options look fairly similar, but depending which one you select, they differentiate slightly on layouts and call to actions. The major difference between templates is the buttons on the top toolbar and the tabs on the left toolbar. However, no matter which one you select, you still have the option to customize the order of the tabs, and choose which ones are visible to users by going to Settings, Edit Page.
Here is a breakdown of the 10 different template options that are currently available:
Standard

– good for all page types, with buttons and tabs to help showcase what's important for your brand. This is what most pages are currently defaulted to, though Facebook will likely prompt you to select a more specific template below.

Services

– designed to help people find your services and get in touch.

Business

– designed to help you manage your business, including areas for special offers and job postings.

Venues

– allows you to highlight information like your venue's hours, location, and upcoming events.

Movies

– allows you to highlight showtimes.

Nonprofit

– designed to encourage people to fundraise and donate to your nonprofit.

Restaurants & Cafes

– allows you to highlight your menu, hours, location and photos.

Shopping

– designed to showcase products and make it easy for people to shop online.

Video page

– designed to highlight video content on your page.
This new update is designed to display your page's information in the best format for your customers. If you're looking for help with your Facebook business page, contact us!
TAGS