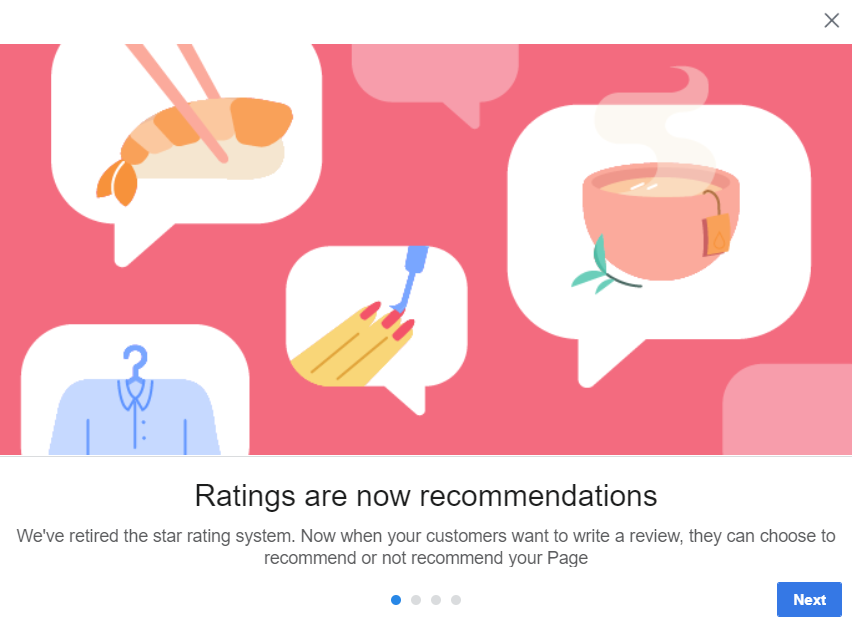 Facebook recommendations have replaced ratings as the way users give feedback about local businesses. Instead of giving a star rating on a one-to-five scale, users are now simply asked whether or not they would recommend a business. The social network is hoping this change will push people to write more extensively about their experiences, which will lead to more authentic, richer reviews.
What Are the Benefits of Facebook Recommendations?
One of the most effective forms of marketing will always be word-of-mouth. That's because people trust recommendations from their network of friends, as well as people who have had real-life interactions with the business. Facebook's new recommendation platform effectively uses this word-of-mouth style of marketing to encourage customers to share richer feedback that will help businesses become more visible within their local community. These recommendations will appear when people are searching or talking about a business anywhere on Facebook.
 How Do Facebook Recommendations Work?
Now when you recommend a restaurant or a local business to a friend, Facebook will encourage you to write a more in-depth recommendation. Users will now see a required minimum character count (25 characters), a choice of category-based attribution tags that they can click to easily add, and the option to add photos.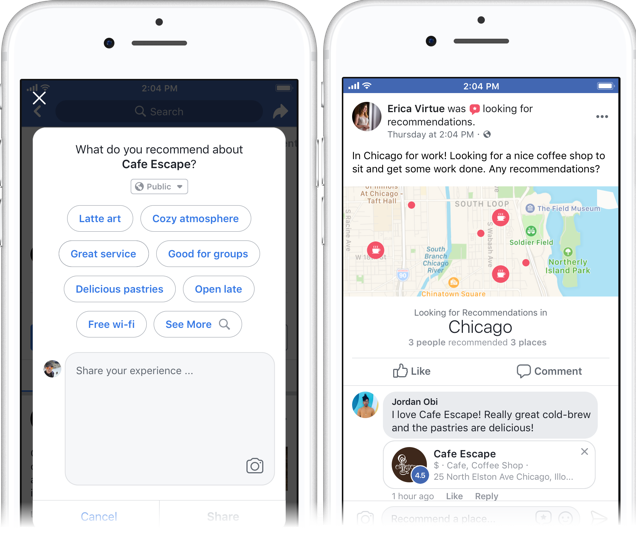 What Does the Change to Facebook Recommendations Mean For Local Businesses?
Previous star review data will still appear on local business pages alongside the new yes/no recommendations. Going forward, the reviews section will now include a mix of star ratings and recommendations. Instead of seeing stars at the top of this section, a numeric rating out 5 is now prominently displayed.
One of the major changes Facebook announced with this update is that it will be easier to report content in recommendations that is fraudulent, dishonest, spam or paid for. This is not the case currently with reviews, which are very difficult to dispute and/or have removed.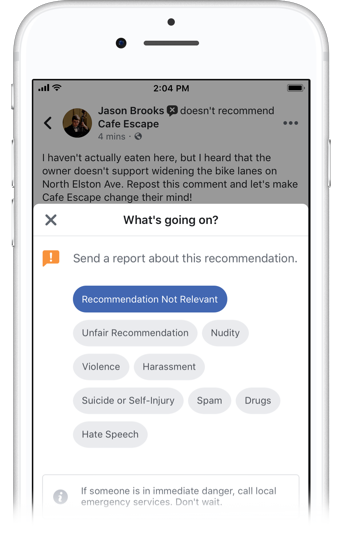 Interestingly, it appears that the revamped reviews section will also pull in posts in which users tag or check into the business. Unfortunately, page admins will be unable to comment on or respond to these types of posts unless they are friends with the person who tagged their business.
Unlike the current reviews, recommendations will no longer be confined to a business's Page. Instead, Facebook says "recommendations appear on your page and are discoverable across Facebook when people are searching for, or talking about your business. Because we know that people trust the opinions of those they know most, these recommendations will be surfaced most prominently."
This approach makes sense in the context of Facebook's ongoing "localization" trend. As we have discussed previously, Facebook is well aware that local is the next big battleground online and is continually taking steps to increase their local data and relevance.
What Else Is Changing?
The move away from star reviews to recommendations is just one of the changes Facebook announced for local business pages. Other updates include expanding the functionality of events and job listings, and showing related businesses on local business pages. Facebook will also automatically switch local business page templates on August 26, 2018 to showcase important information relevant to that business's specific industry (i.e. pages categorized as restaurants will switch to a template that will prominently display hours, prices and menus).
With over 1.6 billion people around the world connected to a small business on Facebook, and 2 in 3 users visiting the Facebook page of a local business at least once a week, the social site is hoping these changes will combat a recent algorithm update that saw companies' organic reach decline and make it easier for users to connect with local businesses.
TAGS