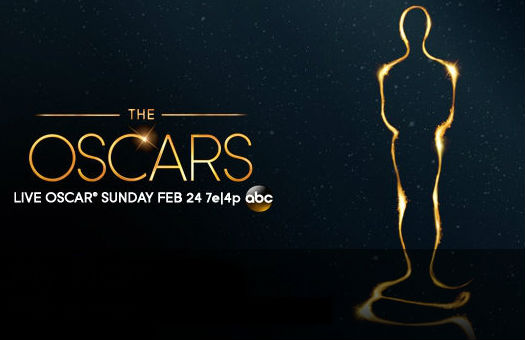 More than 35 billion people are expected to tune into the 2013 Academy Awards® on Sunday night — and with the sudden popularity of second-screen viewing, many of those people won't just be watching their TVs. They'll also be watching Twitter, Instagram, GetGlue, live-blogs and a variety of apps that have been created specifically to enhance the viewing experience. Check out our picks for where to get exclusive news and behind-the-scenes scoop on Hollywood's biggest night.
Twitter:
The fine folks at Twitter have enlisted a bunch of celebrities to live-tweet the Academy Awards®. Some will be attending the show (including Helen Hunt, Kristen Chenoweth and Nina Garcia), while others (like Katie Couric, Carl Reiner, Dick Van Dyke and Evangeline Lilly), will be tweeting from their couches.
We'll also be keeping eye on the twitter feeds of Oscar® host Seth McFarlane and producer Neil Meron, as well as the official Academy Awards feed. Plus, Jimmy Kimmel will be airing a post-Oscar broadcast on ABC, so expect him to be watching the show closely (and hopefully tweeting about it).
Live blogs:
There will be no shortage of live commentary during the red carpet and ceremony on Sunday night. Expect most of the top publications and entertainment websites to host live blogs with their writers, including Entertainment Weekly, Yahoo, MSN, CTV, Vulture (which is partnering with Go Fug Yourself for fashion commentary), AOL (featuring James Lipton), The New York Times, USA Today, The L.A. Times and MTV —  to name just a few.
Apps:
The official Oscar app is loaded with exclusive goodies (including video from the backstage Thank You Cam, which will offer winners an extended opportunity to thank people they missed in their acceptance speech). Unfortunately, it's only available in the iTunes US store. But there are still lots of free Oscar-focused apps available in the Canadian store.
E!'s Live from the Red Carpet app (iOS, Android) is filled with fashion photos, not just from the Oscars but from all the recent award shows. There are also video interviews with the nominees about their movies and Oscar prep.
The Hollywood Reporter's The Race to the Oscars® app (iOS, Android) gives you front row access to Hollywood's big night with fashion commentary, winner reactions and more. You'll also be able to test yourself with Academy Award® trivia and get news, reviews and video on the nominees.
The Awards Hero: Oscars® edition app (iOS-only) not only delivers breaking news about the night's winners, it also allows you to set up voting pools and compete with your friends. Plus, you can check out their database of every winner since 1929.
Websites:
GetGlue (which currently has 4 million members who "check in" to let their friends know which TV shows and movies they're watching) is offering special stickers for viewers who check into the Academy Awards®. GetGlue users have already been able to earn stickers while viewing Oscar®-nominated films, allowing them to level-up from Viewer to Critic to Aficionado before the ceremony.
Google has launched a special site devoted to the Academy Award®, with a downloadable ballot form, trailers of the nominated films, the latest Oscar® news and more.
The official Academy Awards® website will feature photos, video and tweets from the big night. You can also download a ballot, see trending topics and relive some of the most magical moments in Oscar® history.
TAGS