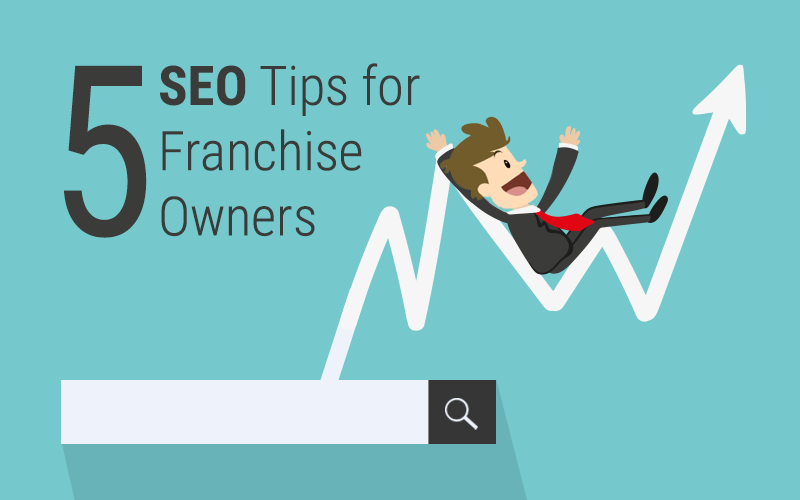 2017 is predicted to be the year when mobile devices replace desktops as the first screen consumers use when searching online.  It will also be the year voice search breaks into the mainstream, video content will take up more real estate on the web, and messaging bots will act like personal assistants capable of understanding the nature of text conversations.
Let's start with a few very actionable tips for effective optimization and improvement of your online presence in 2017.
1) Optimize for voice search
Most of the voice searches are conducted through mobile devices, which is why it's important to make sure that your website is well optimized for mobile devices in terms of the site structure, navigation, design, page speed, and content.
Voice search queries are more natural and conversational in nature compared to queries that we type into search boxes. Voice queries tend to be longer and in the majority of cases, they start with "how", "where" and "what" type of questions.

Write more question types of headlines that start with "How" or "What is"
Write content that answers searchers' questions concisely and comprehensively

Investigate what areas your target audience is more interested in or have more questions and write content about that. To research the best approach, pull this information from your customer service, contact us form, or call the center's questions that people ask you. You can get a ton of questions about services or products related to your business on websites like Yelp, on Q&A communities such as Quora and Reddit, on various forums related to your industry, and other community websites where your target audience is likely to visit.
2) Build or update your business presence on local directories
Apart from actively optimizing internal sources like your own website, it is also very important to expand your exposure to relevant to your industry and location third-party sources. Getting featured on the most-visited local websites, where users can easily find services or products related to your business.
Start by claiming your business on local directories such as a Google My Business page, Yelp, and other local websites. You will need to provide information about your business, such as the name, address, and phone number (also known as NAP) in a very consistent and informative way.
Consistency is an essential element here. For example, if your business address is 119 Grace Street, it should be written the same way across other local directories. Even a slight change in the name of the location (119 Grace St., for instance) could have a negative impact as the search engine may interpret this as two different business addresses.
Ensure that your business is listed in as many local directories as possible.
Make sure that you're listed under the most appropriate category, closely related to your business.
Avoid inaccurate or outdated information on third-party sources.
Adding photos and videos can help you stand out from competitors and make your information look more appealing to users.
If you've already claimed your business, it is also necessary to remember that the number of directories increases almost every day so make sure to keep adding your business on as many new, relevant local websites as possible.
3) Encourage positive testimonials and monitor reviews
Positive reviews left by your customers play a big role in building trustworthiness and an overall positive online reputation. Generation of reviews is not as complicated as it might seem at first; all you need is to provide your clients with the opportunity. Ensure that they can find your business online on review websites like Yelp or on business listings like the Google My Business service.
In most cases, people leave positive reviews if the service provided was excellent. On the other hand, we should accept the fact that encouragement of any type of feedback always bears a risk of getting negative reviews. Keeping your online reputation positive requires some effort but it is worth it.
Here are some tips for dealing with any sort of reviews – positive or negative.
React fast and always respond
Be polite and diplomatic
Investigate the core of the problem (if a review is negative)
Regularly evaluate your performance based on customers' feedback
Ensure improvement and correction
It's important to remember that negative reviews are not always a bad sign. They provide good opportunities for improvement and growth.
4) Be mobile-first
Google ended 2016 with an impressive move by transitioning from a desktop to a mobile-first index. As more and more searches are conducted via mobile devices, Google is now giving higher priority to the content from mobile versions of websites versus desktop, serving mobile users with highly-relevant results that are optimized for their devices.
Although Google will be still showing results from the desktop version for some time, you might miss the chance to increase your mobile traffic if you don't have a mobile-friendly site or a responsive site.
Ensure that your website has embraced responsive design.
Make sure to optimize schema data for both the desktop and mobile versions. Schema Data is a very important SEO element that helps search engines to identify a type of content that is provided on your website and better render it on the search results page.
Make sure that your mobile site loads fast enough. Most mobile users expect an average load time to be around 3 seconds. You can test your page speed using this online tool. If your mobile site loads slowly, you can speed it up by following Google's speed rules. With the proper implementation, you can reduce the speed quite substantially.
In case your website is already optimized but you're still not sure if it is indeed mobile-friendly, you can test its "friendliness" using this free online tool.
5) Avoid intrusive mobile pop-ups and interstitial penalties
Google recently announced it will be penalizing and decreasing the page rankings of sites that display intrusive interstitial and pop-ups on mobile devices.
What is an "intrusive interstitial" or pop-up?
Interstitial and pop-ups are online advertising graphics that suddenly show up on the foreground of a website page, displaying a promotional message every time visitors land on the website.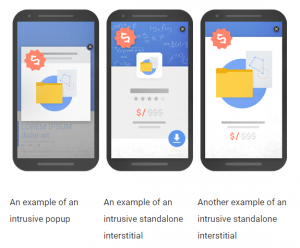 Pages where content is not easily accessible on mobile devices as shown in the example above lead to poorer user experience, which will negatively impact the overall page rankings.
However, there are some interstitials that won't be affected by this penalty.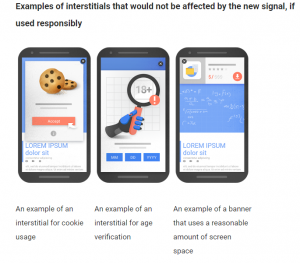 If you have interstitials as a part of your mobile website strategy, determine if they follow the new requirements and make changes if necessary, either by limiting them to desktop only or by adjusting the current format to an acceptable one.
TAGS