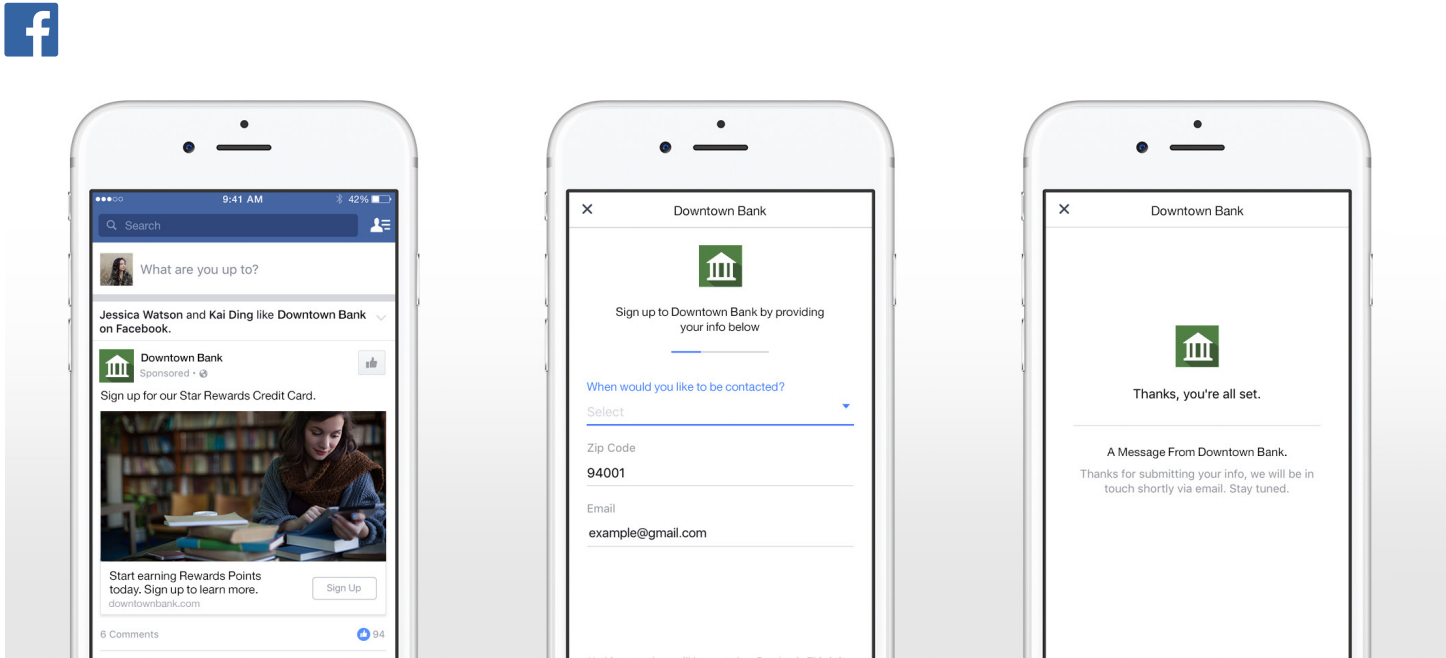 In previous posts, we've talked about how Facebook lead ads easily allow businesses to reach out to the right people and collect user information without building a dedicated landing page on a website.
Facebook first introduced lead ads in 2015 and since then, they've continued to make improvements to the ad unit. One of the reasons businesses are starting to use lead ads more is because instead of redirecting users to a website to manually fill out a form, the ad unit auto-fills in the contact information from a user's Facebook profile and allows them to submit the form without leaving the social network, reducing the chance of drop-off. Since it takes 38.5% longer to complete a typical mobile form than on a desktop, this unit is incredibly useful for capturing potential customer data before you lose their attention.
What's New:
Instagram: In February 2017, Facebook expanded the lead ad unit to include Instagram. If you would like to run Instagram lead ads, create them as you would Facebook ones, go into Edit Placements at the ad set level, and select Instagram. If you choose Automatic Placements, your lead ads will automatically run on both Facebook and Instagram. (Note: in our experience, we find it best to run separate Facebook and Instagram campaigns, as creative should be optimized for each platform.)
Creative Options: Lead ads are now available with similar creative options as other ad units, which means you can choose to have a single image, a single video, a carousel (two or more scrollable images or videos), or a slideshow (a looping video that's created from up to 10 images).
Offline Conversions: In May 2017, Facebook made it even easier to determine if your lead ads are working by enabling campaign integrations with offline systems such as CRMs, POS or call centers. With this functionality, businesses can get greater insight into the non-digital outcomes of their Facebook campaigns, including which lead ads were more successful at driving real business results. They can then build campaigns based on offline success by targeting high-value existing customers using Custom Audiences and Lookalike Audiences, exclude in-store purchasers to find new local prospects, or retarget buyers of a certain category with the next product/service you'd like them to buy.
In order to take advantage of Facebook's Offline Conversion solution, you need to have a Business Manager, a Facebook application, a Business Manager system user, an access token for that user, and an offline event set.
Best Practices for Lead Ads:
Quickly Communicate Your Offer: The sign-up process with lead ads is very quick, so it crucial to ensure users know exactly what there are getting. Use engaging visuals, like videos or slideshows, provide lots of information in the form's context card, and use a clear call-to-action button to let people know what they signing up for (a newsletter, a coupon, more information, etc.).
Collect the Right Information: Keeping your form as short as possible will encourage people to fill it out. Consider focusing on asking for only the most critical info you need (name, phone number, email). You can always reach out for more information after you've captured and qualified the lead. Also, we recommend you don't use the auto-fill option for email addresses, as many Facebook users have signed up with an email address that they don't check often. Make the email address a custom question they must fill out, in order to get more legitimate results.
Capture Audiences' Attention: With 1.7 billion monthly active users, you have the opportunity to reach a lot of people. To make sure your ad captures people's attention on their timeline, use video, carousels, or slideshows to promote what you have to offer in an intriguing manner. Assure that it has a strong focal point, is carefully composed, and induces an emotional response from your target audience. If possible, demonstrate people using your product in the ad and focus on keeping your message simple.

Target the Right Audience: Try to target high-quality leads who will respond to your offer and follow through with redemption. Consider using Custom Audiences based on your email database or website traffic, and then create Lookalike Audiences from them.
Follow Up Quickly: It's strongly recommended to receive leads automatically by using an integrated CRM partner or integrating with Facebook API, instead of downloading your leads in a spreadsheet manually through your Facebook page. However, you decide to collect your leads, be sure to check at least once a day to see if anyone new has filled out your form, and contact them immediately so that your ad is still top of mind and they haven't forgotten what they signed up for.
Facebook continues to improve the lead ad unit as more and more brands begin to recognize their power. They have revolutionized the way businesses collect user data and should definitely be explored if your brand is looking for new, cost-effective ways to attract new prospects.
TAGS