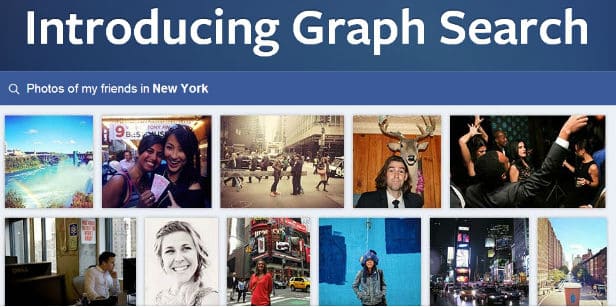 As we mentioned in a previous post, Facebook rolled out a beta version of their new Graph Search back in January. Today, the company announced that everyone currently using the U.S. English version of the social network will be upgraded to the new search format in the coming weeks.
What's Graph Search?
Unlike the old Facebook search product, Graph Search works by leveraging data from Facebook activity to serve up results based on what other users (especially your friends) are doing (i.e. – when you search for restaurants, ones your friends have checked into and/or reviewed will rise to the top of the results). Searches are personalized, so your results will be different from another user's. It also allows you to perform searches among a group of people you're connected to, or who are grouped together by specific interests. (For example, you could search "Music my friends like" or "people who like Music and live in Ottawa.")
What's Still to Come?
Since its beta launch, Facebook's engineers have been fine-tuning it based on test users' feedback and it remains a work in progress. Facebook is hoping this tool will lead users to spend more time on the social network and contribute more information about themselves. Today, they also announced they will be incorporating Graph Search on mobile some time in the near future, as well as including search results from status updates and data from third-party apps like Instagram and Yelp.
Why Is Graph Search Important?
In our earlier post, we highlighted the many advantages Graph Search can have for local businesses. It provides a huge opportunity for companies to increase their Facebook page's presence in search results by accumulating likes, shares, check-ins, and comments. It also allows companies to better target their ads to gain better engagement.
Is Your Privacy Protected?
Concerns about personal privacy (and embarrassing search results) have been raised since Graph Search's initial announcement and are even more relevant now that it's becoming widely available. Facebook assures users that only the information that is shared on your profile will be pulled into search results. However, most of us are unaware of all the information we make publicly available on Facebook. To review your privacy settings on your photos, go into your page's Activity Log and click on the Photos link on the left. Next to each photo, you'll see who it was shared with (i.e. public, friends, friends of friends, etc). You can change each of your photos' visibility and untag yourself in friends' photos. You can also edit your profile so that the public cannot view pages you've liked. If you'd like to change the visibility of all of your future posts, click on the lock image at the top right.
TAGS