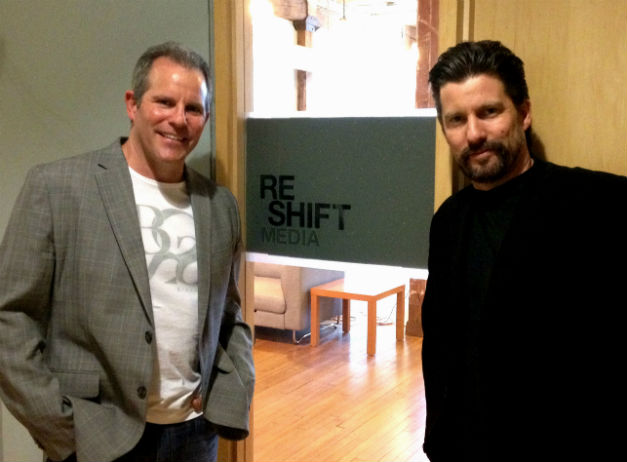 (TORONTO) September 11, 2012 – Former Postmedia Network Inc. executives Kirk Allen and Steve Buors have joined forces to launch Reshift Media Inc., a Toronto-based digital marketing company specializing in social media, search engine optimization (SEO) and mobile.
Reshift Media collaborates with agencies to combine Reshift's digital services with the agencies' skills and expertise to provide comprehensive marketing and advertising solutions across both established and emerging channels.
"The real benefit comes from pairing Reshift's earned media services with a paid media strategy by working closely with our agency partners," said Allen, who was previously Executive Vice President, Integrated Advertising for Postmedia Network Inc., one of Canada's largest publishers. "Our goal is to combine the experience agencies bring with Reshift's services to ensure their clients are able to reach consumers in a targeted, relevant manner across all platforms – delivering the right message at the right time and in the right context."
Allen and Buors identified that social, search and mobile were growing at a rapid pace, changing the nature of marketing worldwide, but brands were having a difficult time communicating a consistent message across these new, increasingly fragmented platforms. Through extensive market research, they found that many boutique agencies did not have the budget to support a team with the specialized skills necessary to effectively implement strategies across these growing areas.
"Through our experience in the media industry we saw a significant need for an organization with the expertise to properly integrate social, search and mobile strategies to achieve maximum impact," said Buors, whose most recent role was Senior Vice President, Digital Media Strategy and Product Development with Postmedia Network Inc.
"Understanding that gap in the industry, we worked with several agencies to develop a business model tailored to their needs and we built a stellar leadership team with years of media and agency experience to get it done."
The company sourced private equity from a number of individuals and formed a Board of Directors comprised of senior business leaders including agency veteran Hugh Dow, former chairman of Mediabrands Canada who was named Media Person of the Decade by Strategy Magazine in 2010.
"For many mid-sized and smaller media agencies particularly there is insufficient digital revenue to support a tier one digital servicing team," said Dow. "Reshift Media provides a professional, cost efficient multi-platform solution that enables these agencies to compete with the very best."
For further information about Reshift Media Inc., please contact Jen McDonnell at [email protected].
Website — http://www.reshiftmedia.com
Facebook — http://www.facebook.com/reshiftmedia
Twitter — http://www.twitter.com/reshiftmedia
—
Tweetable stats:
-Social networking is now the most popular online activity, with 22% of time online spent on social sites. (Tweet this)
-81% of Canadians are online, spending an average of 45 hours/month. (Tweet this)
-62% of adults worldwide use social media. (Tweet this)
-There are 10,000 search queries every second. (Tweet this)
-Smartphone owners now spend as much time using social media apps as they do playing games. (Tweet this)
TAGS