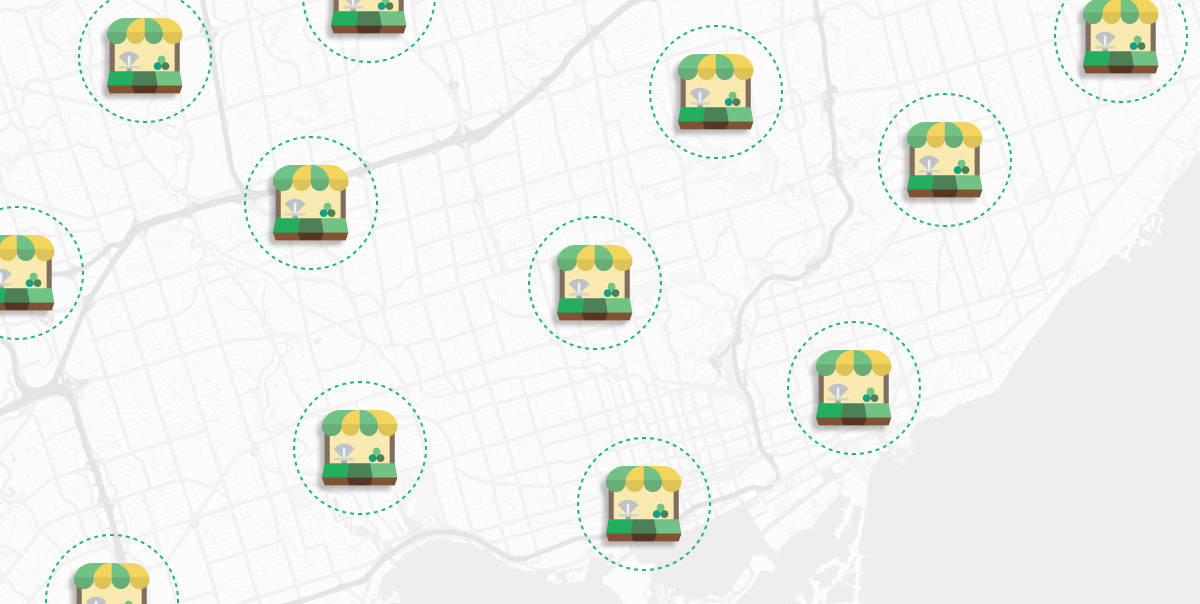 Franchises have the power of locality to expand into new markets and reach greater audiences, but does your marketing strategy reflect this key element? Keep reading to find out how it can.
Franchising gives you the opportunity to expand into new markets, reach larger audiences, and build upon what we like to call "local goodness". This is what makes franchising so valuable, as you have the power of locality to propel your business into even great success. However, if you are not using this local goodness in your digital strategy, you can be missing out on key opportunities to reach a greater audience.
A digital footprint is only as strong as you make it, and by incorporating localized content on your website, and through other various mediums, you have the opportunity to digitally expand your franchise and meet prospective consumers where they are. For instance, throughout the COVID-19 pandemic, the "buy local" mentality has grown even stronger, with an increased focus on ethical buying and supporting businesses in one's neighbourhood. Shopping local aligns with these changes in consumer focus, and more than half of Canadians are seeking out a local business to support, which 34% report doing this more often than before the pandemic.
This shift in buying behaviour is the perfect example of why you should take this changing landscape as an opportunity to rethink your marketing approach. Targeting locally is not as difficult as it may appear, it just requires a local strategy, which we have begun to delve into in within this post.
* The ideas within this article are based on the presentation It's Time to Revisit Your Marketing Mix by Reshift Media CEO, Steve Buors, at the 2021 Retail Council of Canada Retail Marketing Forum.
Look At Your Current Strategy
The pandemic has changed many aspects of our lives, and a significant shift has been in retail. For brick-and-mortar stores, in particular, many franchise owners dealt with the ever-changing opening and closing requirements and restrictions, in addition to navigating the rise in e-commerce.
That being said, now is an ideal time to recognize that consumer behaviours and needs have changed and evaluate what has worked and not worked over the couple of years. Many have experimented with new techniques and services, so take this as an opportunity to continue with what brought the most success and scrap the rest. Then, think about how you can apply this going forward.
For instance, you may want to consider changing your media mix and messaging to provide a better customer experience. Social media, mobile, search, and digital display are just some of the major areas companies have invested in, and that is why it is important to first understand what provides the greatest success, before investing.
The Do's and Don'ts of Local Marketing
How do franchises advertise? Some may use social media or Google to market all across a city, a province, or across Canada using generic messages such as, "buy our stuff." Then, when someone clicks the advertisement, they end up on a landing page that says, "find your nearest store." An example of this is in the graphic below.
Spoiler alert: This is not a great way to reach customers. Not only does this hinder any differentiation and personalization, but it puts the onus on the consumer to find a location. The more clicks you require a person to make after they engage with you ad to find what they're looking for, the more opportunities they have to drop off.
While some franchisors have taken it to the next level by at least geotargeting around their store to make the advertising a bit more relevant, the problem remains in the messaging. Keeping generic messaging like "buy our stuff" and "find your nearest store" does not cut it anymore when it comes to attracting a local audience. With the hard shift to digital, there is more competition than ever, so you need to stand out and get noticed.
A great way to do this is to highlight the local neighbourhoods you're in to differentiate yourself from your competitors. Incorporating local terminology into your advertising copy is a great way to achieve this.
Instead of using "buy our stuff," you can use more location-specific copy, such as, "Get $12 off in Hamilton" or "We are the best plumber in Moncton," or whatever it may be in relation to your products or services. The idea here is to realize that people in different areas want to buy locally, so incorporating a local phrase immediately gets you noticed right off the bat.
Let's say someone lives in Hamilton and comes across your advertisement that promotes a 15% off deal. When they click on the advertisement, they should end up on a landing page that is specific to your Hamilton location. To increase relevancy to them, information about the Hamilton store should be front and centre on the page and the incentive of a 15% off deal can help increase the likelihood of them converting. As well, it can also increase the likelihood of acquiring first-party data from that person because they are incentivized to input their information and/or make a purchase.
By incorporating localization into your advertising, and in turn your landing page(s), it can help build relationships with your customers, and help shrink the distance between someone being interested and then actually buying.
We find that incorporating additional relevance and doing a little bit of extra work to add localization  generally gets you 5 to 10 times better results. This can mean better sales, regeneration, business, number of leads, reach, etc.
Relevance leads to better visibility because it resonates with the customer. Better visibility provides a better click-through rate, and this means a lower cost per conversion. For example, if you spend $20,000 on advertising, and you get more people through your funnel and more people converting, your cost per conversion is much smaller. There is software available, including our Brand Amplifier technology, that enables franchisors to localize and flight brand-approved ad copy easily for their franchise partners.
As a franchisor, you may feel the need to advertise to as many people as possible by casting the widest, most generalized net. However, a more focused, targeted approach can help obtain a more meaningful audience and more qualified leads.
TAGS