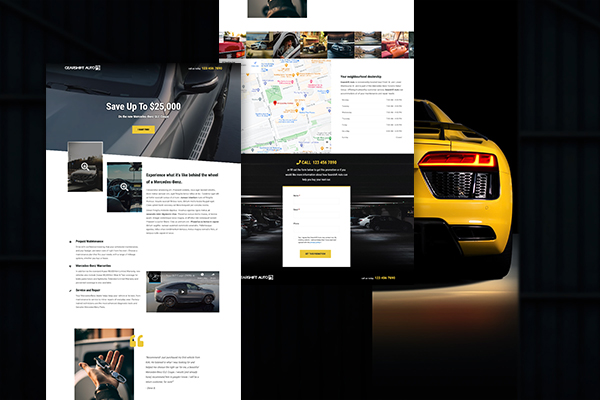 When it comes to advertising your franchise opportunities online, it is crucial that your ads lead the users to a visually appealing and captivating web page that will prompt the prospective franchisee to proceed to the next step in the sales process. This page is known as a landing page, and is the secret ingredient to drive success to your digital advertising.
The content will vary on each landing page depending on the brand/franchise offering, but there are some best practices you should follow to ensure you're making the most of your digital advertising costs and that maximizing your chances of success. Let's take a look at some common rules of thumb for an effective landing page for franchise acquisition campaigns.
Creating Enticing Franchise Forms for Lead Capture
You want to make it as easy as possible for the users to convert, so the landing page should encourage potential franchisees to fill out a form. People have a busy lifestyle which means including too many questions in the form can discourage a prospect from completing it – especially if they're using a mobile device. Create a contact form that is short and concise and make sure to only ask the essential questions. Contact information such as name, email, a phone number is usually the type of basic information people are willing to provide during the initial point of contact.
According to ImageScape, the outcomes of reducing your form fields from 11 to 4 is a 120% increased conversation rate. Also, users should be able to easily locate your contact form or the primary call to action, so the form or the button that directs them to the form should be always visible.
When we created the landing page for Dogtopia, the objective was to have potential franchisees fill out the form. We decided to make the header of the form bright yellow since it gives a high contrast to the background, in addition, to maintaining consistency with the brand's color palette. There is also a little arrow that points downwards in the header, which helps leads the users' eyes to the data entry fields. Overall, it gives a bigger impact than a basic form.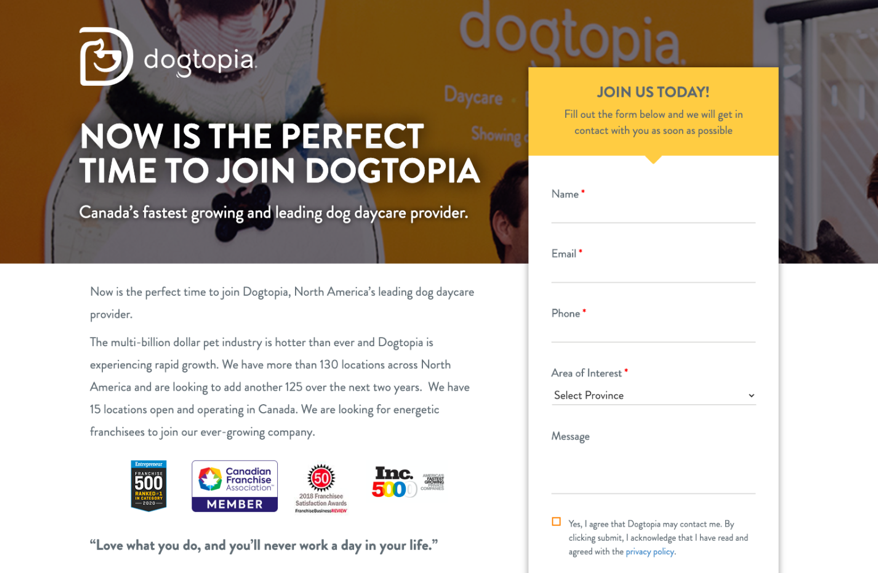 Testimonials from local customers
The key to recruiting potential franchisees is to gain their trust. Displaying testimonials from current franchisees, customer reviews, social media posts, ratings, case studies or awards can be a great way to present that your business is first-rate and legitimate. Implementing these testimonials from local customers is an effective way to reassure a potential customer that is completing the form is worth their time. Whether it be a quote from a satisfied customer or ratings, this can provide ease to potential franchisees.
One of the best ways to grab your prospective franchisees' attention and further develop brand trust and credibility is to include current franchisee testimonials in a video form, which are very effective. They should feature current franchisees explaining their compelling experience in the industry and why they chose your company. Potential franchisees view these testimonials as personal recommendations, as it demonstrates the trust and support between your company and your franchisees.
Design an Effective Thank You Page
As the last step in your conversion process, it is important to create a Thank You page for your leads that confirms they have submitted a form. Writing a compelling Thank You page involves including a message that outlines what value the lead is gaining and what the next steps are. Depending on the CTA you created, some examples are "Thank you for considering us as your partner. We will be contacting you soon with the details" or "Thank you for your interest. Our team will get in touch with you as soon as possible." Incorporate your social options and links to relevant areas of your website, as it gives them more information about your company in the interim. Having your users dive into your best content will allow your Thank You page to become an informative resource. As this is a great opportunity for leads to self-educate, your Thank You landing page should include your site's navigation menu or a secondary CTA.
De-index Your Landing Pages
Keep in mind that the ad landing pages should not be indexed and users shouldn't be able to find them from Google. It is highly recommended to remove these pages from search results so that you can track and gather accurate analytics and data only about people who have clicked through from an ad, not people who have found it from an organic search. Here's why your landing pages should be kept out of a search engine's index:
You want to eliminate the competition between your SEO content on your website and your landing pages
The landing pages may convey a different tone that isn't consistent with the content on your website
For short term events like a franchise information webinar, you do not want to be indexed after the event
You will be able to collect and measure precise analytics tracking as all traffic and leads from the landing page are generated from your ads if you are not linking to it from anywhere else on your website, and it cannot be found through search engines
Ensure that your business is applying all of these best practices when creating franchise landing pages. As a result, you should see improved lead generation and better conversions.
TAGS