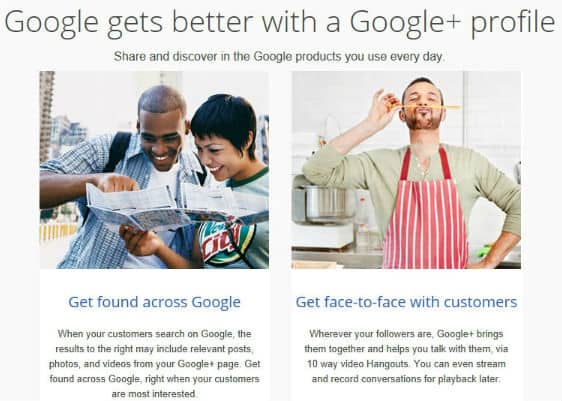 Google+ is the search engine giant's answer to social media, though it tends to be an afterthought for many business owners, who often prefer to focus their efforts on sites like Facebook and Twitter. But setting up a Google+ page for your company offers a major benefit other social media networks can't:
Google+ (the social media site) teaches
Google (the search engine) about your business.
The power of this statement should not be ignored. The more Google knows about your business, the more capable it is to index your website appropriately in search.
A few quick stats on Google+:
It has 400 million+ users (100 million active monthly)
The Google +1 button is used 5 billion times per day
Nielsen reports that 20 million unique visitors in the U.S. used Google+'s Android and iPhone apps, a 238% rise over March 2012
On desktop, G+'s monthly uniques jumped 63% vs. the year before to 28 million.
Although these stats are impressive, the real value of Google+ from a business perspective is very, very simple: it can help increase your company's visibility in Google's organic search results, therefore increasing the likelihood of potential customers finding you.
To complicate matters somewhat, there are several different types of pages that fall under the Google+ banner, each of which has a slightly different impact on search results. Each of these types of pages is simply referred to as a "Google+ Page," but for our purposes we will distinguish them as follows:
1)      Google+ Pages:
Social networking pages, similar to Facebook
Increases search relevance by using social information
Helps to improve visibility of your brand in personalized search results
2)      Google+ Local (previously branded Google Places):
Business listing pages, similar to Yelp or Yellow Pages
Provides Google with geographic information, hours of operation and other details about your business
Helps to improve visibility of your business in local search results
3)      Google+ Local Business Pages:
The best of both worlds: combines social aspects of Google+ Pages with business listing information from Google+ Local
The challenge with this type of page is that many business owners may not have the resources to frequently update a page for every single location
Google+ Pages
Teaching Google about your business starts with completing the "about" section on your Google+ profile page, which includes your company's address, phone number, email address and links to other social profiles such as Twitter, Facebook and LinkedIn.
Once the page has been set up, you can create and share posts, much like on Facebook. Generating engagement – likes (or, as Google+ calls them, "+1s"), shares, comments, etc. –  on these posts sends social signals to Google that the content is important and relevant, which may help that content show up higher in search results.
For example, below is a screenshot of a post created by someone in my personal Google+ circles. She created a blog post about some changes to Google+ which she then shared through her circles, including myself. Now – whether I saw this or not actually has no bearing on how this impacts search results. The point is that Google knows that someone I am connected to wrote this particular post on this particular topic.
So, when I go into Google and search for "Google+", I see the below results:
Note the result I have surrounded with a red box – it is the same post that was shared with me via Google+. Also note the little "person" icon to the left of the post – this indicates that Google has provided me with a "personal result" to my search. This is an example of Google including socially shared content in their normal organic search results – there is no way that post would normally rank that high in a search result. It appears there only for me because someone I am connected to created that post.
The result: dramatically improved visibility.
Google+ Local (previously called Google Places)
Unlike the above-described Google+ page which is similar to Facebook, Google+ Local pages are more similar to Yelp or Yellow Pages listings. Google+ Local is not a social network, it is a Google-specific directory page intended to provide basic information about your business which can be included in Google Maps.
This type of page teaches Google about your business at a very local level so that you can increase your visibility and reach new customers. Local search is becoming increasingly important:
97% of people search online for local businesses and
20% of searches on Google are related to location.
When you perform a search, Google personalizes your results based on your location. So if you're in Saskatoon and search for "print shops," you'll see a map of print shops near you. Google is attempting to provide you with locally relevant business results – and they get that information from Google+ Local pages.
Again, an example is likely in order to illustrate. In the below screen capture we have searched for "print shop Saskatoon". Because we applied a location, this is automatically considered a "local search" by Google. When you perform a local search, the results you receive are different than normal – you will see local business results inserted (marked as #2, below) along with a map (marked as #3). The information for these results is being sourced in large part from Google+ Local, so it is imperative that the address, services, hours of operation, etc. are all accurate in your listing. The more effort you put into it, the more Google understands your business and the more likely you are to show up when someone performs a result relevant to your company.
If you were to mouse over The UPS Store (marked as #4, above) you'd see a nice snapshot of the business (#5, above) with photos, address, hours, etc. Again, all of this information is pulled in from the store's Google+ Local page.
What you may be unaware of is that a Google+ Local/Places/Maps page probably already exists for your business, regardless of whether anyone in your company ever created one; Google pulls in data from existing directories to create listings for every possible business. So your Google+ Local page likely won't have to be created from scratch; you'll just have to claim the existing one.
This is a tremendous opportunity to increase your visibility in Google search results when someone is looking for something locally – and best of all, it's free!
Google+ Local Business Pages
Google+ Local Business Pages combine the social networking functions of Google+ Pages with the physical location aspects of Google+ Local.  So what you end up with is a social networking page for every store that also includes local information like an address.
See an example of this type of page from the Chicago Music Exchange below. It looks like a regular Google+ Local page, but also has the social networking capabilities of a general Google+ page.
So why even bother with the other two types of pages when you can simply create this "combined" page and achieve improved ranking both in personalized results and local results? And you would be right – this page can achieve both, and is absolutely a good option to consider. However, where this page can be a challenge is if you are a business with many locations. If you were to implement this page for every location, it means you now have a multitude of social networking pages to populate going forward, which can be a challenging task depending on your time and resources.
What we often find is that the "combined" page works well for businesses with one or only a few locations, while companies with many locations are best to use Google+ Local pages for their local stores and one "national" Google+ Page for social networking purposes.
Summary
Many businesses ignore Google+ because they view it as a poor competitor to Facebook, which provides savvy companies with an opportunity to capitalize on the real value of Google+. If you take nothing else away from this article remember this: from a business perspective, Google+ Local is about helping to increase your visibility in Google's organic search results. The way you do so is through:
Creating and managing a Google+ Page to show up in peoples' personalized results;
Claiming and updating your Google+ Local Page to show up in Google's local search results; or
Creating a Google+ Local Business Page to do both.
TAGS