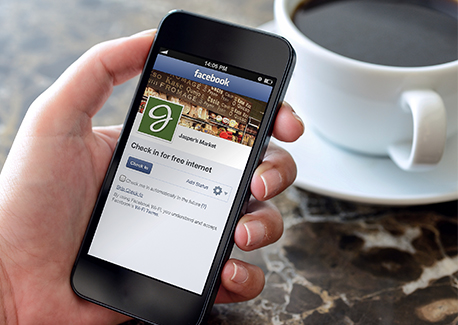 Facebook allows you to turn your business into a Wi-Fi hotspot by allowing customers to simply check-in to your location without the hassle of passwords or codes using Facebook's free Wi-Fi service. With it, you can combine the benefits of social media and free customer Wi-Fi to enhance customer experience, brand loyalty, and customer reach. With 96% of shoppers preferring locations that offer free Wi-Fi, it is an effortless way to connect more people to your brand.
In a few simple clicks, customers can check into your business page, instantly gaining access to current news, deals, and offers. Additionally, Facebook will prompt the users to like your page, potentially allowing the connection goes beyond just the check-in. The check-in will drive engagement and increase traffic, showing up on Facebook timelines and newsfeeds to provide immediate brand exposure. Not only can you provide exclusive deals to loyal customers, but you can also learn more about the people connecting to your network and create a better user experience. You can access the demographic data of everyone who checks-in, which can allow for better target marketing and advertising. Furthermore, the more check-ins you receive, the higher your page may rank on Facebook graph search and the local page tab.
To set up Facebook Wi-Fi for your business:
Log into Facebook
Ensure that you have a router that supports Facebook Wi-Fi and enables Facebook the sign-in on Facebook option. The list below displays all the available routers and their proper set up process:
The Facebook Wi-Fi configuration panel will display a new window and in the drop-down menu select the Facebook Page correlated with your business' location.
In the Bypass Mode section, select whether your customers connect with a provided code or select a link to skip check-in.
In the Session Length section, select the length of time customers will have Wi-fi for after they check-in.
If you would like your customers to accept Terms of Service before accessing the Wi-Fi, select the box Optional: Add your own Terms of Service and enter your terms of service.
Select Save Settings.
Please note that if your Facebook page has any age or country restrictions, only people who are logged onto Facebook and meet your page requirements will be able to view your page.
TAGS