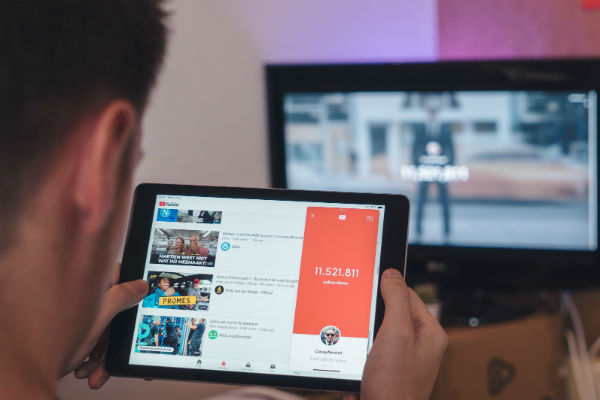 Concerns about the increased spreading of Covid-19 around the world are dominating headlines, causing disruptions in the stock market, and increasing fears of a recession. The impact of coronavirus could have widespread implications in the advertising world, as events and conferences are cancelled, supply chain issues are starting to arise, and social distancing is becoming more common.
However, while some industries may face losses due to the global spread of coronavirus, others are seeing new opportunities and growth. With an increase of people spending time at home, several sources are projecting a significant rise in television viewership and social media use, while exposure to outdoor advertising is expected to decrease. With that in mind, let's take a look at how this global pandemic could affect marketing budgets.
Industries That May Suffer
We've already seen disruptions in the travel and hospitality industry. Here in Canada, the federal government is recommending all citizens avoid non-essential travel out of the country, and many people have cancelled their March Break plans. As social distancing and working from home becomes more prevalent, restaurants, gyms, coffee shops, and brick and mortar stores may see a decline in customers as people try to avoid public places and person-to-person contact. Businesses that rely on goods exported from countries like China may have issues operating at full capacity. If the impact of coronavirus leads into an economic downturn or recession, expect luxury brands to follow suit, while (if history has taught us anything) alcohol brands will flourish.
Industries That May Benefit
Panic buying has already resulted in long lines at grocery stores as people stock up on disinfectants, cleaning supplies, medication and non-perishable food items. As more people self-isolate, expect the use of grocery and food delivery services to increase. Brands that have e-commerce and delivery capabilities may see an uptick in sales, opening themselves up to a new audience of people who haven't previously made online purchases. Also, expect more people using online meeting software like Zoom, LogMeIn and Skype.
With people spending more time inside and isolated, streaming TV and video games usage will likely increase. Experts are expecting stock in Facebook, Netflix, Amazon, livestream-workout company Peleton, and messaging platform Slack to rise as more employees are asked to work from home, social distancing grows, and those feeling ill are required to self-isolate.
Platforms to Focus On
When it comes to advertising, we always recommend focusing budgets where your audience is – and right now, your audience is increasingly at home. They are turning online for their day-to-day shopping needs and increasing their TV and social media consumption to stay on top of the news. Marketers should realize that not only are people going online more, they are active during parts of the day when they hadn't typically been active previously.
China, the first country to experience economic fallout from coronavirus, may offer a peek into our future. The Drum spoke to marketing agencies across China and the wider Asia Pacific, and while the industry sources they spoke to predicted the annual advertising growth rates in China will fall in 2020, they are forecasting e-commerce advertising spend to grow by 17.7% and social media spending to rise by 22.2%.
With people spending more time at home, brands in China responded by shifting spend, with 14% telling The Drum they were moving budget from offline media.
A study from analytics company QuestMobile suggests the average time spent on the mobile internet in China climbed from 6.1 hours a day in January to 7.3 hours in February. The short video sector recorded 569 million daily active users following Chinese New Year in February, far exceeding 492 million on a regular daily basis.
Meanwhile, globally TikTok is approaching 2 billion installs and the download surge is partly down to coronavirus. It was the most popular non-gaming app in February as users in countries affected by the virus logged on daily to share health news and memes, and to hold "cloud raves."
Pivot to your message
In times of crisis, it is important to modify your brand messaging so that you do not come off as insensitive or like you are trying to take advantage of troubling times. If you are in a business that has been affected by coronavirus, leverage your marketing to address issues that have arisen, such as store closures and supply chain issues. It is essential to maintain excellent customer service and a superior e-commerce experience during times like these.
We have started to see industries that are being affected by coronavirus such as travel and hospitality pivot their advertising messages to incentivizing, which is common in a crisis.
We have also started to see some small businesses brace for the impact of coronavirus by offsetting with other offers, such as local restaurants promoting gift cards that can be used at a future date.
Consider Your Spend Carefully
As consumer behaviours change, it's essential to modify your focus and spend accordingly. If an at-home audience is consuming more video than usual, consider incorporating more video into your social media marketing campaigns or running YouTube pre-roll, with a focus on driving to commerce. Promote any e-commerce offerings you have, while de-emphasizing products and services only available to users who visit your bricks and mortar location. Keep a close eye on your campaigns; this may be a time to shift away from top-of-the-funnel brand awareness and towards retargeting to existing customers, or target people who are apt to make online purchases.
This is an exceptional time for everyone. Luckily, digital advertising allows you to pivot much more quickly than traditional marketing methods. Track user behaviours closely and adjust when necessary to remain relevant to your customers as their needs change.
TAGS