Twitter has added a new tool called Twitter Dashboard and it will be a significant addition for small businesses looking to interact with customers more effectively on the social platform.
Just like Twitter's basic functionality, Dashboard will offer users the ability to tweet from both mobile and desktop. However, these tweets can now be pre-scheduled to go out at any time of day that users choose.  As well, pre-scheduled tweets can be edited or deleted prior to being sent out through the dashboard.
Another practical aspect of the Twitter Dashboard is the tailor-made Custom Feed that will help users find the tweets from others that are directly related to their business. Completely customizable, the Custom Feed can include not only tweets that mention their Twitter handle but can also include tweets from anyone who uses their company name, specific hashtags, product names, or other related keywords.
Other modifications that you can make to your Custom Feed are adding related terms based on your previous tweets, along with the option to exclude words or phrases that you do not want to see in your feed. All elements of your Custom Feed can be edited or changed at any time, so users can adjust it during specific promotions or during certain times of the year.
The new Twitter Dashboard will also help give small business owners content ideas with suggestions like "Share the love. Like and Retweet kind words from your customers" or "Your team is as unique as your business. Tweet a surprising fact about one of your team members." The Dashboard also includes at-a-glance analytics to help business users determine which tweets are performing best.
The new service is available on both desktop at dashboard.twitter.com and as a mobile app.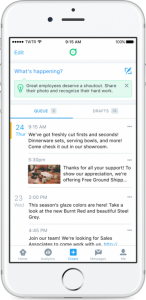 The final option tucked into the Dashboard is Twitter analytics, a pre-existing feature that can help users determine how well their tweets are performing. Available information includes an overall look at the number of tweets, replies, and mentions over a one-week, 30-day or 60-day period. Users can also take a deeper look at the engagement of each of their tweets to see how they did in terms of impressions, replies, retweets, and likes.
We normally recommend businesses tweet between 3-to-5 times a day, so using Twitter Dashboard should allow users to become more active on the social network. The dashboard is apparently only being beta tested in the U.S., however, we've been able to start using it already. To see if Dashboard is available to you, click here, answer a few questions and you should be able to start on the feature right away.
TAGS