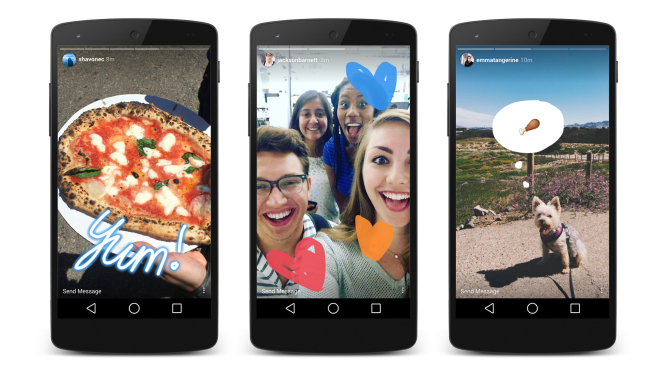 Instagram, the Facebook-owned photo-sharing platform, has added a new feature called Instagram Stories in an attempt to compete with the popular mobile app Snapchat.
Snapchat has been one of the most popular new apps for both businesses and individuals, but their total number of users is completely dwarfed by those on Instagram. As of Spring 2016, daily users on Snapchat were around 100 million, while Instagram's daily users were 300 million.
For businesses that already have a large following on Instagram or have been struggling to reach a sizeable audience on Snapchat, Instagram Stories could become a more viable option to reach out to their customers.
Like Snapchat, Instagram Stories is a mobile-only feature that allows users to post pictures or videos and add text, doodles, or emojis in order to create a "story." These Stories will then vanish from the platform in 24 hours.
To create your own Instagram Story, click on the icon that looks like a plus sign within a partially completed circle that now appears on the top left-hand corner of your Instagram homepage. (Please note, if your Instagram app hasn't been updated since August 2, you will need to do so first in order to use this new feature.)

Clicking on the Stories link will activate your phone's camera function and let you take a video or picture live within the app. If you prefer to use a recent image already shot with the phone, swiping down while in Stories will show any images you have taken with your phone in the last 24 hours.
Once you have the image, two icons will appear in the top right hand corner which provides users with the ability to doodle with different colors or allow the keyboard pop up giving them the ability to add text or emojis. Once satisfied, click on the checkmark at the bottom centre of the screen and the image will be finalized.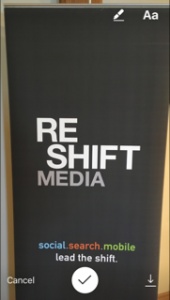 Similar to Snapchat, viewers of your Stories are not able to like or comment on the posts. They can send you replies that are not seen publicly and go directly to your Instagram Direct Message Box. For each Story, you can turn off the option for viewers to be able to reply, or you can allow only your followers or only people you follow to reply.
The option to select who can reply is set in the Story Settings, which can be found by clicking the three dots in the bottom right-hand corner of each of your Stories. The menu also allows you to hide each post from specific followers.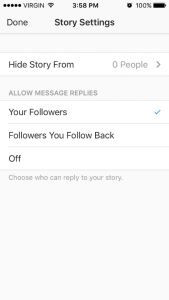 At this time, the only metrics in place for each Story is that once posted, you can see exactly who and how many people have viewed it. However, that information disappears once your Story vanishes after the 24-hour period.
It should be noted that not all is lost when it comes to your Instagram Stories. You can save anything you create in the app and add it to your regular Instagram feed or just to your photo library. So if you have a Story that is doing well, you can always move it over to reach more people who may be following you on Instagram but may not be aware of the new feature.
Time will tell if this new feature by Instagram will actually take a bite out of the Snapchat crowd. However, when you combine Stories along with the upcoming Instagram Business profiles, companies looking to reach a bigger crowd may want to view Instagram as a way to increase their profile. Instagram Stories is a fun and easy way for you to deliver Snapchat's best features (its ephemeral nature and ability to select who sees your posts) to your already established Instagram audience.
TAGS