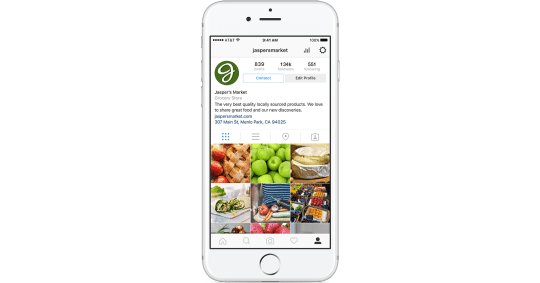 Instagram offers business profiles on their platform and we recommend any company looking to reach out to their customers make the transition if their profile is currently set as a personal account.
For businesses that already have an existing Instagram account, admins for the page will be able to convert it to the business profile through the settings tab.
Instagram's business pages include a more robust bio that can include a website URL, street address, and directions for the location. The page also includes a contact button beside the profile photo that can be programmed to allow customers to either call or email businesses straight from their Instagram page.
Once a business profile is added, business page owners will have access to a mobile ad tool that will allow them to convert their organic posts into sponsored ads within the app itself. To learn more about marketing on Instagram, click here.
As with Facebook, any boosted posts can be targeted to a specific audience for a specified length of time. Businesses can test market a post for free and if there is a lot of engagement, easily turn it into an ad.
Instagram also allows business accounts to moderate comments and block comments with words or phrases often reported as offensive from appearing on your posts.
Business accounts also offer insights that can help you understand who is engaging with your business. Admins will now be able to quickly view details on their most popular posts as well as data such as reach, impressions and total engagement for each post. For businesses that are also looking for more information on their followers, Instagram will also provide user details including gender, age, and location. There is also a Professional Dashboard, where you can track your performance, access and discover professional tools, and explore educational information curated by Instagram. All analytics are available on mobile only at first, but this may change later.
TAGS