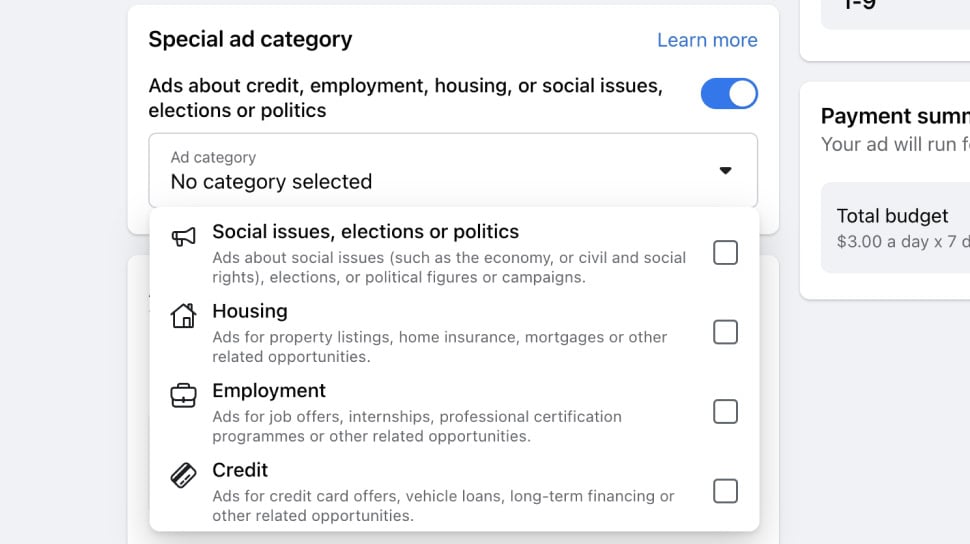 Facebook is increasingly enforcing rules and restrictions for ads that fall into certain categories. This blog post will outline what those categories are, and the steps you need to take before planning your next campaign on the platform to ensure your ads do not get rejected.
What is the Facebook Special Ad Category & Why Does It Exist?
Facebook's Special Ad Category encompasses any ads that pertain to employment, credit, housing, and politics. This means that if your ads include any mention of these topics, you will need to specify so within Facebook's Ads Manager when you are creating your campaign, and once this is selected, your ads will have a limited targeting.
This was put in place because Facebook wants to eliminate any discrimination that could occur when advertising within these categories. Prior to its implementation in 2019, Facebook allowed advertisers to target users based on several segments, such as their interests or backgrounds, and even permitted the ability to exclude specific groups, which was categorized under "Ethnic Affinities."  For example, certain ads about job opportunities, home sales, and credit offers could be displayed only for white men in high-income neighbourhoods, while ads about pay-day loans or minimum wage jobs could be targeted to people of colour in low-income neighbourhoods. After numerous lawsuits, Facebook announced in March 2019 they would limit niche targeting in these types of campaigns in an effort to remove discrimination on the platform.
Types of Topics that Fall Under the Special Ad Category
Employment ads refer to:
Full- or part-time jobs
Internships
Professional certificate programs
Job boards or job fairs
Mention of the benefits of working at a particular company (even if the post does not include a specific job listing)
Credit ads refer to:
Credit cards (regardless of if the ads include a specific offer or not)
Mortgage loan or refinancing offers
Loan services (personal, business, or auto)
Housing ads refer to:
Sale or rental opportunities (this applies to houses, condos, apartments, or other types of housing)
Homeowners or mortgage insurance opportunities
Housing loan ads
Home equity services
Home or property appraisals
Housing repair services
If your ads fall into these categories, the opportunity to target various audiences will be limited compared to what you might be used to with regular ads. Targeting restrictions include:
Age targets will be set to 18-65+
You won't be able to target by gender or postal code
There is reduced interest targeting
Radius targeting will be set to a minimum of 15 miles around the targeted city, address or pin-drop
Exclusions are unavailable
You cannot use audience expansion
Custom audiences need to refrain from characteristics like gender or street address
Lookalike audiences are excluded altogether (though you can create something similar called Special Ad Audiences)
Creating Ads Within the Special Ads Category
There are several steps to follow when creating advertisements that fit within Facebook's Special Ad Category:
At the campaign level, you must select which topic (employment, housing, credit or politics) your ads are about in the Special Ad Category dropdown.
When selecting your audience interests, you will notice some restrictions: you can only select a limited amount of interests, and no Behaviours & Demographics, such as in regular campaigns. For a list of interests to choose from, see below.
Despite the limited interests, there are still many to choose from. For example, if you are running real estate ads, the interests available include things like first-time buyer, property, mortgage broker, house hunting, real estate investing, home equity, etc. (Note: After selecting a couple, click on the "suggestions" button to see other available options recommended by Facebook)
Your saved audiences, if applicable, may be altered, as Facebook will create a version that removes detailed targeting related to age, gender, interests unavailable the Special Ads Category, etc.
If you choose to include Custom Audiences, you need to ensure you are including certain personal characteristics. Custom Audiences are created based on those who have already shown interest in your business among those who are on Facebook and Instagram. Some of the sources you can obtain data from include customer lists, engagement on Facebook/Instagram, people who have messaged your Facebook/Instagram page, people who have saved any of your posts or ads, etc. (Note: If uploading first-party data manually, you must confirm to Facebook that your customer lists include information directly from your customers and that you have their necessary permissions from them to share their info.)
Since Lookalike Audiences are excluded within Facebook's Special Ad Category, were initially replaced with Special Ad Audiences, which used online behaviour similarities from people in your Custom Audiences to form new audiences. These were similar to Lookalike Audiences, but they complied with the Special Ad Category's audience restrictions. However, in August 2022, Meta announced they were no longer allowing the creation of Special Ad Audiences, as part of their legal settlement with the US Department of Housing and Urban Development. There is no longer any Lookalike Audience-type offering in Special Ads Category.
Appealing Rejected Ads
Facebook's ads review is not always perfect, and you might find your ad rejected because Facebook thinks it should be within the Special Ad Category when you believe it shouldn't. When this happens, you can appeal the decision and request another review at the ad level. This can usually take up to four days, and will likely be reviewed by automated technology, although humans are work at Facebook to review ads as well.
Facebook-conducted reviews can occur at several points throughout the lifecycle of your ad, which means even your ad goes live, Facebook can re-evaluate it and possibly reject it mid-campaign.
There are a variety of reasons why your ad gets rejected, separate from the Special Ads Category, which can include:
Failing to Declare the Special Ad Category
Due to the targeting limitations, it may be tempting to avoid declaring the Special Ads Category when creating campaigns. However, by advertising on Facebook, you are agreeing to follow their policies. Too many rejected ads can impact your business account's quality ranking, and you risk having your ad account or page being completely shut down. This means you could lose all your advertising history and your page's fans and authority, resulting in the need to start all over again. Don't take the risk!
List of Interests Available in the Special Ad Category
Though the interests available are limited compared to non-special ad category campaigns, there are still plenty to choose from. For example, below are the interests available for the Employment category as of January 2023 (subject to change by Meta).
Accounting (business & finance)
Acting (performing arts)
Advertising (marketing)
Advertising agency (marketing)
Affiliate marketing (marketing)
Agriculture (industry)
Air conditioning (home appliances)
Analytics (information technology)
Apartment (real estate)
Apartment Guide (real estate)
Apartment List (real estate)
Apartments.com (real estate)
Application for employment (careers)
Apprenticeship (vocational training)
Architecture & Design (website)
Architecture (architecture)
Artificial intelligence (computing)
Asset management (business & finance)
Audit (business & finance)
Automation (science)
Automobile repair shop (vehicles)
Automobiles (vehicles)
Automotive industry (industry)
Bank account (banking)
Banking (finance)
Bathroom (architecture)
Bedroom (architecture)
Biology (science)
Biotechnology (science)
Bookkeeping (accounting)
Branch (banking)
Budget (accounting)
Building (architecture)
Building material (industrial materials & equipment)
Bungalow (architecture)
Business (business & finance)
Business administration (business & finance)
Business development (business & finance)
Business travel (travel & tourism business)
Buy to let (credit & lending)
Call centre (business & finance)
Car dealership (retailer)
Car finance (credit & lending)
Car rentals (transportation)
Career (employment)
Career development (careers)
Cash (currency)
Cash out refinancing (credit & lending)
Cashback reward program (credit & lending)
Charitable organization (social causes)
Chemistry (science)
Coaching (education)
Commercial property (real estate)
Communication (communication)
Commuting (transportation)
Computer engineering (engineering)
Computer programming (computers & electronics)
Computer science (information technology)
Computer security (computers & electronics)
Computing (computers & electronics)
Condominium (real estate)
Connected Investors (real estate)
Construction (industry)
Consumer electronics (computers & electronics)
Corporation (business & finance)
Cottage (architecture)
Craigslist (website)
Creative real estate investing (real estate)
Credit (finance)
Credit Karma (credit & lending)
Credit Sesame (credit & lending)
Credit cards (credit & lending)
Credit history (credit & lending)
Credit union (credit & lending)
Customer relationship management (public relations)
Customer service (business & finance)
Customer support (business & finance)
Data science (information technology)
Data security (information technology)
Day trading (investing)
Debit card (banking)
Delivery (commerce)
Deposit account (banking)
Design (design)
Digital marketing (marketing)
Digital wallet (software)
Discounting (retail)
Dog training (pets)
Driver's license (law & government)
E-commerce (retail)
Economics (economics)
Economy (economics)
Education (social concept)
Electric vehicle (vehicle)
Electrical engineering (engineering)
Electricity (science)
Electronics (computers & electronics)
Email marketing (marketing)
Employment (careers)
Employment agency (careers)
Employment website (careers)
Energy (science)
Engineering (science)
Entertainment (leisure)
Entrepreneurship (business & finance)
Entry-level job (careers)
Epidemiology (health & medical)
Estate (land)
Experian (credit & lending)
FHA insured loan (credit & lending)
Facebook (social media)
Facebook Messenger (social media)
Facility management (real estate)
Finance (business & finance)
Financial market (investing)
Financial plan (investing)
Financial services (business & finance)
First-time buyer (real estate)
First-time home buyer grant (real estate)
Fixer-upper (real estate)
Foodservice (dining)
For sale by owner (real estate)
Foreign exchange market (currency)
Four-wheel drive (vehicles)
Franchising (marketing)
Freelancer (careers)
Fundraising (social causes)
Furniture (home furnishings)
Garage (residential)
Gastronomy (food & drink)
Gated community (real estate)
Government debt (law & government)
Graphic design (visual art)
Grocery store (food retailer)
Hatchback (vehicle)
Health & wellness (personal care)
Higher education (education)
Holiday cottage (lodging)
Home (home & garden)
Home Appliances (consumer electronics)
Home automation (consumer electronics)
Home business (business & finance)
Home construction (construction)
Home equity (credit & lending)
Home equity line of credit (credit & lending)
Home equity loan (credit & lending)
Home improvement (home & garden)
Home insurance (insurance)
Home repair (home improvement)
Homeowner association (real estate)
House (real estate)
House Hunting (movie)
Human resource management (business & finance)
Hybrids (vehicle)
Information security (computers & electronics)
Information technology (computers & electronics)
Insurance (business & finance)
Insurance policy (insurance)
Interior Design Ideas (website)
Interior architecture (architecture)
Interior design (design)
Interior design magazine (publication)
Internship (careers)
Investment (business & finance)
Investment banking (banking)
Investment management (investing)
Investment strategy (investing)
Investor (investing)
JavaScript (computing)
Job (careers)
Job fair (expo)
Job hunting (careers)
Job interview (careers)
Journalism (news service)
Kitchen (home & garden)
Land (places)
Land and Houses (real estate)
Land lot (real estate)
Landlord (real estate)
Landscaping (gardening)
Law (law & legal services)
Leadership (social concept)
Lease (credit & lending)
Life insurance (insurance)
Line of credit (credit & lending)
LinkedIn (social media)
Living room (architecture)
Loan (credit & lending)
Log cabin (architecture)
Logistics (business & finance)
Luxury vehicle (vehicles)
Machine learning (computing)
Management (business & finance)
Manufactured housing (architecture)
Manufacturing (industry)
Market (economics)
MarketWatch (investing)
Marketing (business & finance)
Marketing communications (marketing)
Marketing strategy (marketing)
Mathematics (science)
Mechanical engineering (engineering)
Medicine (health & medical)
Metalworking (construction)
Microcredit (credit & lending)
Mobile banking (banking)
Mobile home (architecture)
Modern architecture (architecture)
Money (currency)
Mortgage calculator (credit & lending)
Mortgage insurance (insurance)
Mortgage loans (banking)
Motivation (psychology)
Motor vehicle (vehicle)
Motorcycles (vehicles)
Moving company (delivery service)
Mutual fund (investing)
Nonprofit organization (social cause)
Office Space (movie)
Online advertising (marketing)
Online banking (banking)
Owner-occupier (real estate)
Part-time (careers)
Payment (banking)
Peer-to-peer lending (credit & lending)
Penthouse apartment (real estate)
Performing arts (performing arts)
Personal development (personal identity)
Personal finance (banking)
Philanthropy (social causes)
Photography (visual art)
Physics (science)
Plumbing (construction)
Pre-qualification (lending)
Prefabricated home (real estate)
Premier Agent – Zillow & Trulia (real estate)
Private equity (investing)
Product design (design)
Product management (manufacturing)
Professional development (vocational training)
Programming language (computing)
Project management (business & finance)
Promotion (marketing)
Property finder (real estate)
Property management (real estate)
Psychology (science)
Public relations (business & finance)
Public transport (transportation)
Quality assurance (manufacturing)
RVs (vehicle)
Real Estate Agent Directory (real estate)
Real estate (industry)
Real estate appraisal (real estate)
Real estate development (real estate)
Real estate economics (economics)
Real estate investing (investing)
Real estate investment club (club)
Real estate investment trust (investing)
Real estate license (real estate)
Real property (real estate)
Realtor.com Pro (website)
Recruitment (careers)
Refinancing (credit & lending)
Renewable energy (energy & utilities)
Renovation (construction)
Rent-to-own (retail)
Rent.com (real estate)
Renters' insurance (insurance)
Renting (real estate)
Residential area (real estate)
Retail banking (banking)
Return on investment (investing)
Reverse mortgage (credit & lending)
Roommate (relationships)
SUVs (vehicles)
Sales (business & finance)
Sales management (business & finance)
Saving (banking)
Savings account (banking)
Science (science)
Security (finance)
Sedan (automobile)
Self-employment (careers)
Semi-detached (real estate)
Semi-trailer truck (vehicle)
Share (finance)
Shift work (business & finance)
Single-family detached home (real estate)
Small Business Administration (government agency)
Small and medium enterprises (business & finance)
Small business (business & finance)
Social media (online media)
Social media marketing (marketing)
Social science (science)
Software development (software)
Software engineering (information technology)
Solar energy (energy & utilities)
Solar power (energy & utilities)
Sports car (vehicle)
Starter home (real estate)
Startup company (business & finance)
Stock (investing)
Stock exchange (investing)
Stock market (investing)
Supply chain management (business & finance)
Swimming pool (water sports)
Systems engineering (engineering)
Technology (computers & electronics)
Telecommunication (industry)
Telecommuting (business & finance)
Telemarketing (marketing)
Temporary work (careers)
Terraced house (architecture)
Timeshare (lodging)
Townhouse (architecture)
Trade (economics)
Training (education)
Trucks (vehicles)
Trulia (real estate)
Urban planning (science)
Used car (vehicle)
Vacation rental (lodging)
Vehicle insurance (insurance)
Vehicles (transportation)
Veterinary medicine (pet services)
Villa (lodging)
Visual arts (art)
Vocational education (continuing education)
Volunteering (social causes)
Warehouse (industry)
Wealth management (banking)
Web design (websites)
Web development (websites)
Web hosting (computing)
WhatsApp (software)
Zillow (real estate)
realtor.com (real estate)
TAGS