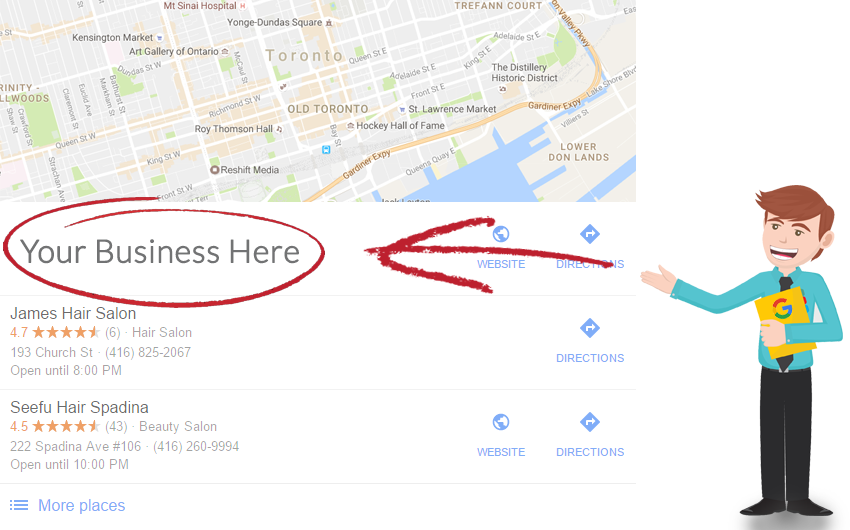 There have been some interesting updates to Google's algorithm in the last few months that should interest business owners looking to improve their rankings in search. This summer, Google announced that ads are coming to the local pack. In September, the search engine giant followed that up by implementing a massive update to its local algorithm called Possum.
For businesses, the Possum update will affect how they show up in the local 3-pack in the Google SERPs. With the update, Google wants to provide the searcher with more accurate results that are closer to their physical location. The change means that searchers in different locations may now see completely different search results for identical search terms.
As a business, there are four ways to ensure that you appear in local pack results after this latest Google update.
Update your Google My Business Listing with the most accurate information
Maintaining an accurate Google My Business listing is crucial for local search. To optimize your ranking in the local pack search results, make sure to describe your business as it is represented and recognized in the real world:
Your business name that will appear on Google needs to be consistent with the name on your storefront and website. Don't include any additional information such as address, taglines, store codes, etc. in this field.
Confirm your address is accurate and adheres to Google's Address Guidelines
Provide a local phone number (not a phone number of a call center) that matches the number displayed on your website.
It is also important to keep a special eye on your business category. Providing the correct category is key for ranking purposes since choosing the wrong category might remove your business from the map pack. If you are not sure what category to choose for your business, have a look at the category of your competitors that rank the highest.
Manage citations around the web
To make sure they show the most relevant results, Google compares the address information on your website with the information on your business from other places around the web. If your business name, address, and contact information appear to be inconsistent or outdated, Google is going to consider the information unreliable and won't rank your business in the local search results. Therefore, it is critical to managing all your citations around the web, including business directories and social media sites, and make sure they are consistent with the most up-to-date information on your website.
Manage reviews to increase click-through rates from search results
Google wants to provide value to searchers and considers the click-through rate of your website when ranking its search results. If your website ranks first for a given search query but no one clicks on it, or they click and bounce quickly back, Google may tweak its search results and remove that website from the top.
In the local pack, the most important thing that makes your business stand out and influences click-through rates are the review score. Therefore, consider developing a review strategy that focuses on building a slow, steady, and accurate pool of reviews, and put in place a strategy to manage negative reviews.
Develop a local content strategy
Because Google is still testing the Possum update to the algorithm, there might still be some variation in search results. However, Google seems to be more accurate when it comes to keyword variations. Abbreviations or slight variations in keywords may provide different results in the local pack. For example, if you search for 'hairdresser in Toronto' or 'Toronto hairdresser' the local pack might show different businesses. This makes a comprehensive local content strategy with a wide range of relevant keywords more important than ever. Try to use multiple iterations of a keyword on different pages of your website.
It is now more important than ever to review your local ranking and implement the necessary tactics required to increase your business's local visibility in search.
TAGS