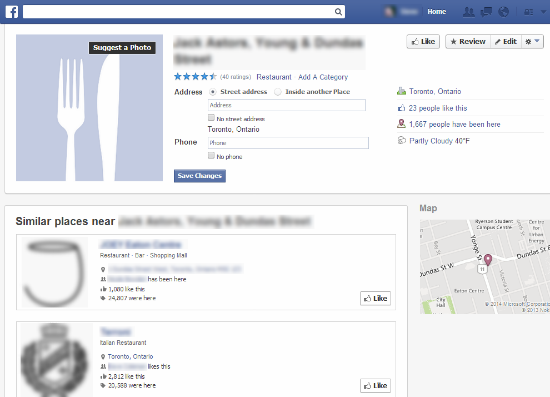 You may not have set up a Facebook page for your business, but chances are a Facebook Places page exists anyway. Places pages are very basic Facebook pages that can include information such as your business name, address and phone number. They allow customers to rate your business, check-in and even like the page. Typically, Places pages also show other businesses nearby, which can include your competitors.
Places pages can be created by anyone. In general, customers create them when they cannot find a local page for your business and they want to check into your location. If they search your business name and cannot find your Facebook page (or if they misspell it), they are given the option to add a new Places page.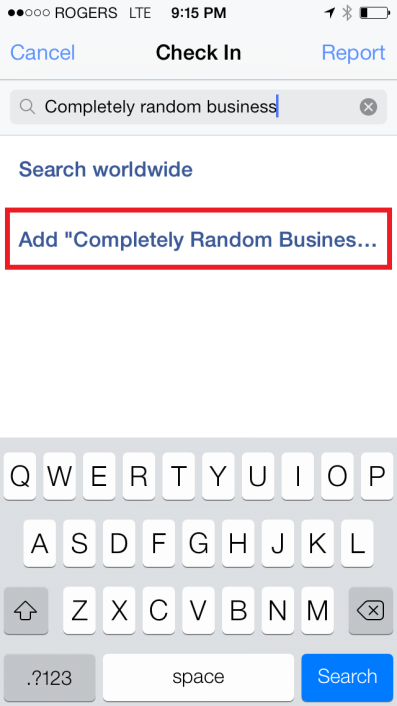 This can result in people creating multiple Places pages for your business, sometimes with variations on the name, address and phone number. If you own a business with multiple branches or locations, the issue may be exacerbated as you could have several Places pages for every location, resulting in dozens or hundreds of pages.
Places pages, unlike brand-created business pages, are completely outside of your company's control unless you go to the trouble of claiming them. This presents several challenges for business owners:
People can comment on and rate your business without you having any knowledge
A Places page by default highlights other nearby businesses, which often includes your direct competitors
People can like and check into unclaimed Places pages, but unlike Business pages you do not benefit from having access to analytics to analyze audience information. There is also no ability for the business to communicate with this audience. This is a lost opportunity to engage with customers (or potential customers) who have already expressed an affinity for your business.
However, as a business owner or store manager, you can address these concerns simply by claiming your Places page in order to gain admin access to them and automatically convert them to business pages, which you will then control. This is something all bricks-and-mortar businesses should consider, as claiming all of the Facebook Places pages that have been created for your business allows you to gain control of all pages representing your business, consolidate your Facebook presence, correct inaccuracies, and prevent other pages from racking up the likes, reviews and check-ins that you should be getting instead.
To get started, search your business name (as well as variations/common misspellings) on Facebook to determine if there are Places pages you need to claim. Once you follow the instructions below and claim any existing pages, the Places page will transform into a business page and you will be granted admin access. You can then merge that page with any other existing pages you may have (click here for merging instructions).
Step 1:
Before you begin claiming Facebook Places pages that represent your business, we suggest adding an email address to your personal profile that contains the business name in the domain (i.e. – [email protected]), as this is the quickest and easiest method to verify you're a representative of the business. You do not have to set it as your primary address; it just needs to be part of your personal Facebook profile. If you don't have a business email address, you'll need to upload a document that shows your business name and address. Examples include a utility bill, business license, tax file, certificate of formation, or articles of incorporation. Facebook accepts JPG, PNG, PDF, and DOC files.
Step 2:
Visit the Places page you'd like to claim, click on the gear icon at the top right and select "Is this your business?"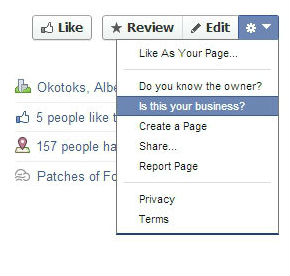 Step 3:
A pop up window will guide you through the claiming process. You may see one of two popup windows. You may be asked if you want to "merge to another page" or just "claim" it. If you select merging into your official page, you'll see the warning below. (See this post for more about merging duplicate pages):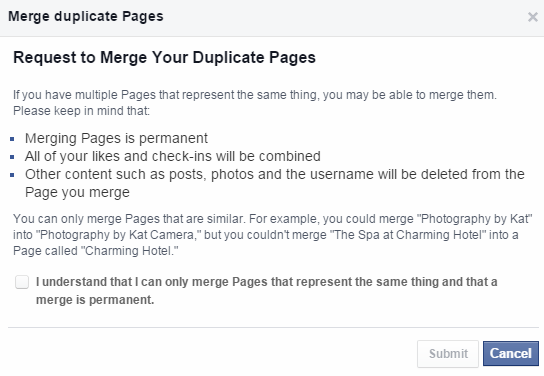 Otherwise, you'll get a pop up asking to to click the "I am an official representative" checkbox and continue.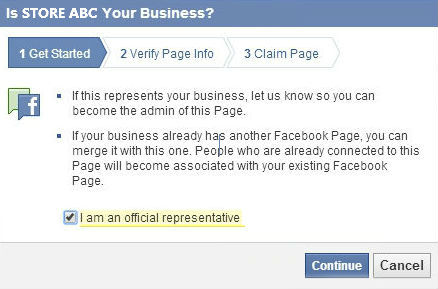 Step 4:
Fill out the information about your business. Your business name and address must be similar to the Places page you're trying to claim. Name, address, and job title are required fields.
Step 5:
The last step is proving that you are a representative of the business page you are trying to claim. If a business email is associated with your personal Facebook profile, you can select it from the dropdown menu. If you don't have a business address, you must upload documentation that shows your company name and address (logos, business cards and website screengrabs will not be accepted).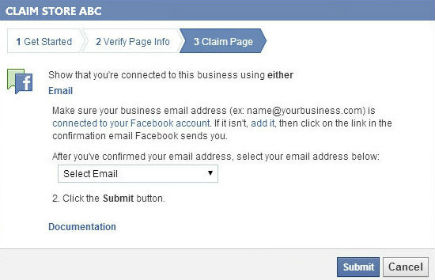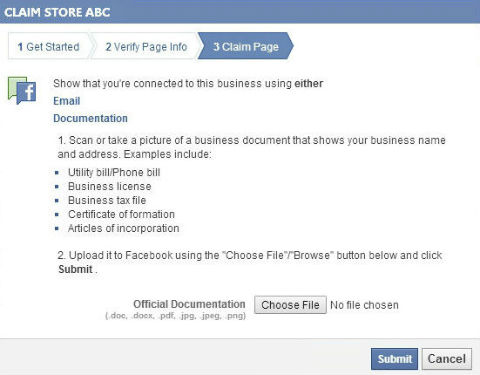 Once you hit "Submit," you'll see a popup window that reads "We've received your email request. We will send you an email when we are done processing your request." Facebook notes it may take up to one week for them to respond, though in our experience it usually only takes 1-3 days.
Once the process is complete, you'll get an email from Facebook, letting you know the Places page has now been converted to a business page, of which you are now an admin. All of the previous Places page's likes, reviews and check-ins will be transferred to the new page.
If you now have multiple business pages, you can merge them into one. Click here for instructions on how to merge Facebook pages.
TAGS