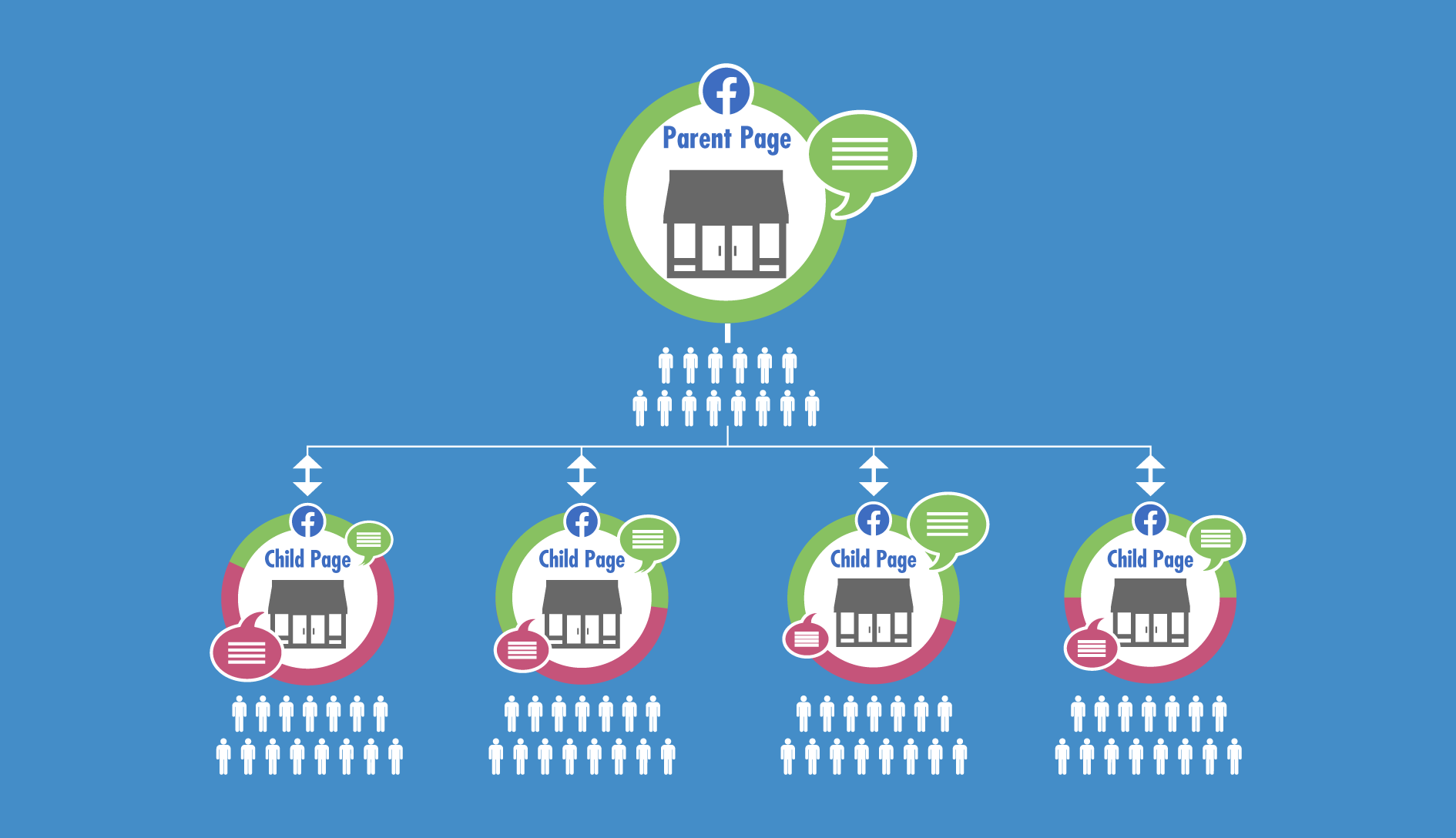 Local business pages have always been an important component of Facebook, with the social network taking major steps in the past few years to make itself the primary destination for local marketing. If you are a brand that has local branches or stores, it is imperative that each of those locations has its own unique business page on Facebook.
Why? Let's look at the facts:
80 million businesses use Facebook pages
6 billion people are connected to small businesses on Facebook
2 in 3 people visit a local business page on Facebook each week
1 in 3 people on Facebook use the platform to look for recommendations and reviews
Meanwhile, a recent study revealed there's an average of 25x more impressions taking place on local Facebook pages than on corporate/brand Facebook pages. This is likely because:
consumers perceive local content to be more relevant than generic brand content
there's often location-specific information on these pages (e.g., address, hours)
local Facebook local pages carry reviews and recommendations, which consumers want
As you can see, local business pages are important to Facebook users and play an integral role in helping companies reach local audiences. However, there has been a decline in organic reach from business pages, meaning local businesses need to get smarter about how they are investing their time and resources on Facebook.
Facebook's Locations Framework
Facebook has a framework called Locations (previously known as parent-child) that allows franchises and multi-location businesses to knit together all of their local Facebook pages under one main brand page. It allows you to connect and manage all your stores on Facebook, lets you quickly add new store pages, edit information for existing store pages, and manage your locations from one central spot.
In 2016, Facebook launched the ability for multi-location businesses to replicate posts made from their brand page to all of their locations. Facebook gives admins three options for how the posts from the main page can be cascaded: A) the corporate posts show up on each and every local Facebook page for your business, B) the corporate posts show only on local pages that do not already publish their own posts (default option), or C) the corporate posts never show up the local pages.
Having the corporate posts automatically cascade to the local pages seems like a no-brainer. Instead of wasting time and resources to manually post the same message to multiple Facebook pages, admins can turn on this feature to ensure their local pages are refreshed with new, brand-approved content with no extra work on their end.
However, the posts that are cascaded automatically won't show up on the local pages as unique, individual posts. As per Facebook, they are actually "shares" from the main page: "The post from the main location Page will be automatically shown on the location Pages. They are not separate posts, but rather one shared a post with common metrics (likes, comments, shares)."
Although this might seem effective in theory, posting an automatic share instead of a unique post actually limits the amount of people who will be exposed to that post. That's because the automatically cascaded post on the local pages will not be displayed in the news feeds of the local pages' followers.  Only people who follow the main page will see that post in their news feed.
With Facebook placing more and more emphasis on local business pages, combined with business pages' rapidly declining organic reach, it's important to ensure you are being strategic when posting to local pages.
How to Combat the Decline in Organic Local Reach
The only way to effectively reach your local audiences is to post unique, relevant, interesting and localized content on local pages. For companies with a large number of local pages, this task might sound daunting. Luckily there is an easier way to post unique content than having to manually copy and paste the same post to each local page.
Reshift Media has developed proprietary software called the Social Brand Amplifier™, which allows companies who have enabled the Locations framework to create unique posts on each of their local pages, instead of automatically cascading a non-visible, non-localized shared post from their national page. Admins can also create customized groups and select which posts go to which local pages. (For example, if you have French content that you want to only send to your Facebook pages in Quebec, that can be done easily by creating a "Quebec group" within the SBA.) The Social Brand Amplifier can also improve your overall Facebook marketing strategy, as it provides both analytics and comment/review monitoring for all of your local pages.
To learn about how our Social Brand Amplifier can help your multi-location business or franchise system reach local audiences, email us at [email protected].
TAGS