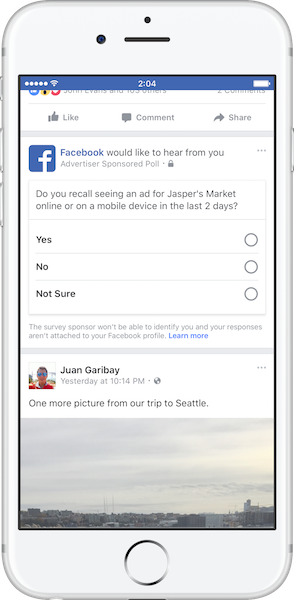 Facebook has started testing a new measurement study for a business' campaign on the platform called Brand Lift. The study, a free service currently available for qualified companies only, will allow businesses to create a poll question for users to answer in order to assess the effectiveness of a specific Facebook or Instagram ad.
This tool will be a great addition for businesses looking for ROI and deeper insight into how much their social media advertising is influencing their audience.
Once Facebook allows a business into the Brand Lift study, they will create two audience groups out of the ad's target audience: a test group and a control group. The test group will include users who are eligible to see that businesses' ad in either their Facebook News Feed or mobile Instagram feed. If they end up seeing the ad, they will be part of the exposed group that make up the test group. The control group will be made up of people who will not be shown the ad.
During the campaign, people from both groups will see the same poll question in either their Facebook or their mobile Instagram feed, asking them a customizable question to determine their awareness of the brand, the brand's campaign or even whether they would consider purchasing that brand's product.
The companies using Brand Lift can write the poll question themselves, though the question would need to be approved by Facebook before it goes live.
The responses from the two different groups will be analyzed by Facebook, who will provide metrics like how many people remember seeing the ad, the cost for every person who remembered seeing the ad based on the budget, and the percentage difference between the people who remembered seeing the ad versus those in the control group who were never shown the ad.
The analytics can also be broken down by age group so companies can see if their ad is resonating with their target demo, by different viewing lengths for videos to discover if the duration is affecting the potential customer's opinion of the product, and by television, habits to determine how the ad aligns with users' TV viewership habits.
Depending on the type of poll question used, other metrics available for businesses may include message association, brand favourability and intent to purchase.
Facebook recommends the study be used only for single campaigns that will maintain the same creative and budget throughout its entire duration. If there are changes to the campaign during the study, the numbers will not give you a fully accurate picture of how the ad is doing.
Businesses who are interested in getting into a Brand Lift study need to contact their Facebook sales rep to determine if they are eligible to participate.
TAGS