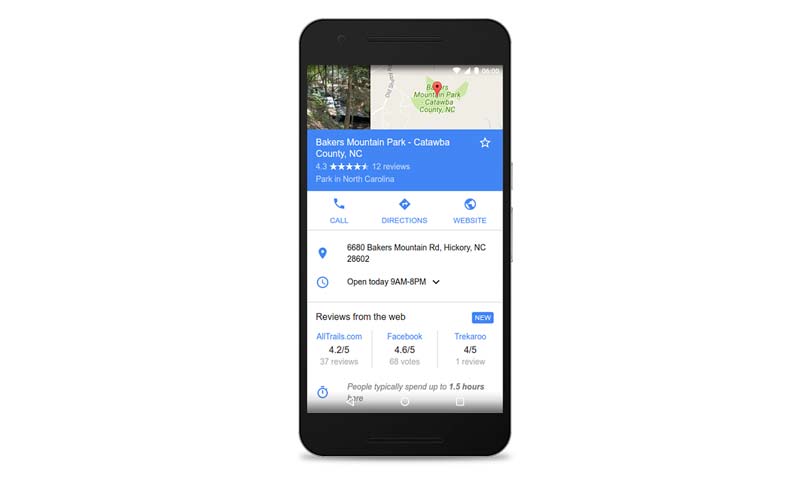 Word-of-mouth marketing has always been a fundamental aspect of a business's success. In today's digital age, conversations about experiences with a certain business have moved from dinner parties and water coolers to online platforms like Facebook and Yelp.
For businesses looking to succeed in the digital age, successfully harnessing these online reviews can help grow their sales, improve their visibility through search and increase their understanding of customers' needs.
Google continues to recognize the importance of online reviews and has introduced a more substantial review component to a businesses' Knowledge Panel called "Reviews from the web." This new section will feature aggregated ratings of the business derived from users posting them to third-party sites such as Facebook, Yelp or Zomato.

Google's Knowledge Panel is the box of information about a business that may appear during both mobile and desktop searches. The information includes details such as address, hours of operation, and a link to their website.
To ensure that your business has the Knowledge Panel needed for this new review section, each location should first be verified with Google through Google My Business. We have previously written about the importance of setting up Google My Business, a free service that is one of the essential ways to help improve a business's rankings in local search results.
However, having a business verified in this manner will not guarantee the Knowledge Panel appears.  According to Google, whether a business has the panel is determined by a variety of factors including relevance, distance, and prominence.
To add "Reviews from the web" to their panel, webmasters should implement a review snippet markup for their Google listing and meet the outlined criteria. Google also recommends adding the Local Business markup to ensure they can match the reviews to the correct review subject.
While Google rolls out this new addition to everyone, Facebook is encouraging its users to rate and review businesses. Users who have checked into a business on Facebook will start getting a notification 24 hours later asking for a rating or review for that location.
This new prompt for people who check in on Facebook combined with the enhanced review component of Google search should help create more valuable feedback for businesses and increase both visibility and website clicks.
TAGS