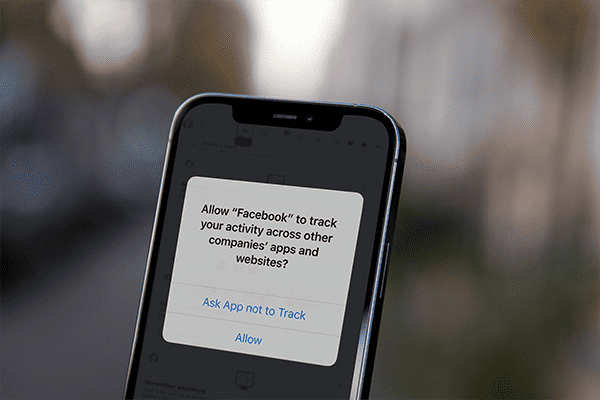 Apple's iOS 14 update, which allows users who opt-out of activity tracking, may have a negative impact on the effectiveness of all digital campaigns.
Apple recently announced a new App Tracking Transparency framework as part of the upcoming iOS 14 release, which is expected in the Spring of 2021. This new framework will prompt all iPhone users to expressly provide apps with permission to track their data, which will have a significant impact on any apps that use this data for advertising or other purposes.
In response to the upcoming changes, Facebook has indicated that they expect the amount of data available for ad targeting and measurement to decrease as users "opt out" of tracking.  The company expects the decrease in data to have a negative impact on the effectiveness of all digital campaigns, particularly for advertisers that rely on web conversion events.
What is Apple's new privacy update?
Apple has indicated that data privacy and protection are central to the upcoming iOS update (iOS 14, iPadOS 14, and tvOS 14). Specifically, Apple has introduced a new "prompt" that will pop-up when people access any iOS app that gathers data and tracks users. The purpose of the prompt is to inform the person that the app would like to track their activity and provide them with the option to allow tracking or not. If the user allows tracking, then the app will continue to receive activity data.
This new prompt will apply to the Facebook and Instagram apps, meaning that if the user opts-out of tracking, then the app cannot track them or access their device's advertising identifier. Apple defines "tracking" as follows:
Tracking refers to the act of linking user or device data collected from your app with the user for targeted advertising.
In short, Apple is saying that when users opt-out of activity tracking, apps can no longer link that user's data with other 3rd party information. So, as an example, if an opted-out user clicks a Facebook or Instagram ad and visits an advertiser's website, Facebook cannot link the user data from their system to the activity the person takes on the advertiser's website. This means that Facebook cannot use that person's activity on the advertiser's website to optimize ad delivery for other similar users and they cannot report back to the advertiser whether the user "converted" on their website (i.e. add to cart, made a purchase, viewed a specific URL, etc.) after clicking through the ad.
Specific examples of tracking provided by Apple are as follows:
Displaying targeted advertisements based on user data collected from apps and websites owned by other companies.
Sharing device location data or email lists with a data broker.
Sharing a list of emails, advertising IDs, or other IDs with a third-party advertising network that uses that information to retarget those users in other developers' apps or to find similar users.
Incorporating a third-party SDK that combines user data from the app with user data from other developers' apps to target advertising or measure advertising efficiency.
How will it affect my Facebook and Instagram ads?
For users who opt-in to allow activity tracking, there will be no change in advertisers' ability to target ads and measure performance. However, in the case where the user opts-out of tracking, Facebook's ability to target ads based on actions and measure the person's reaction to ads will be impaired.
The big unknown at this point is how many people will enable activity tracking vs. opting out, which means that nobody knows how large of an impact the iOS 14 rollout will have on advertisers. Clearly the more people that opt out, the larger the issue for Facebook and other ad platforms. It is also likely that it will take some time for the full impact to be seen, as many Apple users do not install updates to their operating system as soon as they are available. This means advertisers may see gradual performance declines over the span of several months.
Facebook has communicated that advertisers should prepare for the following changes:
Conversion Tracking: iOS 14 changes will significantly impact how Facebook can receive and process conversion events from the Facebook pixel. Actions such as view content, add to cart, checkout, purchase and other similar events will be under-reported if users choose opt-out of data tracking.
Ad objectives: Some types of ads the use pixel tracking will be impacted: traffic ads optimized for landing page views, conversion ads optimized for standard events or custom conversions, and app installs targeting iOS platforms. Advertisers will also experience limitations when it comes to attributing app installs to users using iOS 14 and later.
Remarketing and lookalikes: Advertisers should be prepared for a possible decrease in the population of pixel-based remarketing lists (such as website visitors who have shown an interest in a particular product) due to the new limitations in tracking. However, Facebook has communicated that lookalike audiences are not expected to be affected. While the seed audiences that lookalike audiences are based on may see size decreases, advertisers are unlikely to experience a noticeable impact to performance of ad sets using lookalike audiences.
Delayed and aggregated results: Real-time reporting will not be supported, as Apple will be delaying data for up to three days after the event has occurred. Web conversion events will be reported based on the time the conversions occur and not the time of the associated ad impressions. Also, data will be aggregated in some instances as Facebook may not be able to measure ad results at the user level, or will have restricted access to certain types of data.
Conversion windows: Going forward, Facebook will only be tracking the following conversion windows: 1-day click, 7-day click (default), 1-day click and 1-day view, or 7-day click and 1-day view. The previously available attribution windows of 28-day click-through, 28-day view-through, and 7-day view-through will no longer be supported. This means that companies with longer sales cycles may see a decrease in reported purchases.
Offline Conversions: Delivery and action breakdowns will no longer be supported for offline conversion events. Conversion events will be reported based on the time the conversions occur and not the time of ad impressions.
Audience Network: Facebook's ability to deliver targeted ads via the Audience Network on iOS 14 will be significantly limited. As a result, advertisers should expect less volume and lower effectiveness when using Audience Network as a placement.
The following advertising opportunities are not expected to be impacted:
Geographic targeting: Because geotargeting is not based on activity tracking, there is not expected to be an impact on advertisers' ability to geo-target their campaigns.
Interest-based and demographic targeting: Advertisers' ability to target ads based on users' interests, age, gender, and other attributes is expected to be unaffected.
Reach and link-click campaigns: Because these types of campaigns do not rely on optimization against specific events, they are not expected to be impacted.
Uploaded custom audiences: Although generating custom and retargeting audiences via the Facebook pixel will be impacted by the changes, directly uploading customer lists will not be. Advertisers who have privacy-compliant email lists of their customers or prospects will still be able to upload that data to Facebook to create a custom audience without issue.
Lookalike audiences: As mentioned above, although the size of custom audiences generated via pixel events may be smaller, Facebook has stated that they do not expect the size of the associated lookalike audience to be smaller. However, we do expect that the quality of the lookalike audience may suffer if the size of the custom audience becomes too small.
What is Facebook doing?
In an effort to address the decrease in conversion data, Facebook has introduced Aggregated Event Measurement (AEM). Through Aggregated Event Measurement, advertisers are able to rank their conversion events in order of importance. The reason for this is that Facebook will use this ranking to decide how to track conversions from people who opt-out of activity tracking.
From Facebook: "Our solution is analogous to Apple's Private Click Measurement, but is designed to solve for key advertiser use cases not addressed by Apple's proposal."
What this means is that Facebook is connecting the conversion to the ad as opposed to the user. So, in the case where a user who has opted-out of activity tracking clicks an ad and completes multiple conversions within the conversion window (such as completing a purchase and subscribing to a newsletter), Facebook will rely on the AEM ranking provided by the advertiser to report only the top-ranked conversion event.
In addition, Facebook is modifying how their pixel collects data, and in some cases incorporating statistical modelling to fill in data gaps.
What should advertisers be doing?
In order for Facebook advertisers to use the new Aggregated Event Measurement, they will have to make changes in their ad account/Business Manager.
1) Verify your website domain
You should verify your website's domain to avoid any immediate or future disruption of your website's campaigns. The domain owner's Business Manager will then have authority to configure the top 8 conversion events for that domain. Facebook has created a step-by-step video on how to verify your domain.
Note: Domain Verification must be done at the effective top-level domain plus one (eTLD+1 ). For example, for www.books.jasper.com, books.jasper.com and jasper.com, the eTLD+1 domain is jasper.com.
2) Prioritize your events
With Facebook's new Aggregated Event Measurement, advertisers will be limited to a maximum of eight events per domain. A pixel event or custom conversion will apply toward the eight conversion events per domain limit. For example, if a business has three pixels each with three events then the domain overall has nine conversion events (three pixels x three events). In this case, the business will have to choose which eight to keep and prioritize them in order.
Facebook will auto-configure the initial eight events based on campaign spend within the last 28 days across all events, including automatic pixel events. It's important to note that any ad sets optimizing for an event not included in the eight prioritized events will be paused. All advertisers should visit their Events Manager to prioritize their events.
Details to be aware of:
-Other events (i.e. events not included in the AEM prioritization) can continue to be used for the creation of website custom audiences, but not for conversion tracking.
-Any modification of an event configuration, including adding new events, deleting events, or re-prioritizing events, will automatically pause the ads using that configuration for 72 hours in order to eliminate the risk of incorrect attribution.
3) Rethink audience building
Because custom audiences generated by pixel-based strategies are expected to shrink, consider opportunities to directly acquire privacy-compliant email addresses from customers and prospects in order to continue to create custom/lookalike audiences. This can be accomplished through internal data mining where possible, or via lead generation campaigns with dedicated landing pages with form capture.
4) Use reach or click-based optimization
Because conversion-oriented campaigns are expected to be affected, consider switching to reach or traffic-based optimizations. We have found that a well-designed traffic campaign can be equally as effective as a conversion campaign in driving leads, sales, signups or other user activities.
5) Verify your pixel implementation for dynamic ads
If you are running dynamic ads, it is important to ensure that your catalogue is only using one tracking pixel. There are no specific changes for dynamic ads for retargeting, but advertisers will likely notice a decrease in their website conversion audience sizes.
6) Update Facebook SDK for iOS
If you're running ads to promote your app, you must update to Facebook's SDK for iOS 14 version 8.1 to help personalize ads delivered to iOS 14 users and receive app conversion events reporting. Learn more about using the Facebook SDK, App Events API and Mobile Measurement Partners to reach devices on iOS 14.
7) Update conversion windows
Update any automated rules currently using a 28-day attribution window to a 7-day window to prevent any unexpected adjustments in spend.
How do you expect Apple's upcoming iOS 14 changes to impact your Facebook advertising campaigns and your business? Let us know in the comments below!
TAGS