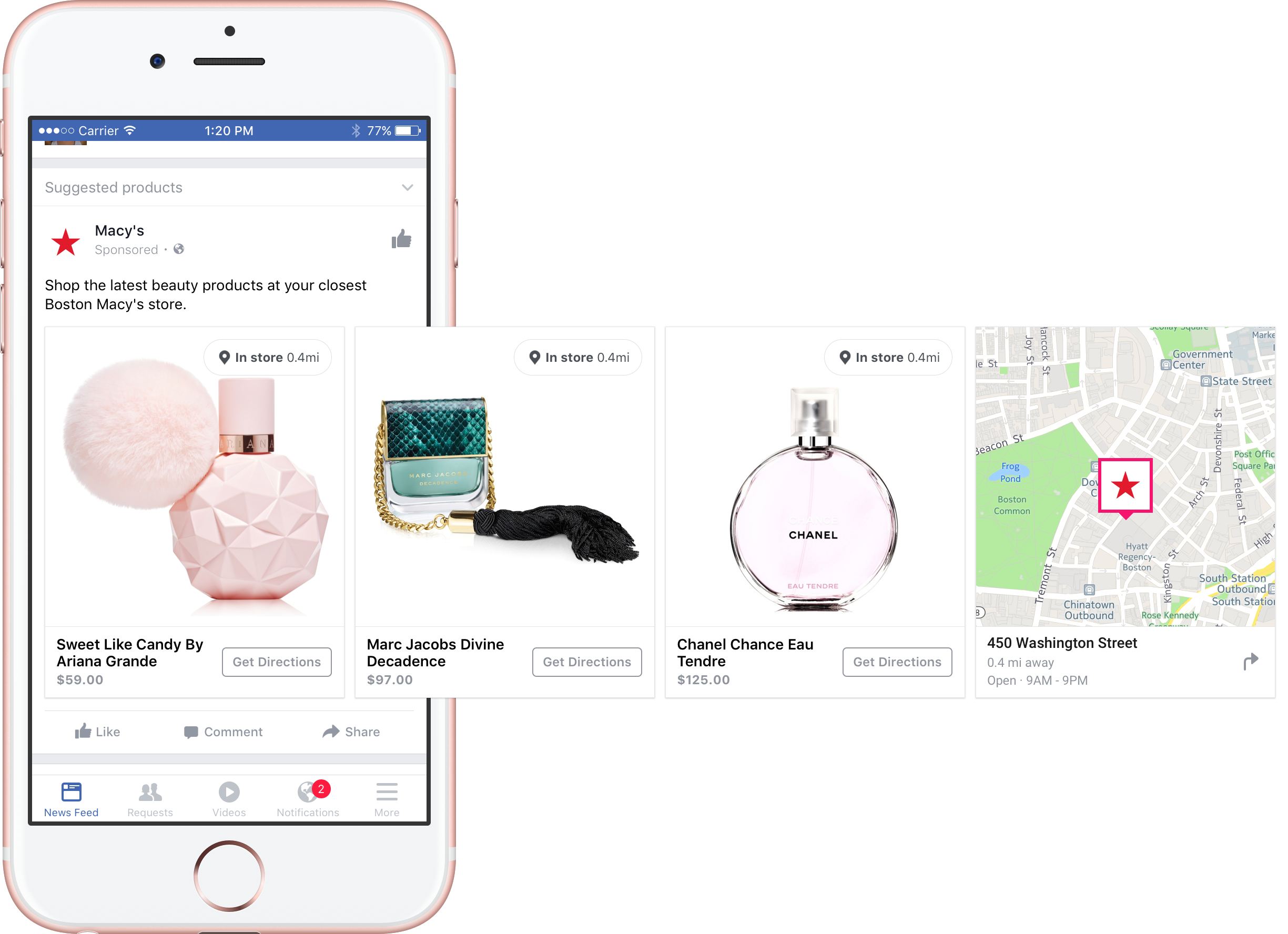 As a retailer, the idea of delivering Facebook ads that showcase your product catalog to potential customers seems like a no-brainer. But national retailers run into issues when their products aren't available at every location, or they are priced differently depending on the store. This can lead to frustrated customers who see an ad on Facebook and visit their local store, only to discover the item is out of stock there or not the price they were expecting. Luckily, Facebook has solved this issue with their new dynamic ads for retailers.
Facebook originally introduced dynamic ads for online retailers, but just recently expanded the functionality for physical store locations. The availability of these ad units has been rolling out slowly among select retail partners since September 2016. We expect this functionality to be rolled out more widely in the near future.
This new type of ad format allows retailers to advertise available inventory at nearby brick-and-mortar stores in ads that are targeted to Facebook users most likely to visit.
For potential customers on Facebook, these dynamic ads will appear as a slideshow-like product carousel displaying what's available at nearby stores, as well as store-specific prices and directions. The information will change depending on which store the person seeing the ad is closest to.  Retailers must input store-specific inventory catalogs, so if a product sells out in one store the campaign will automatically adjust so that people in that region will no longer see it advertised.
The customized information that stores can input into these ads includes product summaries, a list of similar products, and in-stock indicator, and a store locator.  The added convenience factor for potential customers is that this information is all available without forcing them having to leave the Facebook platform to go to the company's website.
To get started, users must upload a product catalog as a structured data file (XML or CSV) through their Facebook Business Manager account. The file should include an ID number, name, category, availability, product URL, image URL, and price for all the products to appear in the dynamic ad.
Name
Type
Description
1
id (Max size: 100)
string
A unique identifier for this item (which can be a variant for a product). If there are multiple instances of the same ID, all of those entries will be ignored. This maps to retailer_id after the product has been imported.
2
availability
string
Whether or not the item is in stock. Accepted values are:

in stock – Item will ship immediately.

out of stock – No plan to restock.

preorder – Will be available in future.

available for order – Ships in 1-2 weeks.

3
condition
string
The condition of the product. Accepted values are new, refurbished, or used.
4
description (Max size: 5000)
string
A short paragraph describing the item.
5
image _link
string
Link to an image of the item. This is the image used in the feed. Maintain aspect ratio 1.91:1. Images will be displayed at 1200x630px.
6
link
string
Link to the merchant's site where you can buy the item.
7
title (Max size: 100)
string
The title of the item.
8
price
string
The cost of the item and currency, ex: 9.99 USD.
9
gtin, mpn, or brand (Max size: 70)

string
gtin – The Global Trade Item Number (GTIN) can include UPC, EAN, JAN, and ISBN.

mpn – The number which uniquely identifies the product to its manufacturer.

brand – The name of the brand.

Note: Either gtin, mpn, or brand are required.
Once the product catalog is ready to upload, go to the Business Manager Page and hover over the business settings button in the top right corner of the header. Select product catalogs and then click the "Add New Product Catalog" button in the top right corner.

Assign a name for the catalog and click on the Create Product Catalog button.
At this point, users can select their new product catalog and choose the Add Product Feed option. The final three fields to enter are the feed name, the currency choice and whether it is one-time upload or there are to be pre-scheduled uploads going forward. The value in pre-scheduling future uploads is that it ensures the inventory count on the products are up-to-date and that the ads aren't displaying products that are not currently available.
Upload time for these product catalogs may take as long as an hour depending on the size of the file. Once the upload is complete or if there are any errors, users will receive a notification on their Facebook page.
Once uploaded, users can create an ad as they normally do on Facebook by going through the Ads Manager or Power Editor pages. The only difference is that instead of creating a specific ad for each product, users are creating a complete ad unit featuring all the products in the uploaded product catalog.
The addition of these new types of ads is the latest example of Facebook's intent to not only encourage in-store traffic but also provide businesses with a more accurate measurement of how their advertising drives in-store sales.
To read more about how to set up these dynamic ads, check out Facebook's set-up guide. As mentioned, advertisers must first be set up on Facebook's Locations framework in order to use this type of campaign. If you require assistance implementing Locations for your brand, please contact us at [email protected].
TAGS