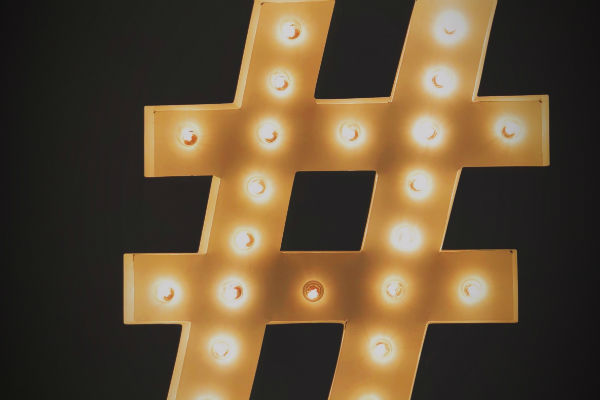 Instagram is the fastest growing social media platform, exceeding 1 billion active users in 2018, who spend on average 53 minutes a day on the platform. 500 million of these Instagram users visit at least one business profile each day and 72% of users say that they have purchased a product they saw on Instagram. These statistics demonstrate that Instagram is an extremely powerful marketing tool for businesses; however, with 2 million monthly advertisers on Instagram, it can be difficult for your business to get noticed.
Using hashtags on your business' posts and stories can be an effective way to boost your Instagram reach and engagement, to gain likes and followers, and to get more visibility on Instagram.
What are hashtags and how do they work?
If you are a social media user, you have probably encountered hashtags. Hashtags act like keywords for your Instagram post or story; they are related words or phrases that follow a pound sign (#). Instagram turns the word/phrase after the pound sign into a clickable, searchable tag. Let's say you tag your post with #dog. If a user searches #dog in their Instagram search bar, your post may come up in the results. They also click on #dog on your post and discover all other content with the same hashtag. So, potential followers can discover your post as a result of searching a hashtag that is meaningful to them or by clicking a hashtag on a different post and discovering your post.
Instagram allows you to create these clickable, searchable hashtags in your stories as well as your posts; the resources outlined in this blog can be used to find hashtags for both your posts and stories. In order for your posts to be discovered by way of their hashtags, your business' profile must be public.
Instagram allows up to 30 hashtags in one post or comment. Though hashtags are effective in promoting your posts and stories, you don't want to overdo it. Though there are no exact guidelines surrounding the number of hashtags that is best to use on a given post, overuse of hashtags can promote a negative image. When using hashtags in your captions, try to keep them minimal. Alternatively, you can comment on your own post with a set of hashtags, rather than cluttering the original post (compare the two examples below).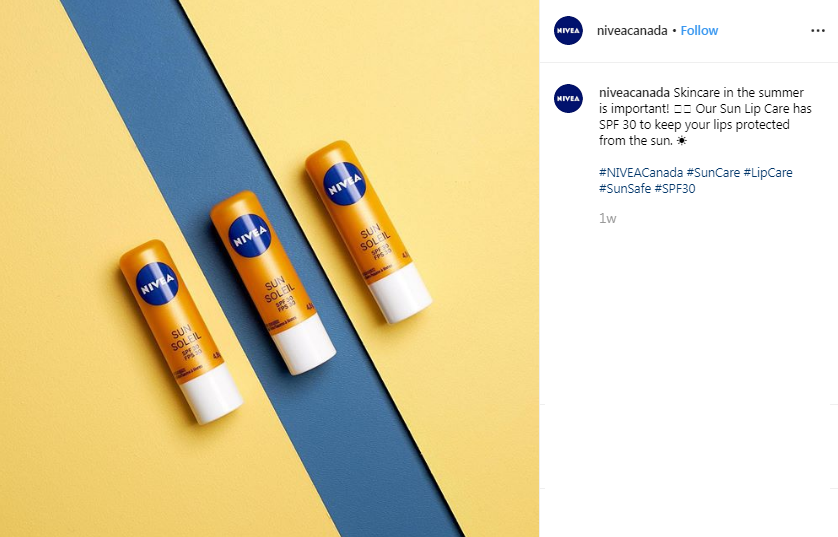 How can I find the best Instagram hashtags for my business?
There are a number of ways to find hashtags that will enhance the reach and engagement of your business' posts, earning you more likes and followers.
When choosing hashtags, businesses often use popular hashtags (so long as they are still relevant to your post), such as #love and #happy, which are some of the most popular hashtags on Instagram. While this strategy may help you gain followers and likes by reaching a wide audience, your post may also get lost in users' feeds, since such hashtags are used thousands of times each day. Additionally, these hashtags may not be the most effective to reach your target audience. We recommend using more niche hashtags based on what is meaningful to your audience and location. For example, if you're a dog walker, consider hashtags like #dogmom or #dogsoftoronto, instead of (or in addition to) just #dog. You can use a mix of popular and niche hashtags, or focus more on one than the other. You can even alternate between the two and then monitor the success of each strategy by comparing the likes on each post or the followers gained. Instagram Insights is a useful, free tool within the app that helps you monitor the performance of your posts and stories. Insights will also tell you how many people saw your post because of the hashtag.
Online Resources
There is a wealth of online resources which can assist you in generating hashtags for your posts. All-Hashtag's generator, for example, allows you to search a keyword that relates to your post or industry, and generates sets of popular hashtags based on that. The generator produces sets of 30 hashtags and these sets can be copied and pasted into your caption or as a comment on your post. You can also find the most popular or trending hashtags on Instagram on All-Hashtag. Other resources include HashtagForLikes and TagBlender.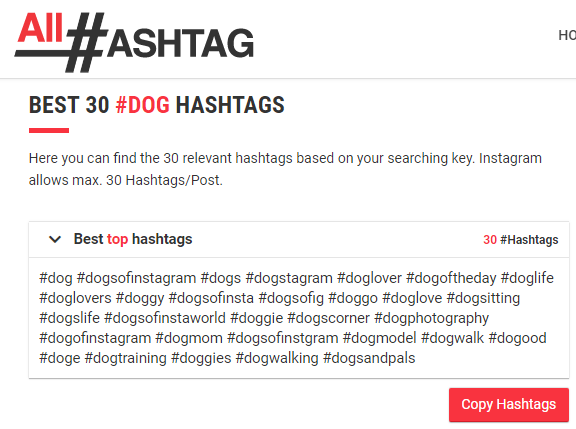 Influencers
Try browsing Instagram influencers' profiles within your industry to monitor their hashtag use, especially on those posts with products or services similar to yours. Influencers' posts often perform very well; using hashtags similar to theirs can help you improve your performance, too.
Competitors
Search for competitors in your industry with a strong Instagram presence and high engagement on their posts. Analyze their hashtag use for inspiration.
Seasonal Hashtags
Hashtags based on seasonal events/holidays are likely to be popular across a wide variety of users, yielding opportunities to be discovered by new followers. Holiday hashtags can be as general as #FathersDay, or can be as niche as #DressUpYourPetDay. Check out this calendar of Hashtag Holidays for 2019 to find timely hashtags that may be relevant to your business and can be incorporated into your Instagram posts.
Interactive Hashtags
Hashtags that call for user-generated content are often quite effective. These hashtags encourage Instagram users to interact with your products and brand on social media. For example, Calvin Klein's customers post pictures of themselves wearing the brand captioned #MyCalvins, and Starbucks' #RedCupContest garnered thousands of posts featuring Starbucks' red cup for the holiday season. Creating a unique hashtag that invites users to engage with your brand can foster a strong sense of community around your brand.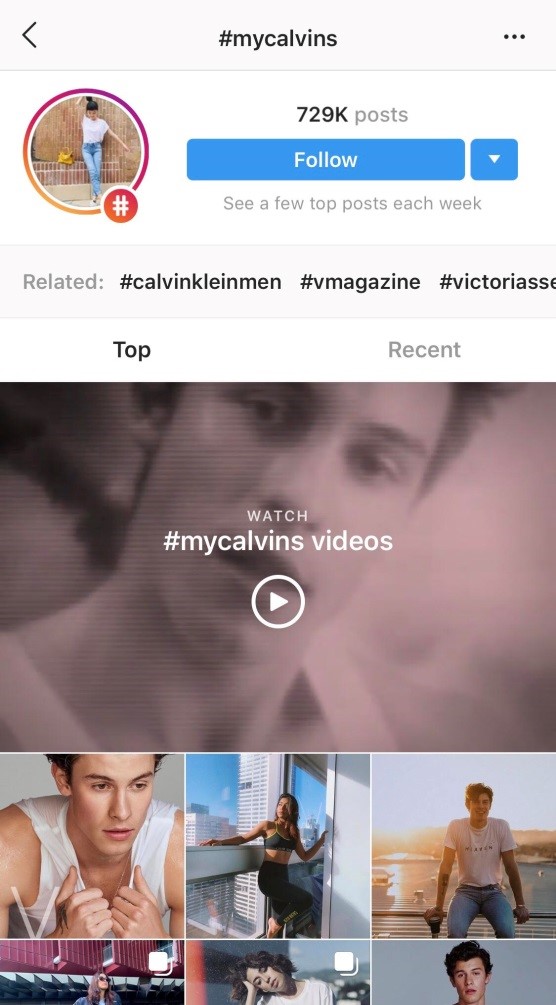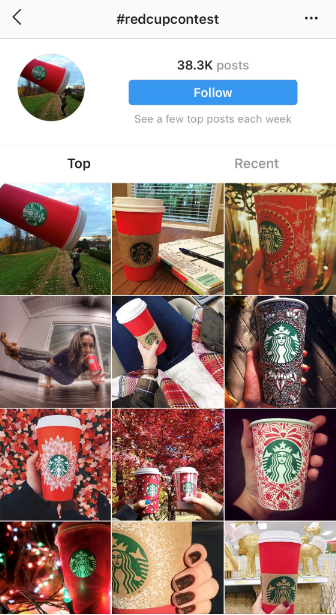 Hashtags, when used effectively, are a great way to get your business noticed on Instagram and to gain likes and followers. If you want to improve your business' Instagram performance, try using hashtags on your posts and stories, or modifying your current approach to using hashtags. Lastly, don't forget to track the performance of your posts so you know which hashtags are most effective.
TAGS