Google Adwords has introduced a series of updates to their ad extensions which should make a big difference for consumer-facing businesses (B2C) in 2017.
Ad extensions can help businesses stand out from their competitors by providing more information about their business, products, or services to potential customers who may be searching for those things. The extensions will also make their ads more prominent and visually attractive on the search results page, which may lead to a better click-through rate.
Recently, Google Adwords added a few very interesting ad extensions designed mainly for B2C types of businesses who are looking for new opportunities to improve their Adwords performance and connect with customers more effectively. By incorporating some of these new extensions, businesses can increase their chances to reach their ideal customers through highly tailored and more attractive ads, as well as with better audience targeting.
Some of the new features were also designed to improve the synergy between pay-per-click and organic search results.
Here are the most noteworthy updates:
1) Demographic Targeting for Search Ads:
The new demographic targeting allows businesses to get insight into what demographic groups are most responsive and engaged. By analyzing demographic information, you can then easily define who your ideal customer is by their age group or gender, and tailor your ad messages accordingly.
The demographic targeting function is available under the "Audience" tab. By clicking on the demographics button, users will be able to see visual metrics of their audience by age and gender.
Available options of demographic targeting:
By age: "18-24", "25-34", "35-44", "45-54", "55-64", "65+", "Unknown"
By gender: "Male", "Female", "Unknown"
The "Unknown" audience is made up of users who have either not signed up for Google accounts or not provided their demographic information.
Now, when you analyze this demographic information and identify who your ideal audience is, you can set your specific demographic targeting at the campaign or the ad group level.
How to set up Demographic Targeting in Adwords:
Navigate to the red "+Targeting" button, select a specific ad group and then click demographics in the Targeting section. From there, users will be able to select the age and gender of their preferred audience. While selecting specific ages and genders, users should also include an opportunity to reach potential customers by including the "unknown" audience in your targeting selection. Even though this unknown audience will not have any demographics information, you can still reach very qualified customers.
Additionally, users can set specific bid adjustments based on gender and age. For instance, if a user has identified their ideal customer as male, they can set a bid of 20% higher for a male audience. If a user wants to target by age and they know that their customers are mostly over 35 years old, they can decrease bids on younger audiences.
2) Click-To-Text Message Adwords Extension
This extension was built to let customers reach businesses through text messages, allowing them to ask questions regarding a service or product that is advertised on the search results page. This extension can be added by users to a specific campaign showing up below the actual text ad on the search results page.
How does it work?
When a potential customer clicks to the text messaging icon, it opens a default messaging app that is prefilled with the text message. In our example, the pre-populated message is: "[Reshift Media Inc.] I have a question about your service, please text me back." When the SMS message is delivered to an assigned mobile phone number, the company can then further proceed by responding to the client directly.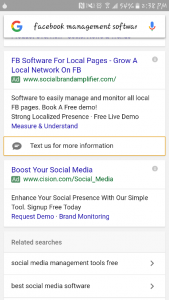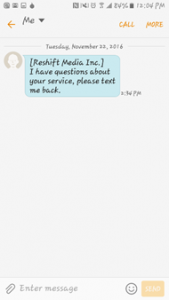 What are the benefits of the Click-To-Text message extension?
This extension was designed with the purpose of giving potential customers another way to connect with businesses, especially if clients don't have time to call or they want to avoid getting put on hold, listening to a list of menu options, or waiting to get transferred to speak to the right person.
For businesses, this extension offers an opportunity to build a list of potential clients who've expressed some interest in a service or a product. They can then work on enhancing long-term relationships with clients by providing a more personalized approach with tailored offers.
3) Google Adwords Price Extensions For All Devices:
This price extension was designed to let retailers or e-commerce businesses improve their ads by allowing them to show pricing information to people who are searching, and showcase their products or services in more detail.
What are the benefits of the price extensions?
Showcase a range of products or services
Display more detailed information about prices and selection
Take up a greater real estate on the search results page
Improve the quality of traffic from customers interested in making a purchase
For some e-commerce businesses, price extensions can help improve a campaign's performance. However, some retailers might find this extension not as helpful, especially in situations when prices for products or services are quite expensive. Showing high-priced products below an ad might only intimidate potential clients from clicking through the ad and visiting the site. For those businesses, a better approach would be to let customers learn more about the product and its features in the search results page, while including pricing details on a landing page they would reach after clicking through the results they found in search.
TAGS