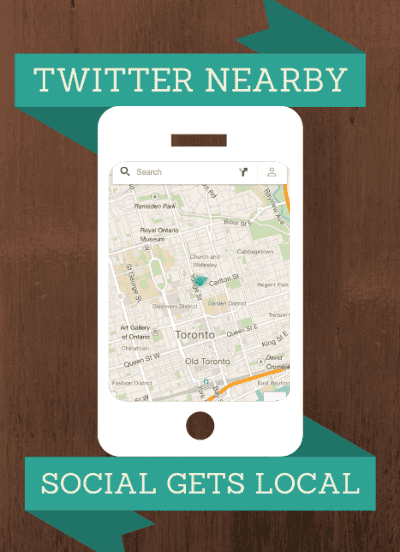 In this blog, we've talked extensively about Facebook's recent emphasis on local activity and how it can benefit small businesses. Now it looks like Twitter is jumping onto the local bandwagon with its recent introduction of Twitter Nearby.
Twitter Nearby lets mobile users see what's been posted around them, regardless of whether they're following those tweeters or not. The feature, which was quietly rolled out in limited release last month, seems to suggest the social network is trying to be more locally relevant. The ability to search for nearby tweets is already available in Twitter clients such as Hootsuite and Tweetbot, but Twitter has only now begun to experiment with it in its official mobile apps.
In order to take advantage of the feature, users need to enable Twitter to add their location to tweets. The option is turned off by default, but you can enable it under your phone's Location Services settings.  A select group of users who turn on the location feature will see a Nearby tab in their Twitter app that allows them to discover what's being tweeted around them.
According to screen shots from the Wall Street Journal, the Nearby tab displays a map showing the user's location, much like Foursquare. Beneath it is a list of tweets that have recently been posted in that neighborhood, with icons on the map indicating where the tweet was sent. Clicking on each icon will display the individual tweet.
What implications does Twitter Nearby have for small businesses?  Consider the following:
Advertising: Not only does the new Nearby feature increase Twitter's local relevancy, it also allows advertisers to target users in specific geographies. While Twitter advertising has previously been the domain of large, national brands, Nearby could open it up to local advertisers and compete with Yelp, Google and Foursquare for small business digital dollars. This represents an opportunity for local businesses to compete on a local level to gain exposure, where previously a small company would have no hope in competing against national/international behemoths.
Events: Twitter Nearby could be helpful during neighborhood-specific events. Having a grand opening? Promoting a pop-up shop? Using Nearby to connect with those around you could attract users already in the area to stop by your business.
Management: Where you tweet suddenly matters if you enable location sharing.  In order for your business' tweets to appear correctly in the Nearby map, you'll need to ensure that you are tweeting from your business' physical address. If you're tweeting on your business account from home, you should first disable location sharing.
Listening: Twitter Nearby enables you to monitor the tweets that are being posted around your business. Is there a relevant, neighborhood-specific conversation that you can contribute to? Are there influential tweeters in your vicinity? Twitter Nearby can give you a better sense of the user base and conversations happening around you.
TAGS