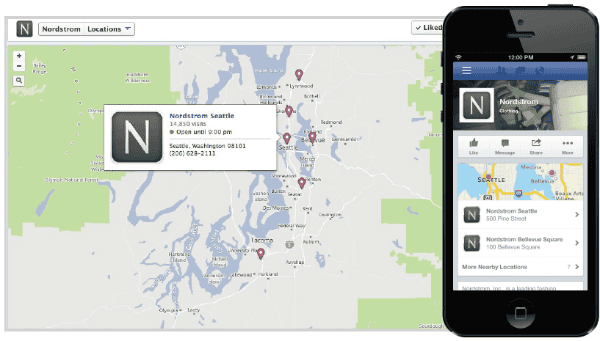 Facebook has rebranded its multi-location "Parent-Child" functionality to "Locations." So far, the changes appear limited to branding and the specific steps agencies need to follow when submitting information to Facebook, however, the social network has indicated that additional positive changes will be coming in the near future that will make it even easier for brands to implement a Facebook page for each of their locations.
Facebook also quietly introduced a new 'Location' link next to the address on all child pages. When you click on it, it takes you to the page's "about" section, which includes a map.
The changes to Parent-Child (now called Locations) are the latest in a series of improvements made by Facebook, many of which have very specific location-based ramifications. Facebook has recently launched Graph Search, which has significant location implications, has made several improvements to its "Nearby" app-based functionality and has redesigned how brand pages look on mobile.
The improvements to Facebook Locations are welcome news to multi-location business, as it enables them to take advantage of their physical footprint to engage with their audiences more effectively. And with the major push towards social search, mobile, geo-location and check ins, it makes more sense than ever for brands to capitalize on the benefits that this type of framework can offer.
We will post information on the additional improvements to Facebook Locations as they come available.
To learn more about implementing Facebook Locations for your multi-location business, email [email protected].
TAGS