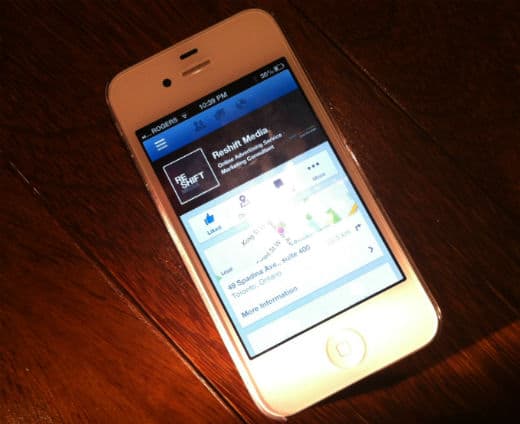 This week Facebook announced some significant changes to brands' business Pages on mobile. These updates impact both mobile browsers and the Facebook iOS app. New mobile Pages on the Android app are said to be coming soon, as well as new desktop Pages.
According to Facebook, the design improvements include:
For general users:
A cleaner, simpler look, with better Page layouts for mobile viewing
More relevant information up front so people can see the information they care about most – such as location and photos – at a glance
Streamlined and prominent ways to interact with Pages, including actions such as Like, Call, Message, and Share, all of which now appear at the top of Pages
For Page owners:
Higher-appearing pinned posts (important posts — including offers or videos — that admins pin to the top of the Page from their desktops). These posts are now front and center when Pages are accessed on mobile devices
Easier mobile management, allowing Page owners the ability to easily switch between public and admin views on their mobile devices
Several other blogs have discussed these specific design changes, and several have pointed out the similarity between the current "Nearby" business Pages and the new design (see below).
But let's dig a little deeper. Yes, Facebook has undoubtedly made these design changes in part because the look is cleaner and more information is available at the top of the page. And, as Techcrunch points out, they are likely trying to compete with Yelp as well.
However, if you consider these changes in the context of everything else Facebook is working on – in particular Graph Search – the rationale for these design tweaks becomes even more clear. As discussed in our previous blog posts, the way Graph Search works is that it is largely based on your connections – likes, shares, comments, checkins, etc. Therefore, for Graph Search to be as relevant and useful as possible, Facebook needs to generate as many connections as possible – particularly local connections.
These local connections to business Pages (with local addresses) can be used to provide geographic relevance to Facebook's results, which is critically important to Graph Search, as it provides results based on people, places and things. Notice that critical word – "places". Historically, many brand pages have not been geographically relevant, meaning that even large brands often implemented just one national page for their brand, as opposed to implementing local pages for each location.
Having one national page makes perfect sense if consumers just want to interact with a brand on a non-localized basis – in fact, it is quite efficient because the brand can amass a huge audience on one page so their branding and messaging is consistent. For products like Coca-Cola or Doritos, this approach makes a lot of sense.
However, if you are a business with multiple physical locations, then a national page makes a lot less sense, as you are not taking advantage of a huge advantage your company has, as we discussed at length in a previous blog post about translating national brand strength into local social success.
So, considering this information in the context of Facebook's mobile redesign, their objective becomes clear: Facebook wants to make it as easy as possible for people to find and interact with brands on a local level. That interaction leads to more connections, those connections lead to a stronger Graph Search and a stronger Graph Search enables Facebook to dominate the next major battleground – localized social search.
The screen shot above, provided by Facebook, also provides additional information as to the company's intentions. Notice the explicit mention of their not-widely-know Parent-Child capability. Based on this, it is clear that Parent-Child is going to take on an increased focus for the company, as it enables companies with many locations to quickly and easily create pages for every store. This is fantastic for Facebook, as it creates more local touchpoints (and therefore more connections for Graph Search) and it is great for consumers who want to find local businesses.
In summary, the beneficiaries of this critical redesign and Facebook's path toward local social search are:
1)      Consumers – because now they will be able to use their own personal networks to find relevant products and services in their cities through both web and mobile
2)      Local businesses – because now they have a real opportunity to implement a strong, locally-relevant social presence without having to compete for attention on a national level
3)      Multi-location businesses – particularly those using Facebook's Parent-Child framework
To learn more about implementing Facebook Parent-Child for your multi-location business, email [email protected]. 
TAGS