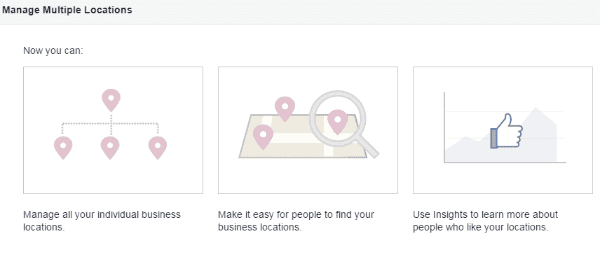 We've previously discussed the importance of Facebook's Locations structure (which used to be called Parent-Child) for multi-location businesses or franchises that want to establish a local Facebook presence for each store while maintaining brand consistency and control. We have received many questions on the details of setting Locations up, so this article will walk through how to set up and use that framework.
To get started, you first need to "turn on" the Facebook Locations framework, which establishes a master (or parent) page to which you can then add locations (or child pages). Unfortunately, there is no self-serve method of turning on the framework, so this step must be managed either by an agency such as Reshift Media or through your Facebook rep. Once the Locations framework is initialized, you'll be able to add any new pages that arise in the future on your own without going through a third party.
The Locations structure can encompass both new and existing child pages, so even if you have existing Facebook pages that already have content, likes, check-ins, etc. you can bring them into your Locations structure as child pages. In addition, if local store owners are already admins on existing child pages, they will remain so once those pages are adding to the Locations framework. Absolutely nothing will change on your existing pages in any way. However, the admins of the parent page will also be granted administrative rights to all child pages.
In order to set up the Locations framework, you must fill out the spreadsheet provided by your agency or your Facebook rep. This spreadsheet is used for both existing and new child pages. For each location, you must specify:
Store Number: a numerical value unique to each location. This must be less than 10 digits.
Page ID Main Page: this is the numerical Facebook ID of the page you'd like to designate as your main parent page. All child pages should designate the same Main Page ID. Do not put the full Facebook URL in this field. You can find your Facebook ID at the bottom of the "Page Info" tab of your admin tools, or by using this tool.
Facebook Subcategory: this is the primary subcategory associated with the page. You must use one of Facebook's approved subcategories (e.g. – Food & Restaurant).
Facebook Subcategory 2 & 3: you are able to add two more optional subcategories (e.g. – Bakery, Coffee Shop).
Street Address: there is a maximum of 40 characters in this field. If the address spreads over two lines, consolidate it into one.
City
State or Province
Zip or Postal Code
Country Code: two characters max (e.g. – US).
Latitude & Longitude
Franchise: is the location part of a franchise, or is it a stand-alone store? Fill in Yes or No.
Facebook Web Address: this will set the vanity URL for the location's Facebook page. The only valid characters are letters, numbers and periods (e.g. – www.facebook.com/StoreABCNewYorkCity). No spaces or symbols are allowed. This field is optional.
Website: this can be the corporate website, or the specific website for each location.
Phone Number
Store Hours: this should be filled in using military time style where Monday is 1, Tuesday is 2, etc. (e.g. – 1-5:0900-2000, 6:1000-1700, 7:1100-1600).
Description: enter an optional one-sentence description about what services the location provides. This will appear in the "long description" field of the page's settings.
Other services: this is an optional field that allows you to include any additional services each location has (e.g. – ATM).
If you are including existing Facebook pages in the spreadsheet, you also need to include a field that specifies the existing Facebook IDs.
Since Facebook has partnered with Bing to deliver its mapping functionality, we suggest using Bing Maps to look up the latitude, longitude, and proper address formatting. (For example, "96 Federal Highway North" shows up as "96 N Federal Hwy" in Bing Maps.) Inputting the addresses in Bing Maps format will reduce the chance of errors when your spreadsheet is processed through Facebook's Locations tool.
Once the Locations structure is enabled, visitors to the parent page will see a "Locations" tab instead of the "Map" tab. This tab works on mobile, unlike the proprietary store finder apps many brands use on their Facebook pages. Clicking on the "Locations" tab will bring up a map of all of the brand's locations (or child pages). Visitors can click on any individual location to see address, phone number and store hours. Clicking on the store's name will take them to that store's local Facebook page.
If you're an admin of the parent page, you can also access a full list of your child pages by hitting the "Edit Page" button at the top of your parent's admin panel and selecting "Manage Locations" in the drop down menu. That will take you to a page that lists all of the location/child pages. Besides being able to get a quick view of your child page stats (store number, name, address, reach, likes, check-ins), you can also add new child pages, or bring existing pages into the Locations framework (assuming you have admin access to them) using the "Add a Location" button. If you have a lot of new pages to add, you can upload a spreadsheet such as the one above using the "Import Multiple Locations" button.
The same page name, cover photo and profile image will appear on all of the new child pages by default, though parent and local admins will still have the ability to update them. Check-ins across all child pages will roll up to the parent page, though likes will not.
Once individual Facebook pages have been set up for each location, corresponding Places and Community pages can be claimed and merged.
One of the big questions we are frequently asked is how companies can effectively manage all of their pages once the Locations framework is enabled. Unfortunately, the framework is designed to connect pages, not necessarily to manage them. The Locations framework is extremely valuable in that it allows brands to establish a local presence and improve brand consistency, however, it does not enable you to cascade content from the national page to child pages or access amalgamated child page analytics and notifications. This is not to say you are out of luck. You can use tools such as Reshift Media's Social Brand Amplifier to make the management of your child pages easier.
To learn more about implementing Facebook Parent-Child for your multi-location business, email [email protected]. 
Check out our previous three-part series on Facebook Locations:
Part 1: Facebook Parent–Child Framework: What it is and Practical Applications for Franchisors and Multi-Location Businesses
Part 2: How To Translate National Brand Strength to Local Facebook Pages
Part 3: How Franchises and Other Multi-Location Businesses Can Effectively and Easily Manage Facebook's Parent-Child Framework
TAGS