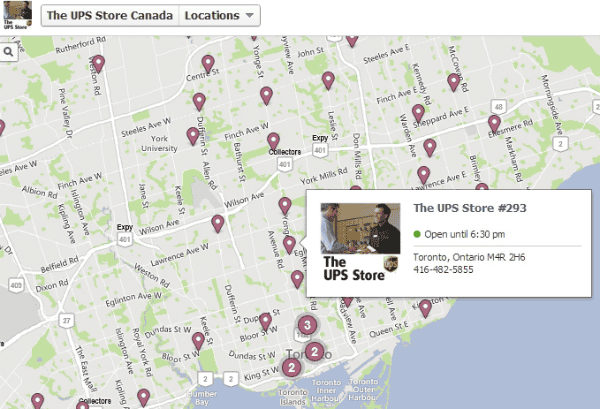 (TORONTO) April 3, 2013 – The UPS Store Canada has partnered with Reshift Media to translate the tremendous reach of their nationwide physical locations into a strong, local social media presence.
As part of the initiative, The UPS Store has launched a comprehensive Facebook strategy to provide valuable information and tools for its customers and local small business owners through its national network of franchises.
At the core of the program is a locally-oriented social strategy which uses Facebook's Parent-Child infrastructure (which allows brands to connect their corporate Facebook pages to all of their local ones) to create a Facebook presence for each of The UPS Store Canada's more than 360 locations. This will allow The UPS Canada Store to establish a strong corporate Facebook page while also reaching and engaging their local customers through pages dedicated to each store and its community.
"We know that our small business clients are increasingly using social media and mobile to interact with customers and suppliers to transact business," said David Druker, President of The UPS Store Canada. "Our objective is to assist small businesses by providing helpful tools and information wherever and whenever they need them, using both our national and local Facebook pages."
The initiative is being implemented by Reshift Media, a digital marketing company specializing in social media, search and mobile.
In addition to creating a social media presence for each location, The UPS Store is the first to implement Reshift Media's proprietary Social Brand Amplifier™ software, which builds on Facebook's Parent-Child functionality by allowing brands to update and manage all of their local Facebook pages easily and efficiently. The Social Brand Amplifier™ software, which is unique to Reshift Media, enables companies to cascade national content (either across all Facebook pages, or to select geographies/demographics), and to centrally consolidate reporting and notifications while still allowing for local franchisee participation.
"The Facebook Parent-Child structure is a great first step for multi-location businesses, especially as it's becoming increasingly important for Facebook pages to be tied to a local address for mobile and Facebook Graph Search," said Mahmoud Ghali, VP of Technology at Reshift Media. "But setting up hundreds of local Facebook pages is not ideal if you don't have the resources to actively manage each one. The Social Brand Amplifier™ really is the best of both worlds; it allows the brand to cascade relevant content including promotions and offers, while still allowing for strong local involvement."
As part of the initiative, The UPS Store Canada is also working with Reshift Media to relaunch its website (www.theupsstore.ca), including all of its local properties (www.theupsstorelocal.ca). The website will incorporate leading-edge responsive design and include small business-focused functionality to ensure clients can easily access all of the services The UPS Store provides through both web and mobile, including shipping and parcel tracking, printing services, mailboxes and packaging. Small businesses can expect to see new features launch over the next several weeks.
TAGS