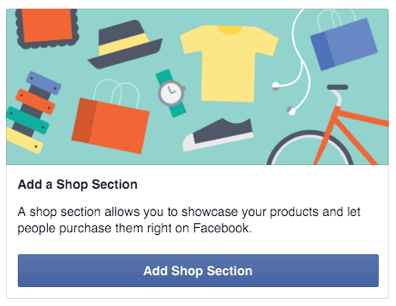 We've previously written about Facebook's increased focus on local businesses with the addition of Dynamic Ads and the Store Visits objective. While those new features centre on brick-and-mortar locations, Facebook also recently introduced an e-commerce Shop section on business pages, allowing businesses to offer online shopping without having to build a retail website.
Customers can make purchases through the Shop section of a business's Facebook page by using either PayPal or Stripe, all without leaving Facebook. Keeping the entire transaction within the Facebook framework means there is less chance of customers dropping off like they might if they were forced to a second website to complete their order.
The other advantage for retailers is that this Shop section is set within Facebook's basic architecture so they never have to worry about load time, responsiveness issues or security protocols like they'd need to if building their own e-commerce site.
For businesses that have had the Shop section available to them (depending on which category their business page is set to), they should see an + Add Shop Section button below their Facebook cover photo on the right-hand side.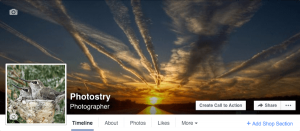 Users can also add a Shop Section from their settings. Click Edit Page from the menu on the left and the Add a Tab button followed by choosing the Shop option.
Once added, the Shop tab will appear on the Facebook page just below the cover page. If neither method is available on your business page, the option should be rolled out later in 2017.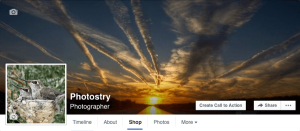 To continue setting up the Shop Section, users will need to agree to Facebook's Merchant Term and Policies before proceeding.
From there, users will be prompted to enter their business' website URL and email address along with the details of a payment processing company. At this time, the only options are PayPal or Stripe. For businesses that do not have accounts set up with either, they will need to do so first before completing the set-up.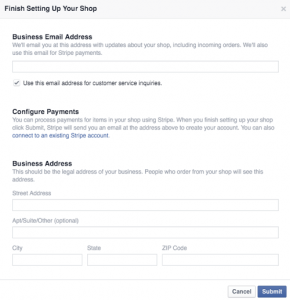 Once completed, a Shop Now button will appear in the bottom right of the page's Facebook cover photo.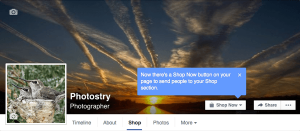 Customers will then be able to buy products by clicking on the Shop tab and then clicking on the Add Product option. There is a wealth of information that can be added about each product including a photo, product name, and price. Similar products can even be grouped together in collections to make shopping even easier for customers.
Once the customer orders start coming in, pages will start getting notifications about them. Page admins will be able to manage pending orders, see completed orders and make adjustments to their Shop Section from the Publishing Tools section of their Facebook page.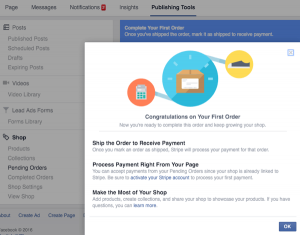 Any orders that come in are not processed automatically. Page admins will need to go to the Order Details for each and click on the Mark as Shipped button before the transaction will be processed by Stripe or PayPal. They will also have the ability to easily connect with the customer in order to get additional information if necessary.
This functionality makes it even easier for retailers and small businesses to offer their customers easy online shopping options without having to invest in a complicated e-comm structure or new website.
TAGS