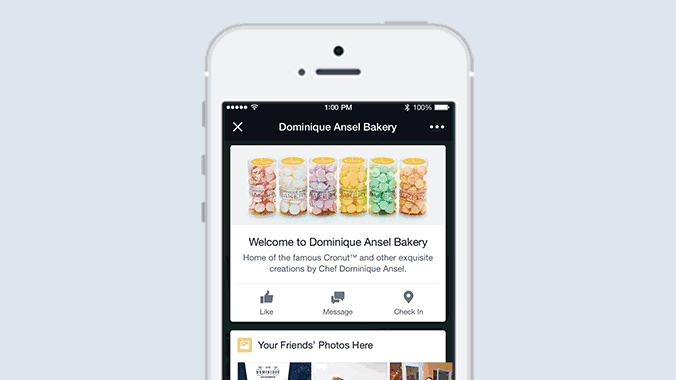 Facebook continues to increase their focus on connecting local businesses to their customers with the launch of the Place Tips feature. As we first wrote when the feature was in the testing phase, Place Tips harnesses the power of Facebook both in terms of reach and wealth of content to offer an innovative level of in-store service and communication.
Place Tips will pop up on people's timelines when they are using Facebook on their phones, offering information about the local businesses around them. If users opt to see Place Tips, they'll see relevant info about businesses around them (Facebook uses cell towers, GPS, wi-fi, and beacons to geo-locate them), including hours, menu items, page posts, etc.
As a Facebook business page owner, you can create Place Tips that can include a welcome message from the business, posts from your Facebook page, and relevant information like products or upcoming sales. The Facebook user will also be able to see any posts or photos from friends who have previously checked into that location on Facebook.
The welcome message offers business owners a completely customizable source of information and can be changed as often as desired. A restaurant's welcome message, for instance, can include details about any specials and upcoming events, while a retailer's welcome message may highlight sales or popular items.
Place Tips is already visible on the phones of people who have given Facebook permission to access their location. The feature works through the customer's cellular network using wi-fi and GPS. Facebook has also introduced free beacons for businesses that will use Bluetooth technology to make it even easier to connect with customers' phones.
Admins for existing businesses on Facebook should now see the 'Set Up Place Tips' option at the top of their local business page in a box that looks like this:

After pressing the "Set Up Place Tips" button, users will see the menu below asking for the business' wi-fi network name (It's invisible to customers), a customizable Welcome Note and a feature photo. Once these are set, your Place Tips will be launched and visible to mobile Facebook users.
For Facebook users, they are still able to turn off the Place Tips feature completely or for just certain businesses in the location portion of their settings. From a privacy standpoint, viewing or clicking on a businesses' Place Tips will not post on their Facebook page or show anyone where they are.
Place Tips is just the latest locally-focused service being offered to business owners by Facebook. As we've written in the past, we always recommend businesses with brick-and-mortar locations create a local Facebook page for each of their stores in order to grow their local audience and increase their local engagement. Facebook is becoming a new search engine for customers and businesses should take every opportunity to ensure they can be easily found on it.
TAGS