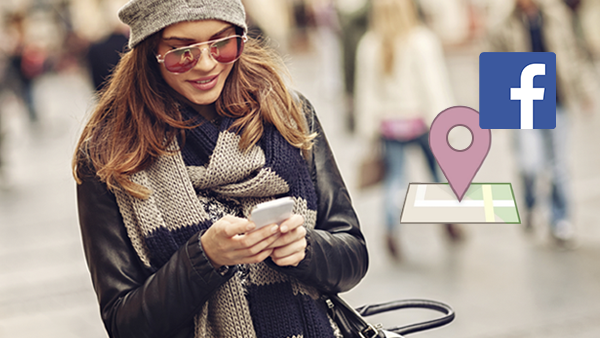 Facebook's objective to connect people with the world around them has taken an innovative step forward with the launch of a new feature called Place Tips. This new feature will use your GPS, Wi-Fi or Facebook's Bluetooth Beacons to establish your geographic location and surface relevant tips, photos, and posts about the places and businesses around you. The information you see will be a combination of content created by your social connections and by the businesses themselves. The feature is currently being tested in only New York, with a future rollout date yet to be determined.
From a marketing perspective, this represents a tremendous opportunity for businesses to reach prospective customers who are in their immediate vicinity. As outlined above, the person will be "pushed" information about nearby locations based on their friends' social activity. This means they will see photos, comments or reviews created by their social network that are related to the businesses and places around them. As a local business, this means that the people around you can receive recommendations about your establishment, which can have a profound impact on the likelihood of that prospective customer deciding to visit you.
This idea is not new. Yelp, FourSquare and others have been dabbling in this area for some time. However, no other service has nearly the user base or wealth of content Facebook has to make this a winner.  Done well, Facebook could eclipse all other companies operating in the "social referral" space.
Although Place Tips is only being trialed in New York currently, as a business or agency you should be taking steps immediately to prepare for a broader rollout. A localized social referral strategy could become a major business driver for any bricks-and-mortar business, on par with the importance of local search. You may recall that several years ago local search was also in its infancy, but has since grown into a critical business driver for multi-location and local businesses. As we have seen through the wealth of research on local search behaviour, a search occurring in the immediate vicinity of a business leads to a greater propensity for the person to actually make a purchase. We expect to see similar trends emerge as local social referrals grow in use.
As a company that works extensively with multi-location and local businesses, we've been very active in exploring localization opportunities on Facebook including their Locations framework (previously called Parent-Child), Graph Search, local reviews and Nearby. The launch of Place Tips is yet another strong indication that Facebook is aggressively shifting local in an effort to better connect people to the physical world.
The exciting news for bricks-and-mortar businesses is that the more local Facebook gets, the more opportunity you have to reach potential customers. However, the key to any local strategy, as we've written about previously, is to ensure you have a local Facebook page for every store you own.  Without an address in Facebook, your store cannot be mapped. And if it can't be mapped, people cannot find it through features like Place Tips.
It is therefore critical that every business ensures their physical store network is accurately reflected in Facebook – meaning every store needs to have a Facebook page. And beyond just having a page, it is more critical than ever that your business is driving engagement at the local level. The way you are going to gain exposure is through customers posting photos, liking, commenting, rating, sharing, checking in and other behaviours on local Facebook pages. Without engagement, you will have little visibility.
As a business, you should be very excited about the growing list of opportunities to find real customers through Facebook. The time to put the building blocks in place is now – before your competitors do!
TAGS